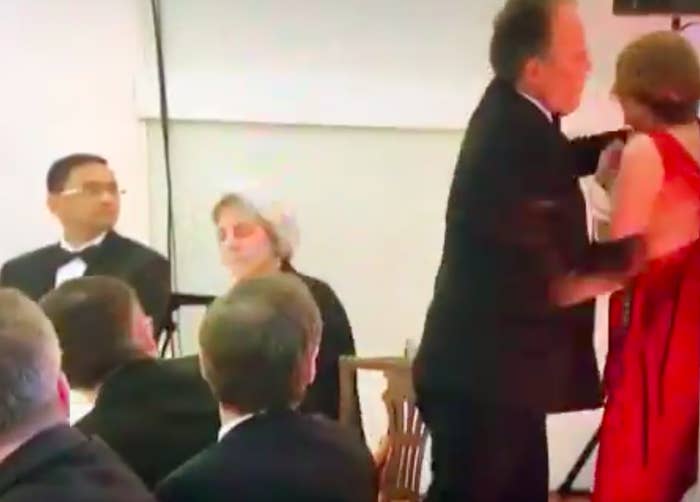 Mark Field has been suspended as a Foreign Office minister after footage emerged of him grabbing a woman Greenpeace protester by the neck and manhandling her out of a black-tie event in the City.
A spokesperson for the prime minister said: "The prime minister has seen the footage and she found it very concerning. The police have said they are looking into reports on this matter, and Mark Field has also referred himself to both the Cabinet Office and the Conservative party. He will be suspended as a minister while investigations take place."
The spokesperson added: "Mansion House have said they are looking into the breach of security that took place, and we believe it is right that they are now reviewing their security arrangements."

Field has apologised "unreservedly" and claimed he was worried she might be armed. The activist, Janet Barker, said she would not be pressing charges. She told the BBC she didn't think his actions amounted to criminal assault, saying: "I don't want this to turn into a mud-slinging match."

She went on: "Three hundred fifty people were there, and only one person reacted that way. ... I want him to reflect on what he did and not do it again. Maybe he should go to anger-management classes."
Earlier, several MPs, along with Greenpeace, accused him of assault. City of London police confirmed they had received "third-party reports" of an assault, which they said they were looking into.

Conservative party chair Brandon Lewis said it would be "very hard" to defend the footage, telling Good Morning Britain: "I've spoken to the chief whip this morning, and there will be an investigation from our end."
Around 40 Greenpeace protesters gate-crashed the event, which featured speeches by chancellor Philip Hammond and the Bank of England's governor, Mark Carney.

Video footage showed Field pushing the protester against a pillar and then walking her out of the room with his hand around the back of her neck.
In a statement, Field said he would refer himself to the Cabinet Office for investigation, adding that he'd acted the way he had because "there was no security present". He went on: "I deeply regret this episode and unreservedly apologise to the lady concerned for grabbing her, but in the current climate I felt the need to act decisively to close down the threat to the safety of those present."
A number of MPs, however, called for him to be suspended or sacked.
Labour MP Tonia Antoniazzi called for his arrest, as did Lib Dem Home Affairs spokesperson Ed Davey, who said: "The evidence is all there in the video, so the police must press charges for this assault. It is striking that even now, Mr Field is only referring himself to the Cabinet Office because of the publicity, not the assault itself."
London mayor Sadiq Khan welcomed having the police look into the incident.
On Newsnight, former Foreign Office minister Alistair Burt said: "I've no appreciation of the context of anything like that. Mark will answer for himself. But it looks to be a very difficult situation for everyone concerned."

In a statement, City of London police said they were called by security last night just after 21:00: "Officers arrived to help with their ejection. Once in the presence of the police, the protesters were co-operative and left the premises. No arrests were made."