A London local authority has contradicted evidence given by Kids Company's founder on Thursday at a parliamentary inquiry into the charity's sudden collapse in August.
During the frequently heated, three-hour hearing by the Commons public administration committee, Camila Batmanghelidjh, and the charity's former chair of trustees, Alan Yentob, were pressed repeatedly to explain discrepancies in the numbers of young people Kids Company said it was helping. It claimed to have 36,000 clients but only 1,700 case files handed over to local authorities when it shut down.
Batmanghelidjh told the committee that one of the reasons for this was that local authorities had set criteria for the types of clients they would be willing to accept. "They were ... prepared to look at people with extreme mental health difficulties and that's what we did, we narrowed down the client group to what they were prepared to take and that's what we handed over," she told the committee.
However, Southwark council has issued a robust denial of these claims.
In a statement, Peter John, the council's leader, said: "On repeated occasions Southwark and colleagues from other London councils asked for the details of all Kids Company London-based clients. We set no thresholds and imposed no criteria – we simply wanted the details of all their clients so that we could assess their needs and offer support as appropriate."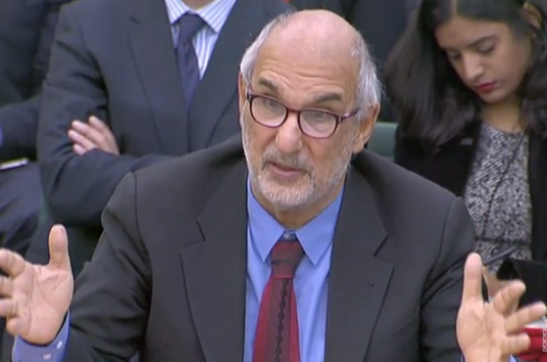 Throughout Thursday's hearing, Batmanghelidjh and Yentob repeatedly denied the charity had been brought down by poor financial management as they were grilled on a range of issues including cash handouts to vulnerable clients, oversight of the charity's safeguarding processes, and its use of a government grant to pay staff salaries.
At one point, Batmanghelidjh told the committee that she had put up her flat for surety for a £3m government grant. "The deal was £3m from government and £3m from philanthropists," she said. "I was to raise £8m plus. I fell short by £350,000 and I put my flat up for surety – that formed part of a whole package."
Cabinet Office sources, however, later said that while she had offered the flat as surety, the department had refused the "baffling" offer, and that eventually donors stepped in with the money. "I don't even think it would be legal," said the source.
Another extraordinary moment came when Yentob cited a murder in south London as evidence of the impact of the charity's closure.
"We have been told it happened because kids no longer had money to pay their drug pushers," replied committee chair Bernard Jenkin, referring to the weekly cash handouts that the charity used to give its clients.
Batmanghelidjh defended the payouts, saying it was a "myth" that the money was given "willy nilly" without control over how it was being spent.
Batmanghelidjh was repeatedly pressed on the charity's spending, particularly on whether children were given hundreds of pounds a week. She initially denied it, then conceded that "some did".
Presented with the example of a client who got £73,000 from Kids Company in a year, she said that this included the cost of psychiatric treatment.
In response to her failure to answer a question about a client who was reportedly given a £150 pair of shoes, Labour MP Paul Flynn described her responses as "verbal ectoplasm". He continued: "You give a non-stop spiel of mostly psychobabble, you don't answer the questions."
After the hearing, Flynn told BuzzFeed News that government ministers would have to be called before the committee to explain why Kids Company had continued to receive public money against the advice of civil servants.
He said: "Her arguments were almost entirely emotional and tried to blackmail us with talk that 'if you don't do this, you're indifferent to the suffering of children with mental health problems'. Which is outrageous."
"We've got to see the ministers involved, because they seem to have acted in a very incompetent way," he added.
Batmanghelidjh also claimed that the Cabinet Office had known that a controversial £3 million grant handed over just five working days before the charity closed was to be spent on paying staff wages – a claim disputed by officials.
Chris Cook, the BBC Newsnight journalist who has collaborated with BuzzFeed News on all its reporting of the charity, tweeted a picture of a letter Batmanghelidjh was citing as evidence that officials had authorised this use of the money.
His tweet was noticed by Jenkin, who pressed her further on the matter. At first Batmanghelidjh said she was referring to another email. But when Cook again tweeted to point out that this was the email Kids Company itself had released as evidence the payments were authorised, Batmanghelidjh appeared to backtrack and said she was unsure whether there was another email.
There were also questions about the lack of oversight the charity received from Ofsted and the Care Quality Commission – in response, Batmanghelidjh and Yentob cited a range of "independent inspections", which seemed not to satisfy Jenkin. "The point I'm making," he said, "Is I know of no other large organisation which is not inspected."
There were further questions over the charity's lack of willingness to hand over records to Southwark council. Yentob claimed that the council had "not been prepared to receive them", but the committee disputed his claim. Yentob then said that there were "legal issues" and that "whatever is legally attainable should happen".
He also defended an email sent to the Cabinet Office bearing his signature that said that without Kids Company, communities in south London would "descend into savagery". It was described by Kate Hoey as a "really shocking thing to say about ordinary, decent people", but Yentob said the document was "intended to be a worst-case scenario".
At one point Batmanghelidjh attacked the MPs for their lack of insight: "None of you have visited the organisation, you haven't had the opportunity to talk to any of the staff," she said. "You haven't accepted for evidence 43 letters that came from senior staff members and clients of the organisation." Jenkin replied that he couldn't accept them, because they'd been sent to him by Batmanghelidjh.
The pair continually blamed the announcement of a Metropolitan police investigation into sexual offences alleged to have been committed at the charity for its closure, and Yentob said there "wasn't much substance" to the allegations being investigated by the police. They stopped short of blaming the Cabinet Office for the information about the investigation reaching the public domain, but Batmanghelidjh said the timing of the announcement was suspicious – civil servants had been "disrespectful of a democracy," she added.
On occasion the pair fell into verbal traps of their own creation. One exchange was widely shared on social media:
Batmanghelidjh: "On what basis do you describe this as a failing charity?"

Jenkin: "Because it's gone bust."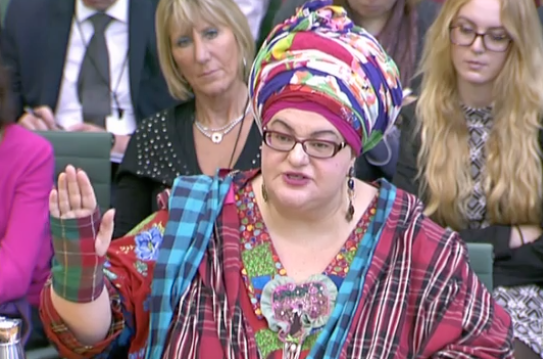 Yentob faced particularly tough questions on the charity's failure to build reserves. Jenkin asked whether it was right that a charity with such "responsibility" as Kids Company had deficits in its "free reserves" in 2003, 2004, 2005, 2006, 2009, 2010, and 2011 prior to its last appeal for further funding to the Cabinet Office. Yentob told him that the Charity Commission had seen Kids Company as successful.
After the meeting, Paul Flynn told BuzzFeed News: "I believe she is an extraordinary personality but I find myself not persuaded by his mixture of psychobabble and exaggeration. There was very little she said that was quantifiable – she's full of emotions that might well charm the prime minister but don't impress those of us who are more discriminating.
"I think [Cameron] took her on and used her when the organisation was clearly in chaos.
"The organisation's clearly full of well-meaning people. I think she was probably being used by politicians so not entirely to blame but they were the fashionable flagship for the 'big society' and they were unfairly given money outside the system."
Jenkin said: "The public accounts committee are going to have a hearing with the civil servants so they will be plenty more to look at.
"There is plenty to reflect upon."