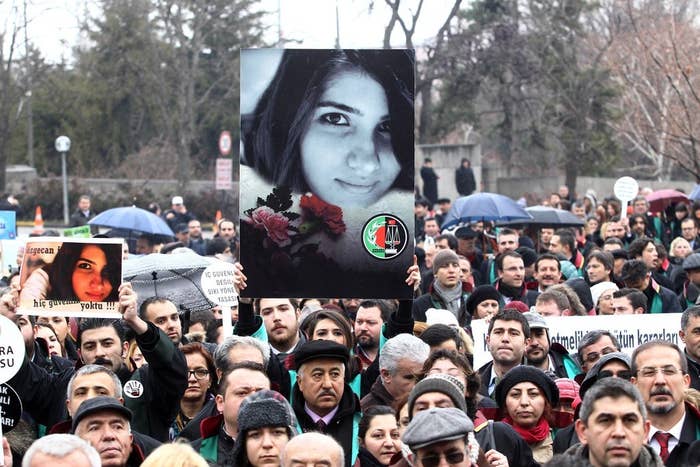 On Wednesday, Feb. 11, Özgecan Aslan, a young Turkish psychology student, boarded a minibus back to her home in the southeastern seaside province of Mersin after an afternoon shopping with her friend. For a young woman whose name has now trended worldwide, we know very little about her life. We know she was born into a poor Alevi family — Alevism is one of Turkey's two main branches of Islam, the other being Sunni, and there is often tension between the two — and we also know that despite the family's financial struggles, they managed to send her to local Çağ University. She was, it seems, a young woman with a bright future.
What happened to her set off an outraged reaction across the world that has lasted for days. And within Turkey, the fury shows no signs of abating. Yesterday, 170 TV presenters from networks across the country wore black live on air.
We don't know exactly what happened on the bus she boarded. It appears that she was travelling home alone, after her friend had got off the vehicle, when the driver attempted to rape her, and it's also understood that she attempted to defend herself with pepper spray before he stabbed her and beat her with an iron bar.
Three days after her disappearance, her body was found in a riverbed. It was apparently so badly disfigured she could only be recognized by her clothing. Several days after that, driver Ahmet Suphi Altındöken, 26, confessed to the murder in testimony to the prosecutor in the Tarsus district of of Mersin. His 50-year-old father, Necmettin Altındöken, and 20-year-old friend Fatih Gökçe were also arrested for their part in the murder. It appears that the bus was stopped prior to the body's discovery because of blood on the seats Altındöken initially said was the result of a fight between passengers.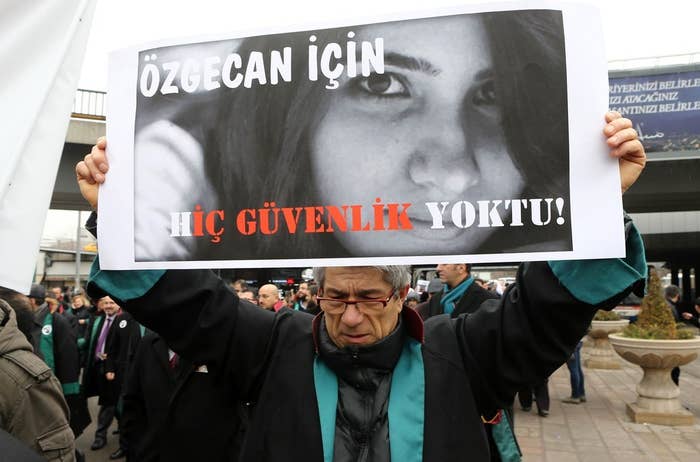 Altındöken reportedly told the court that the incident began over a row regarding the route, that his father and friend helped him dispose of the body, and that his friend suggested he cut off her hands to disguise the DNA evidence because she had scratched his face — although Gökçe denied this. According to the Hürriyet Daily News, Altındöken then said they cut off the student's hands while she was still alive, burned her body with gasoline, newspaper, and matches, and threw it off a cliff.
Already, rage about the murder was beginning to build. When the suspects were transported to the court, they were greeted by an angry crowd. The head of the Mersin bar association announced that none of the region's lawyers would represent the three men. On Saturday, Aslan was buried at Akbelen Cemetery in Mersin. Around 5,000 people reportedly attended the funeral, and her coffin was carried by women only — in defiance of the imam's orders.
There were street protests throughout the weekend in Ankara, Istanbul, and Mersin as Aslan's name began to trend around the world. "Several hundred minibuses in Diyarbakir in the southeast were adorned with black ribbons and carried Aslan's photograph," The Guardian reported. The day after the funeral, the hashtag #SendeAnlat ("You tell your story") began to trend on social media. One of the first to share her "story" was the actor Beren Saat, who wrote about "catcalls when I was walking home in my school uniform [and] accelerated steps walking home from school in the dark."
Women increasingly took the opportunity to air their grievances about misogyny in Turkey. On Reddit, one user wrote that Turkish women had to "text a cab's plate number to a friend if they must travel alone by cab," and that "sometimes they order food for two if they are alone at home to make sure [the] delivery guy doesn't understand she is alone at home," as well as saying that "if there are only two [people] in a bus and someone gets off the bus, they also get off the bus with that person, even if that stop is [a long way from] their destination or not."
The writer Elif Shafak wrote in The Guardian: "As a high-school student in Turkey, whenever I took the bus I would make sure to keep an open safety pin in my hand — to poke molesters with." And on Monday the hashtag #ÖzgecanIçinSiyahGiy ("wear black for Özgecan") began to trend as women posted selfies while wearing black clothes as a form of protest. A bus bore a sign saying: "Whoever boards this bus is under my protection. I'm a father, too!"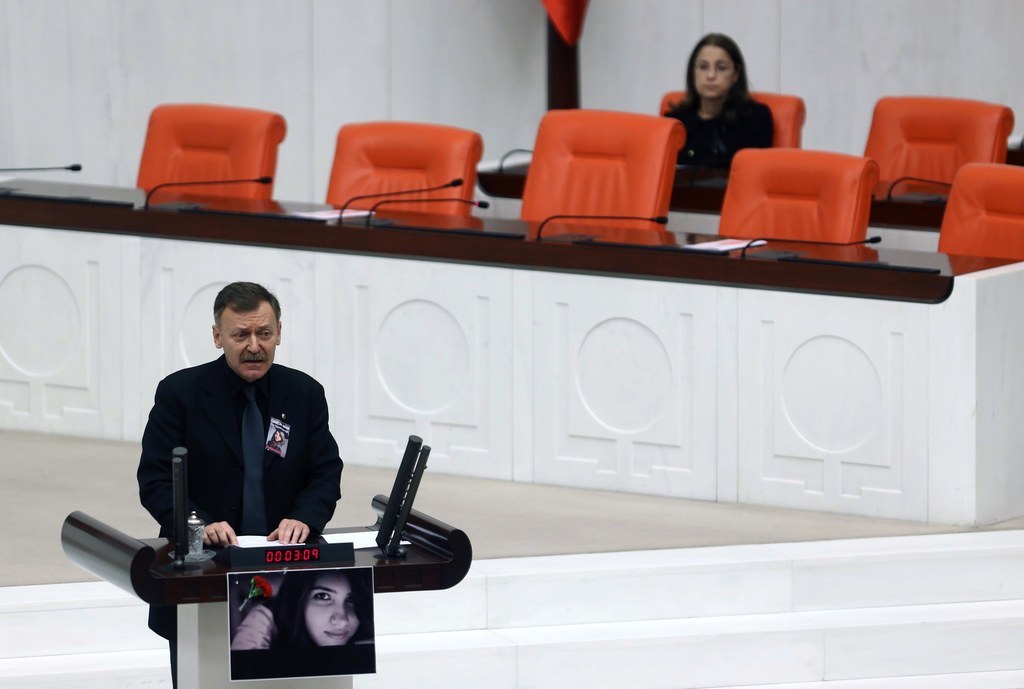 The political elite made all the right noises in response. Turkey's prime minister, Ahmet Davutoglu, told Aslan's family that those responsible would be punished. Turkey's education minister, Nabi Avcı, said the government had advocated for gender equality education, but added that "such tragic incidents happen, no matter what measures you take." The pro-government Daily Sabah reported that President Tayyip Erdoğan and his wife called Aslan's family on the day of her funeral, and that his daughters visited them at their home.
Erdoğan went on to describe violence against women in Turkey as the country's "bleeding wound," and claimed he would "personally follow the case so that [the accused] will be given the heaviest penalty." Some politicians even called for the reintroduction of the death penalty, a move rejected by the Istanbul Feminist Collective, which said that those who make that call generally fail to act when violence against women is committed. Local media reported that both the father of the victim (in contrast to his wife, it seems) and the mother of the murderer were also against such a move, the latter taking the opportunity to claim that her son was brought up in a household where she was beaten by her husband.
As the days went by, a social issue turned increasingly political. Erdoğan has been criticised in recent years for failing to speak out against domestic violence, as well as for telling a female journalist to "know your place" and calling abortion murder. He was also roundly condemned for claiming that women and men aren't equal and nor should equality be a goal for women at a Women and Justice Summit organized by a Turkish NGO.
His ruling Justice and Development Party, which has been in power since 2002, has its roots in political Islam and is widely seen as conservative and patriarchal in its outlook. There have been a number of other political statements that have caused outrage, not least when the government's health minister said a woman's primary career was motherhood.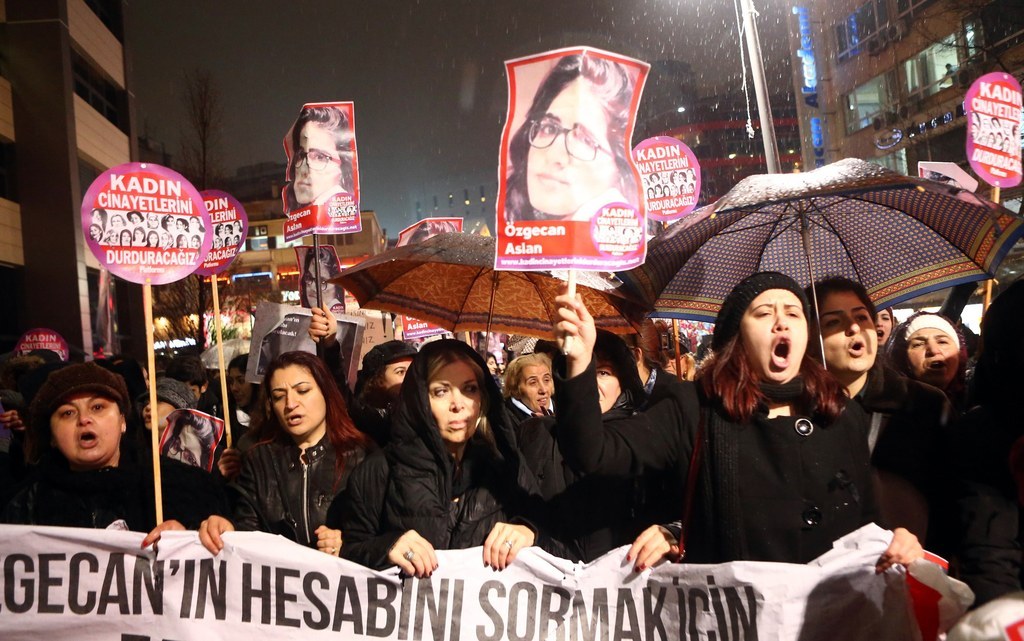 Over the last decade, the number of reported cases of violence against women has risen sharply. The Financial Times noted that figures "given by the Ministry of Justice to parliament in 2009 signaled a huge increase in the murder of women, from 66 in 2002 to 953 in the first seven months of 2009." This increase could be the result of better reporting as Turkey becomes more developed — but as a lawyer quoted by the paper said, they were "the only official figures we have," because it is "policy" for the government not to release its data.
Some commentators claim this reluctance is almost entirely due to the conservative attitudes of the country's ruling party, with one asking if government officials and supporters could "look into [Aslan's] eyes." Their point was reinforced by some of the responses to Aslan's murder. Columnists in the pro-government newspaper Yeni Safak were apparently keen to point out rape also happens in America, while one journalist from the paper seemed to imply on Twitter that the women sharing their stories were just doing it for attention.
But violence against women is a symptom of wider gender issues within the country. The World Economic Forum's 2014 gender gap report ranked Turkey 125th out of 142 countries in terms of gender equality, with 30% of the country's women participating in the workforce and just 12% of the country's legislators, senior officials, and managers being female.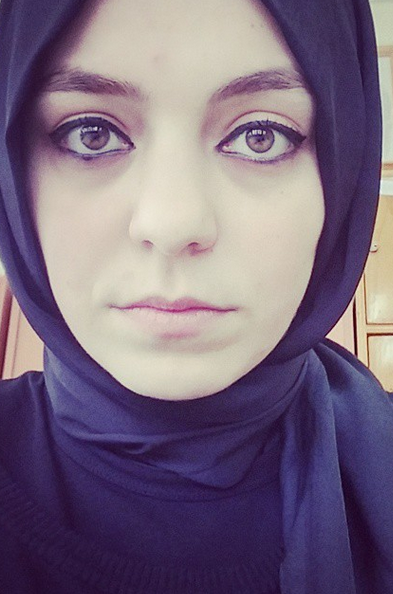 Three selfies posted with the hashtag #ÖzgecanIçinSiyahGiy.
For some commentators, attitudes to women were encapsulated by a recent episode of a Turkish TV show with a similar format to The Bachelor. The show introduced a bachelor named Sefer Calinak who had murdered two of his wives and served just over 10 years for the murders. The hostess asked: "Have you ever seen a murderer with such a smiling face?" According to news site Al-Monitor, an outcry followed on social media, but the initial audience reaction was laughter. There have also been reports of state-run Istanbul hospitals breaking the law by refusing abortions (one activist told The Guardian that there was a "de facto ban" as a result of the government's rhetoric on the issue), and last year a woman was beaten to death in a street by her fiancé — eyewitnesses reportedly didn't want to intervene because it was a "private family matter."
The government has made some concessions: Last year, it signed a Council of Europe convention on violence against women. It also enacted a law to prevent domestic violence in 2012, but according to a European Commission report, the law has been poorly implemented. Elif Shafak wrote in The Guardian: "There are still fewer than 100 [domestic violence] shelters in the entire country. Women's NGOs say the number should be at least 7,500." Shafak argued that while Turkey is, historically, a structurally patriarchal country, this issue has been exacerbated by the ruling party, which "has so sharply estranged itself from one-half of its people that it now doesn't know how to collaborate with women's advocacy and civil society groups."
In the wake of Aslan's murder there have been few hard political pledges beyond the token; according to the pro-government press, small practical measures are being taken to regulate the operation of minibuses and install panic buttons and GPS devices. The opposition Republican People's Party has now announced that it will field women candidates for crucial positions in key cities. Whatever political changes ensue, such steps are unlikely to appease the nation's youth, who may just be having a "New Delhi" moment, one that has been coming for some time.
But what does it mean? In India, two years after a student was brutally gang raped and left to die, sparking huge protests, there have been some improvements in law and public transport safety, but there have also been problems getting new laws to work effectively, even as crimes against women continue to rise. Turkey may have reached a social tipping point, but what that really means for its people remains to be seen.