Here's How Anti-Abortion Protesters Are Targeting GP Clinics
A leaflet passed to BuzzFeed News shows they're encouraging members of the public to email and write to surgery directors.
This note, recently handed to BuzzFeed News, was given out to members of the public near a GP clinic in London earlier this year.

It reads:
Why are we here?

[Name of medical centre] is renting out space on its premises to an abortion clinic. A medical centre is the place the sick go to get better, and so to have a facility on site that takes the lives of innocent pre-born children is completely contradictory to all a family health clinic stands for. Killing pre-born children is not healthcare and should not be permitted and encouraged on it's [sic] premises.

We are calling on [medical centre director's name] and staff at [medical centre] to discontinue this deadly "business arrangement".

If this is your local medical centre, please politely but firmly raise your objection and ask that management close down this killing facility.

You can email [medical centre director's name] at [email address].

Or send a letter to [address of medical centre].

For further information on how you can help, please email: info@abort67.co.uk.
The note was handed out by British anti-abortion group Abort67, who earlier this year hit the headlines after a video of a confrontation with a pregnant woman outside an abortion clinic in London went viral.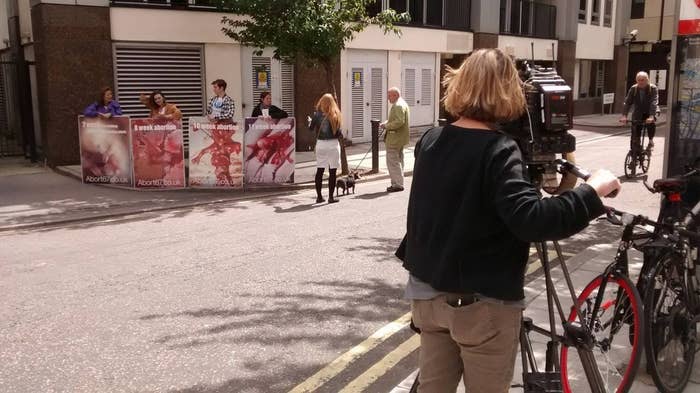 The group are building a reputation for their hardline tactics, which include displaying graphic pictures on posters at their protests that they claim are the aftermath of abortions. This online petition claims that they are trying to shut down abortion services by "intimidating staff, service users and local residents".
In October last year the group targeted a GP surgery in London that was hosting a British Pregnancy Advisory Service (BPAS) clinic.
BPAS told BuzzFeed News that Abort67 should not be allowed to protest outside GP clinics.
The charity's director of external affairs, Clare Murphy, told us: "It is very sad that those opposed to abortion would try to pressurise and intimidate a GP surgery into withdrawing that service. Providing pregnancy counselling and abortion services from premises close to where women live has increased women's access to care at some of the earliest gestations."
Murphy went on to say that abortion is "an extremely safe procedure at any gestation, and much safer than childbirth, but the earlier it can be provided the better for a woman who does not want to be pregnant."
A spokesperson for Abort67 said: "Abortion providers want to destigmatise abortion by working at genuine healthcare centres. We want to raise awareness of their presence. It's outrageous that a GP surgery or medical centre would house Marie Stopes [a charity that provides abortion services] or BPAS.
"To deceive their clients about the humanity of the unborn child and the inhumanity of abortion as a 'treatment for pregnancy' is cruel and manipulative... We deny allegations of harassment, intimidation and filming women," he added.