Gina Miller Says She Quit A Pro-EU Group Because It Became About "Bringing Down The Tories"
"It's self-interested, and it's not helping ... Best for Britain – that's a room full of white males deciding what's going to happen to the country," Miller told BuzzFeed News.
by
,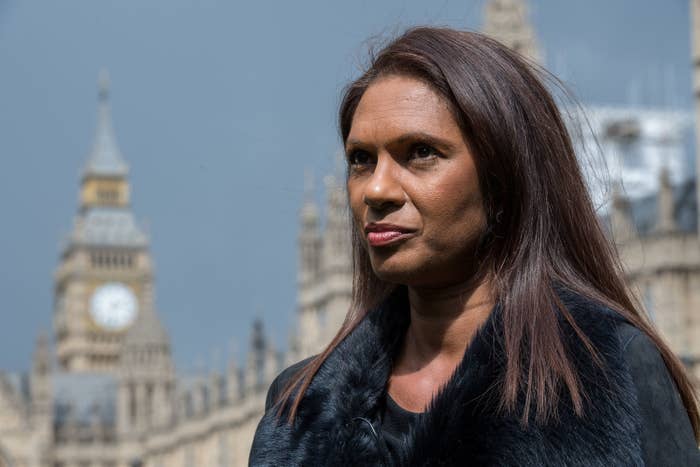 Gina Miller, the outspoken businesswoman and philanthropist who led the Article 50 legal case, distanced herself from the pro-EU campaign group she cofounded because she believed it had become too party political.
Miller told BuzzFeed News that she walked away from Best for Britain last year because she did not believe in its "tactics" – and warned it was more focused on "bringing down the Tories" than its original aim to secure a meaningful vote on Brexit.
She said she left the group's board after the snap election in June last year. "Ultimately it could be about setting up a new party, or bringing down the Tories," she said. "It's self-interested, and it's not helping ... Best for Britain – that's a room full of white males deciding what's going to happen to the country.

"My agenda has always been that we need to do things properly. It's more than Brexit that I'm concerned about. I'm concerned about the route of division and aggression. If we removed Article 50, it wouldn't heal this country."
She said she was speaking out now because her name was repeatedly linked to Best for Britain in the wake of a controversial front-page splash in the Daily Telegraph on Thursday about the group receiving £400,000 from billionaire investor George Soros.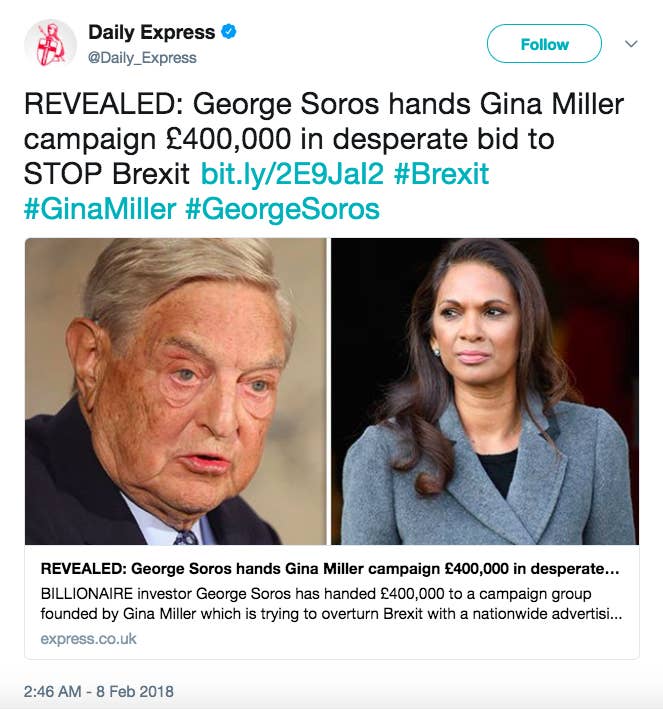 The story, which claimed Soros was behind a "secret plot to thwart Brexit", was written under the lead byline of Nick Timothy, Theresa May's former co-chief of staff in Downing Street. It drew immediate criticism as having anti-Semitic undertones, and for citing opposition to the philanthropist from both Russia and Hungary's hardline government.
Miller was also critical of the Telegraph story. "Funds from a philanthropist passionate about democracy, the rule of law, and fighting autocratic regimes is very different from dark illiberal forces who want to destabilise and destroy our democracy," she said.

Miller said she had received multiple death threats during her work on the pro-EU campaign, and in recent weeks.

In a public statement, she said: "Contrary to misleading media reports published earlier today, I have absolutely no relationship with, or involvement in the work of, Best for Britain. It is, of course, a matter for Best for Britain whether they choose to make public their list of donors. As a transparency campaigner, I hope they do."
The statement flagged a "lack of transparency about key players' motivations, agendas and activities and incompleteness of information that is placed in the public domain".
Miller told BuzzFeed News she had been approached by a pro-EU political pressure group called UK-EU Open Policy, whose directors included Labour former cabinet minister Alan Milburn, in February last year.
The approach happened after she had risen to prominence as the woman who forced the government to get parliamentary approval for triggering Article 50, effectively the starting gun for the Brexit process, in a high-profile court case.
On behalf of the group, Miller launched Best for Britain in April 2017 as a campaign ahead of the snap election, to encourage people to support MPs who would back a meaningful vote in parliament on Brexit.
"I was never on the UK-EU board or received any salary from them," she said. "All the money spent on the campaign came from crowdfunding and I was on the road around the country with the extremely hard-working ground team. The board never attended any campaigning visits.
"When Best for Britain started succeeding, a lot of white men who never left their offices and never went on the road – they were happy for me to take all the stick, and then said, 'Fine, we'll take that back in-house.'"
BuzzFeed News asked Best for Britain for its response to Miller's criticisms. A spokesperson said: "Gina is a fantastic campaigner for transparency; we share those values and we have declared our donations as required by law."