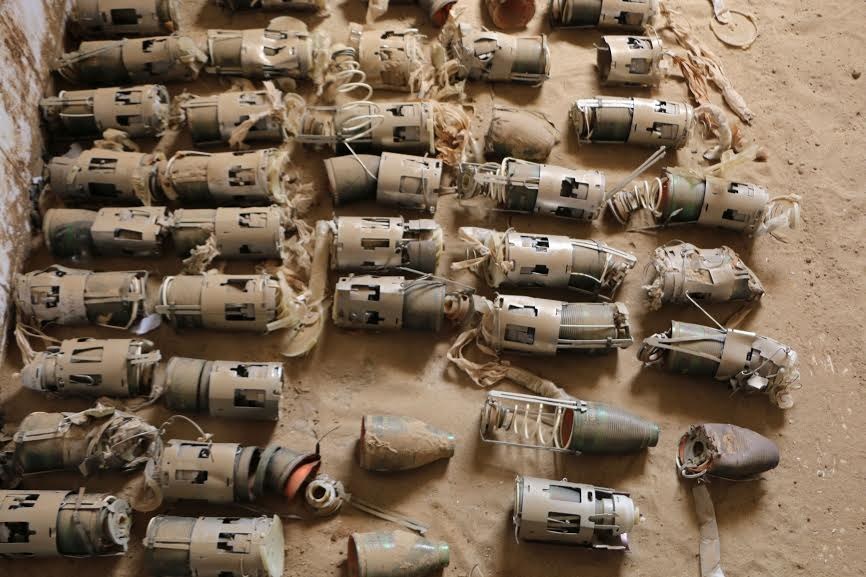 The British Foreign Secretary, Philip Hammond, has told parliament that reports of cluster munitions made in Britain in the 1970s will be investigated.
The investigation was sparked after Amnesty International wrote to the British prime minister, David Cameron, and other senior ministers, after it uncovered evidence that the Saudi Arabia-led coalition may have used UK-manufactured cluster bombs in Yemen.
The human rights group found a "BL-755" cluster bomb near the Yemen-Saudi Arabia border, along with American- and Brazilian-made cluster bombs. The weapon contains more than 147 fragments designed to burn through tank armour, but they often don't detonate until they're picked up, sometimes by civilians unaware of how dangerous they are.
Hammond told Parliament the weapons found in Yemen were decades old, that it was now illegal to use or supply them under British law, and that Britain had been told by Saudi authorities that such weapons had not been used.
Cluster bombs are banned by over 100 countries, including the UK, under the Convention on Cluster Munitions. The BL-755 was sold by Britain before it joined the convention, and Amnesty argues that it should trace the weapons sold in the past and existing stockpiles should be destroyed.
Saudi Arabia is currently not a member of the convention, but under international humanitarian law, the Kingdom, and the coalition it leads, must not use indiscriminate weapons that pose a threat to civilians. Amnesty has provided evidence that children have been killed in Yemen after picking up bomblets.
Amnesty International UK's arms control director, Oliver Sprague, said: "Cluster bombs are one of the nastiest weapons in the history of warfare, rightly banned by more than 100 countries, so it's truly shocking that a British cluster munition has been dropped on a civilian area in Yemen."
"Once again it's not good enough for ministers to talk of 'investigations' in response to this and other scandalously indiscriminate attacks by the Saudi-led coalition, when all that ever seems to happen is that we politely seek 'assurances' from Saudi Arabia over their own behaviour.
"Despite the deaths and injuries of thousands of Yemeni civilians at the hands of the Saudi-led coalition, British arms manufacturers are still sending shedloads of UK arms to Saudi Arabia and others in the coalition - and they're being waved on by ministers as they do so.
He added: "It's a scandal. We've written to David Cameron demanding that the UK stop sending arms to the Saudi-led coalition which are all too likely to end up killing Yemeni farmers and their families."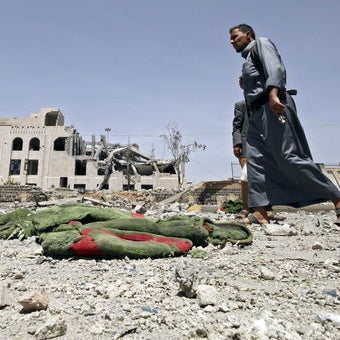 A Houthi militant walks amid debris from the Yemeni Football Association building on 31 May 2015. (Right) Udai Faisal, suffering acute malnutrition, is fed by his mother, Intissar Hezzam, at al-Sabeen Hospital in Sanaa, 22 March.
The bomb is designed to be dropped from UK Tornado fighter jets, scores of which have been sold to Saudi Arabia.
Sprague said: "Given that this type of cluster bomb is very likely to have been used in combination with Tornado warplanes which the UK has also sold to Saudi Arabia, there's even a possibility that British support personnel might have been involved in the cluster bombing of Yemen. This would be an absolute scandal if confirmed."
However, a government spokesperson denied that this was the case, saying: "The UK is not a member of the Saudi-led coalition. British personnel are not involved in carrying out strikes, directing or conducting operations in Yemen or selecting targets and are not involved in the Saudi targeting decision-making process."
The charity is now demanding a full inquiry into the discovery and into all aspects of the UK's arming of Saudi Arabia.
In an emailed press release, Amnesty said the bomb "had been retrieved – at great risk – by staff from local Yemeni de-mining organisation the Yemen Executive Mine Action Center, and was being stored at a de-mining depot in Hayran district, in Hajjah, when seen by Amnesty experts."
It said:
Amnesty interviewed 30 people – including survivors of cluster bomb submunitions and other unexploded ordnance, as well as their families, eyewitnesses, de-mining experts, activists and members of the emergency services – documenting ten new cases in which 16 civilians, including nine children, were killed or maimed by cluster bombs between July 2015 and last month. These incidents took place days, weeks or sometimes months after the bombs were dropped by coalition forces in Yemen...

International assistance is urgently needed to de-mine contaminated areas and countries with influence should urge the Saudi Arabia-led coalition forces to stop using cluster bomb munitions, which are internationally banned and inherently indiscriminate.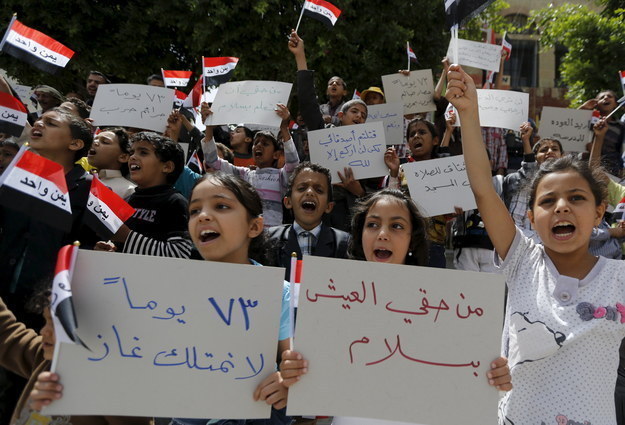 Conflict in Yemen has been ongoing for many years but the current situation began in February last year, after Houthi rebels forced the president, Abdrabbuh Mansour Hadi, to flee the capital city of Sanaa. Hadi claims the Houthis are proxies for Iran (on the grounds that both follow forms of Shiite Islam), and that he was forced to called to call in Saudi Arabia and other Arab countries for help.
There have been multiple allegations of war crimes on all sides, and the British government is facing increasing pressure over its support for the Saudi-led bombing campaign. A UN report in September found almost two-thirds of the civilians killed in the war between 26 March 2015, when the coalition began bombing, and June the same year had died due to airstrikes.
In April, the British government's claim in an official memorandum that the coalition was not bombing civilian targets in Yemen was called into question by leading campaign groups. In May, an MP tabled a question in parliament asking the foreign secretary to make public reports on the campaign that his department has received from the Saudi Arabian military.
Sprague said: "There needs to be a full investigation into both this incident and all aspects of the UK's arming of Saudi Arabia and other countries involved in the carnage in Yemen.
"Amongst other things, we need categorical assurances that no UK person has been involved in the cluster bombing of Yemen, with full disclosure of what was known, when and by whom.
"It shouldn't have taken the discovery of a UK cluster bomb in Yemen to push Downing Street to do the right thing, but surely now ministers will suspend all further arms sales to Saudi Arabia and its partners pending the outcome of a full investigation."
A government spokesperson said: "The UK Government takes its arms export responsibilities very seriously and operates one of the most robust arms export control regimes in the world. All export licence applications are assessed on a case-by-case basis against the Consolidated EU and National Arms Export Licensing Criteria, taking account of all relevant factors at the time of the application. The Government is satisfied that extant licences for Saudi Arabia are compliant with this export licensing criteria."