David Cameron has written to the Ethiopian prime minister twice to express concern over the continued detention of a British man on death row, BuzzFeed News can reveal.
British officials are frustrated that despite repeated representations, no progress has been made in the case of Andy Tsege, a father of three from north London, according to a memo from the Foreign Office to Downing Street.
Tsege was detained at an airport in Yemen in June 2014 and taken to Ethiopia, where he had been sentenced to death in absentia for plotting a coup and planning to kill Ethiopian officials, charges he denies.
Campaigners say he has been captured because he leads a banned opposition group and exposed government corruption. Civil servants at the Foreign Office have expressed their scepticism over the charges in internal memos.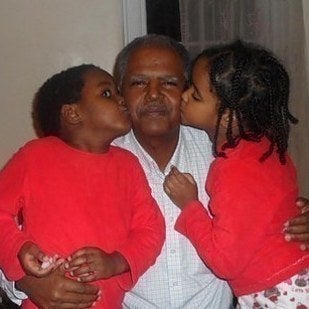 The Foreign Office memo, obtained by BuzzFeed News, was sent in July last year to Downing Street. It noted that the foreign secretary, Philip Hammond, was "deeply concerned" about Tsege's continued detention in solitary confinement for more than a year.
"Our repeated requests for regularised consular access have not been granted, despite multiple assurances given to the foreign secretary by Ethiopian foreign minister Tedros," the memo stated.
It said Hammond recommended to Cameron that he follow up an earlier letter about Tsege to his Ethiopian counterpart with a second letter "to emphasise our disappointment and frustration at the lack of progress on this case, despite our otherwise successful partnership".
The Foreign Office comfirmed to BuzzFeed News this week that following the memo, Cameron did write the second letter.
In the memo the Foreign Office also said it had set out its "frustrations and concern" on "15 separate occasions" with the Ethiopian government, but there had been no "substantive progress". At that point the British government went public with its views on the case, and officials are understood to have raised the case seven more times since.
But while the British government has applied pressure on Ethopia behind the scenes, campaigners say it has failed to formally demand Tsege's release, despite evidence that he is being tortured.
There have already been concerns expressed in Foreign Office documents about the conditions Tsege is being kept in and the state of his mental health – a psychiatrist has concluded that he is suicidal.
But buried in a report sent to the UN Security Council late last month, the organisation's rapporteur on torture, Juan Méndez, said there was "substance" to allegations that Tsege is being tortured.

Maya Foa, head of the death penalty team at Reprieve, told BuzzFeed News: "As the UN has made clear, Andy Tsege was unlawfully sentenced to death in absentia by Ethiopia's government, and has since suffered a series of terrible abuses – including kidnap, rendition and torture. Yet, nearly two years on, the UK continues to refuse to demand his release – instead pursuing a strategy that they themselves acknowledge simply isn't working. The government must now heed the call of the UN and others, and bring Andy home before he comes to any more harm."
In January the European parliament passed a resolution calling for Tsege to be released from custody. The British government, in spite of the fact it has been lobbying behind the scenes, has yet to formally call for his release.
Ethiopia receives over £350 million a year from Britain in aid and is also a trading partner. In October last year Hammond confirmed he had been lobbying the Ethiopian government, but at the same time his department supported a trade event at which the then Foreign Office minister, Grant Shapps, said the two countries would stand "shoulder to shoulder".
A spokesperson for the Foreign Office said: "The foreign secretary has raised Mr Tsege's case with the Ethiopian government repeatedly, making it clear the way he has been treated is unacceptable. While we welcome the improvement in access to Mr Tsege following the British Government's intervention, it must include access to a lawyer and we will keep pressing for this. We will also continue to provide consular support to Mr Tsege and his family."