Concerns Raised Over Authoritarian Regimes' Links To Queen's 90th Birthday Celebration
The event's brochure thanked Bahrain, Azerbaijan, and Oman for their "support".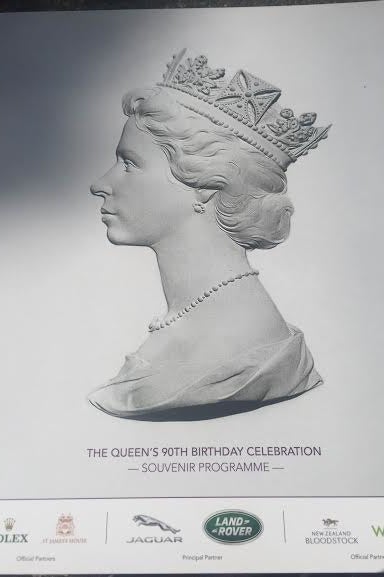 Concerns have been raised over the "support" given to the Queen's 90th Birthday Celebration by Bahrain, Oman and Azerbaijan, three countries that have been criticised over their human rights records.
The souvenir programme for the event – which featured hundreds of horses as part of the annual Royal Windsor Horse show and culminated on Sunday in the grounds of Windsor Castle – includes an acknowledgement page in which King Hamad of Bahrain, Sultan Qaboos bin Said of Oman, and the Republic of Azerbaijan are all thanked for their "generous" support.
Both the Royal Cavalry of the Sultanate of Oman and a team of Azerbaijani Dancers performed at the show, while a spokesperson for the event confirmed the Kingdom of Bahrain had been "an enthusiastic partner of Endurance [a competition] at Royal Windsor Horse Show and sponsor of the Grand Prix for the Kingdom of Bahrain Trophy."
He would not confirm or deny whether Oman and Azerbaijan gave any additional financial support.
Amnesty International UK's head of policy and government affairs Allan Hogarth said: "It looks as if the Royal Windsor Horse Show has been added to a portfolio of high-profile events that authoritarian countries will use as a vehicle for their PR efforts."
Campaigners say that in Bahrain, over 100 people have been killed and thousands arrested since the Arab Spring, with reports of prisoners being tortured in prison. In Oman, there have been mass arrests of pro-reform activists and restrictions on freedom of expression, according to Amnesty International. The charity also says that in Azerbaijan, there has been persecution of journalists and widespread torture of prisoners.
When BuzzFeed News contacted Buckingham Palace for comment on the regimes' links to the birthday celebration, we were directed to HPower, a privately-owned events management company based just a few yards away from Windsor Castle, which organised the event. The company boasts an impressive portfolio of events, including The London International Horse Show, the Diamond Jubilee Pageant, and the 60th Anniversary Commemoration of World War Two.
A spokesperson for the event said: "The focus for HMQ90 Ltd, the organisers of Her Majesty's 90th Birthday Celebration, was on staging an inspiring and entertaining Birthday Celebration worthy of its name. This could not have been done without the support received from a number of major international companies, including Principle Partner Jaguar Land Rover, and many other household names. As well as these high profile brands, we are grateful to all the individuals and equestrian federations from around the world who supported the event.
"Our thanks also goes out to the Kingdom of Bahrain, who has been an enthusiastic partner of Endurance at Royal Windsor Horse Show and sponsor of the Grand Prix for the Kingdom of Bahrain Trophy. During Her Majesty's 90th Birthday Celebration, the Royal Cavalry of the Sultanate of Oman wowed the nightly sell-out crowd with a colourful equestrian performance, and the Azerbaijani Dancers and Karabakh Horses and Riders gave a display of daredevil riding and dancing which had the audience on the edge of their seats."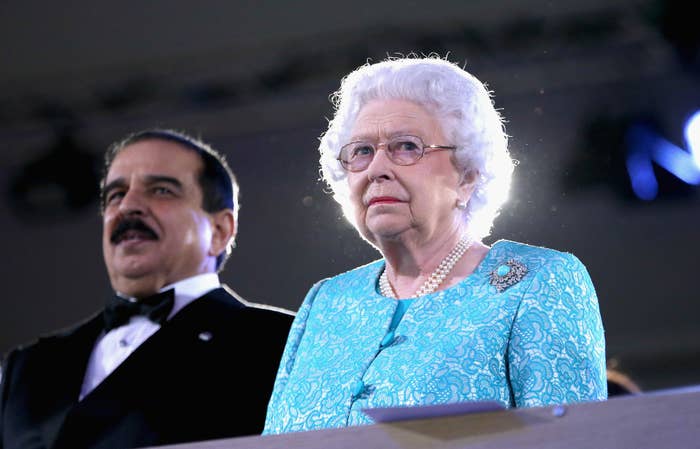 They went on: "The Kingdoms of Bahrain and Oman, along with the Republic of Azerbaijan, therefore played a major role in the success of Her Majesty's 90th Birthday Celebrations that were enjoyed by 24,000 people over four nights and a live ITV audience of 7.5 million viewers on the final evening."
However, Allan Hogarth said: "At the same time that Bahrain, Azerbaijan and Oman were sponsoring the Queen's birthday bash, people in each of those countries were being denied their basic human rights.
"Azerbaijan and Oman are both arresting journalist[s] and bloggers on an almost weekly basis, while Bahrain is locked in a vicious cycle of arrests, tear-gas raids, torture in detention and long prison sentences for peaceful protesters.
"Bahrain and Azerbaijan in particular are well known for their attempts to use high-profile sporting events as a means of trying to polish up their heavily-tarnished images," he added.
A spokesperson for Human Rights Watch said: "This is yet another cynical PR stunt by Azerbaijan, a tactic it's been deploying for some years now – either by paying influential lobby firms to whitewash its atrocious human rights record, or by sponsoring international cultural and sporting events."
Yesterday the Queen and the organisers of the event were also criticised for the decision to seat her next to the King of Bahrain, with Nicholas McGeehan from Human Rights Watch describing it as an "error of judgement".
HPower told the Independent, "he was there because he supports the horse show" but refused to elaborate further.
The King's son, Prince Nasser, was also in attendance and participated in a race at the event, despite facing allegations he tortured prisoners in 2011. The government of Bahrain says the claims are inaccurate and politically motivated. The Prince is also understood to have taken part in the Saudi-lead coalition's war in Yemen, even posting to Instagram from the scene. The campaign has been accused of targeting civilians and of human rights abuses.
Sayed Ahmed Alwadaei, director of advocacy at the Bahrain Institute for Rights and Democracy, said: "The King and his son, who must still answer allegations of torture, continue to be given pride of place by the Queen's side. It is a damaging association for Britain's longest reigning monarch."