Bahrain Releases Activist Zainab Al-Khawaja And Her Infant Son
But she still "remains at risk of arrest at any time", her sister told BuzzFeed News.
Bahrain has released a prominent human rights activist and her infant son following international pressure.
Zainab al-Khawaja, 32, was taken into custody in March with her 17-month-old son over several charges, including tearing up a picture of King Hamad bin Isa al-Khalifa, the country's leader.
The charges have not been dropped, however, and she still faces up to three years in prison.
Her release was confirmed by Bahrain's state news agency and by her family.
Her sister, Maryam al-Khawaja, told BuzzFeed News: "It's great for Zainab to be going home to her children, but as far as we know the [charges] have not been dropped and she remains at risk of arrest at any time.
"What Bahrain needs isn't only for prisoners of conscience to be released, but for the system that puts them in prison to begin with to be changed. Otherwise all releases are temporary, and people will continue to be arrested and imprisoned for practicing basic rights."
The arrest of Zainab al-Khawaja – known on social media as Angry Arabia on Twitter, where she has tens of thousands of followers – had prompted outrage on social media and mounting pressure from the international community.
In February the US secretary of state, John Kerry, was told by Bahrain's foreign minister that she would be released on humanitarian grounds, while the British Foreign Office was also known to have raised the case "at the highest levels".
News of Khawaja's release comes a day after an appeals court increased a prison sentence imposed on a Shiite opposition leader, Sheik Ali Salman, from four to nine years.
Sayed Ahmed Alwadaei, director of advocacy at the Bahrain Institute for Rights and Democracy, called the U-turn a "PR stunt".
"She should never have been in prison to begin with," he said. "And in the last 24 hours, Bahraini courts increased an opposition leader's prison term from four years to nine, rendered over 20 people stateless, and upheld the death sentences of torture victims."
In a letter smuggled from prison – and seen by BuzzFeed News earlier this month – Khawaja wrote: "If nothing changes for the people of Bahrain, then my staying in jail or release is not of great consequence. I am a mother with a job. I will carry my baby with me and continue on my path, so that I can clothe him in resilience and feed him in dignity."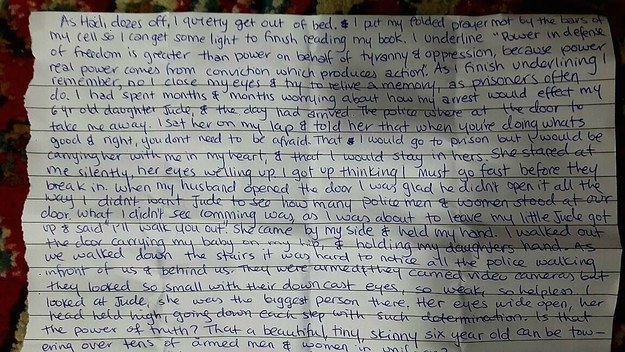 Bahrain's Sunni rulers are concerned by ongoing unrest among the majority Shia population. News of Khawaja's detention came shortly after the kingdom's interior ministry announced it had deported "several Lebanese residents" over their alleged support for, or involvement with, Hezbollah, which was recently declared a terrorist organisation by the Arab League.
On Monday UK foreign secretary Philip Hammond met King Hamad in Bahrain and welcomed Bahrain's "commitment to continued reforms" on social media.