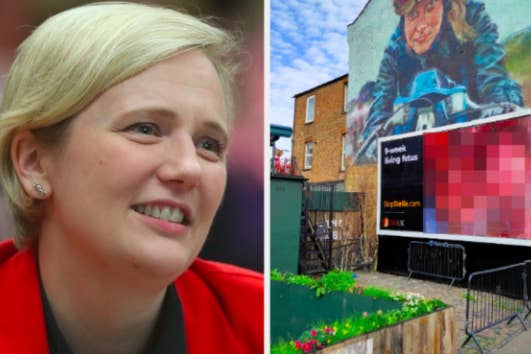 Anti-abortion billboards targeting a pregnant Labour MP have been taken down by the company that provided the advertising space for them.
Stella Creasy, who is currently pregnant, has been central to the campaign in Parliament to extend abortion rights to women in Northern Ireland. Recent amendments to decriminalise abortion and legalise same-sex marriage in Northern Ireland passed by a majority of 332–99 on the Commons and 182–37 in the Lords.
Creasy reported the campaign to the police via a tweet, saying that it made her feel "physically sick". Other MPs joined in the condemnation, including former Conservative cabinet minister Amber Rudd, who described it as "grotesque harassment".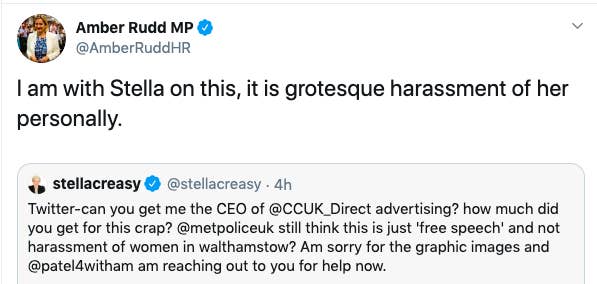 Creasy later shared an image of the billboard covered in white paint.
Later on Monday, Clear Channel Direct, the company responsible for providing the billboards, announced they were taking them down.
In a statement, the company said: "We sincerely apologise for any offence that has been caused by a recent campaign which we ran in Walthamstow on behalf of a customer. We're taking immediate action to remove this campaign.
"As an Out-of-Home media owner, we take a neutral stance towards all advertising and have robust procedures in place to ensure that the creatives we run comply with the UK advertising codes. While this campaign met these requirements, we accept that the content should have been scrutinised in greater detail and should not have been displayed.
"We are reviewing the internal processes we have in place regarding the campaigns and content we run, to prevent an issue like this from happening again."
In response to the news the billboards had been taken down, a spokesperson for the Centre for Bio-Ethical Reform UK, the group behind the adverts, said the decision by Clear Channel Direct was "unjust and unfair". They claimed the images were "scientifically accurate", and "no one" was being "harassed". "We invite Stella Creasy or anyone she wishes to put forward to a debate, in a friendly and formal setting," they added.

The billboards followed a protest in the east London borough on Saturday, at which leaflets bearing pictures of the MP, along with photos of foetuses, were handed out. The Metropolitan Police told the Guardian that no complaints were made by local residents, but Creasy's office has disputed this, saying that in fact "several" people made complaints.

The MP directed the force to a resident on Twitter who said they had made a complaint.
The Advertising Standards Authority was considering whether there were grounds for "action" after receiving complaints about the billboards showing images of foetuses, which appeared in the constituency of Labour MP Stella Creasy. However, the organisation has since said no further action will be taken at this point since they have been removed.
A spokesperson said: "Our rules state that ads must not contain anything that is likely to cause serious or widespread offence."
The campaign is being led by the UK branch of an American anti-abortion organisation, the Centre for Bio-Ethical Reform (CBR). On a website run by CBRUK, Creasy is described as a "hypocrite" for campaigning for abortion rights while pregnant.
BuzzFeed News has also been handed an audio file in which one of the protesters from the weekend appears to say Creasy is being targeted because she is pregnant.
When asked about the recording, a spokesperson for CBRUK said: "Needless to say we aren't targeting Stella because she is pregnant, but because she is trying to further push abortion here and Northern Ireland. She's rightfully pleased that she is pregnant because she recognises the humanity of her unborn child.
"[The] very reason she is excited about her pregnancy is the reason why what she is promoting is so morally repugnant, i.e. abortion kills a child," they added.
CBRUK has been in existence since 2010. Its CEO is Andy Stephenson, who founded Abort 67, a group which made its name by displaying similar placards at protests outside abortion clinics. Also listed as a director on Companies House records is Robert Colquhoun, a director of the controversial "40 Days for Life" campaign, in which protesters pray and fast in shifts for 40 days outside an abortion clinic.
Abort 67 has scaled back its activities and social media presence this year. In its place, CBRUK is now coming to the fore, by protesting in areas with high footfall rather than outside clinics. As well as the Walthamstow protest, it has recently made its presence felt in Brighton and Borough Market, and more.
A spokesperson for the organisation said: "Abort 67 is indeed being run down. This will hopefully simplify and streamline our work. We opt for busy city centres or outside universities for the higher numbers of eyes."
It may be that the change in tactics has been brought about by recent high-profile court cases surrounding the group's activities near clinics. In 2018 a buffer zone was imposed around an abortion clinic in Ealing. However, national guidelines for clinics have not been imposed by the Home Office, to campaigners' dismay.
A CBRUK spokesperson said they did not believe there had been multiple police complaints from residents. "Why would they complain about showing her residents the victim of what she calls a human right? Surely they should be celebrating if they think abortion a noble choice?"
They said they were targeting Creasy "because she is targeting the unborn child" and added that they would be taking action against other MPs "in the near future".
"Stella Creasy is trying to evade accountability. She claims abortion is a human right, yet she doesn't want anyone to see it. She cries being a victim, yet she is victimising the unborn child," the spokesperson said.