Hundreds of anti-gentrification protesters attacked the controversial cereal café in Brick Lane this evening, throwing paint at it and daubing "scum" on the window.
Alan Keery, who co-owns the Cereal Killer Café, told the Evening Standard: "There were children there – they were terrified. The staff were absolutely terrified. It was an angry mob throwing paint at the windows. They had torches and pigs' heads."
Late last year, the cafe was involved in controversy after a testy Channel 4 News interview in which Gary Keery – Alan's brother – was asked about the ethics of its prices given its proximity to one of the poorest parts of London.
Keery told the Evening Standard: "We're being targeted as the poster boys of gentrification and that's not our fault."
The protesters also appeared to have damaged an estate agent's window.
The protest had been advertised on Facebook as the third "Fuck Parade", and was apparently organised by the anarchist group Class War.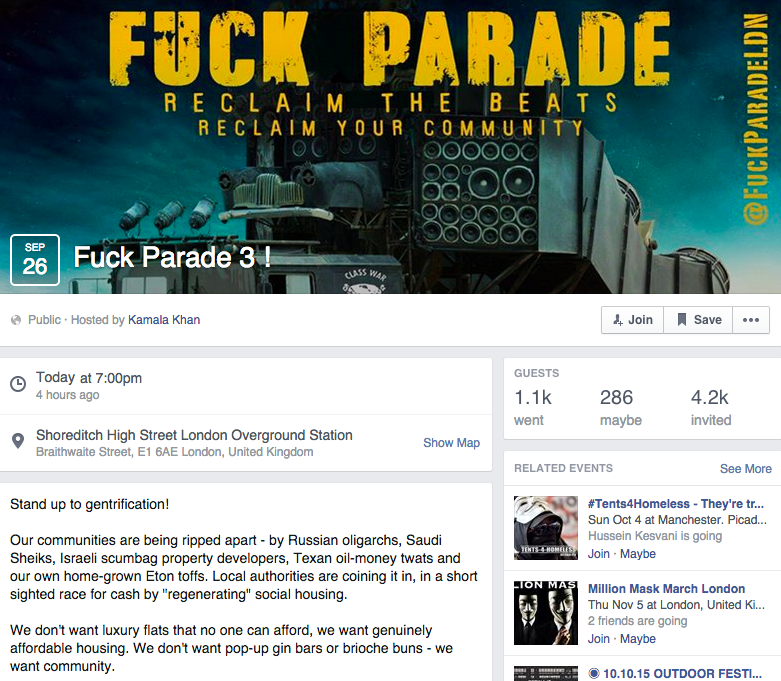 On the event's website it says: "Our communities are being ripped apart – by Russian oligarchs, Saudi Sheiks, Israeli scumbag property developers, Texan oil-money twats and our own home-grown Eton toffs."
"We don't want luxury flats that no one can afford, we want genuinely affordable housing. We don't want pop-up gin bars or brioche buns – we want community."
"Soon this City will be an unrecognisable, bland, yuppie infested wasteland with no room for normal (and not so normal) people like us."
"London is our home and worth defending against this onslaught of dog-eat-dog economics. Working class people are being forced out of our homes but we won't go out without a fight."
The organisers promise to protest what they see as "economic warfare" against them with a "street party".
One witness told the Evening Standard that there were 10 riot vans policing the protesters.
The protesters had met at Shoreditch station, before heading to Brick Lane.
Some tweets appeared to show clashes between police and protesters.
BuzzFeed News has reached out to Class War for comment.