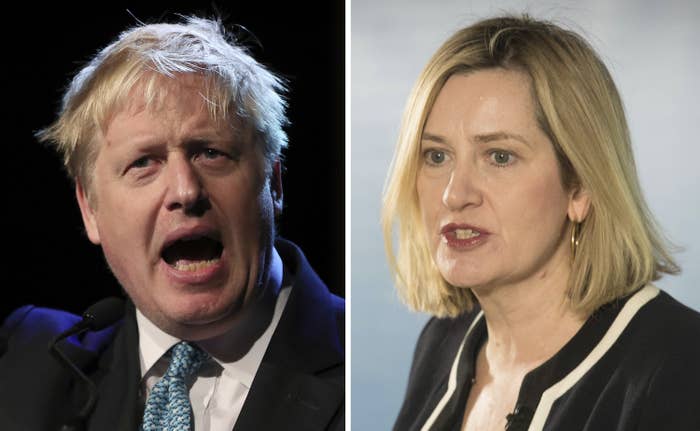 Work and Pensions Secretary Amber Rudd quit the Cabinet and Conservative Party on Saturday night, citing the fact that "loyal moderate Conservatives" were expelled from it.
In a tumultuous night for British politics, former chancellor Philip Hammond also announced he was taking legal advice after the government removed the whip from him and Tory colleagues.
In a letter to the prime minister, Rudd also said she no longer believed that seeking a deal with the EU was the government's "main objective".

The news first came in an exclusive interview with the Sunday Times. A source close to Rudd told BuzzFeed News she tried to make it work in Johnson's cabinet and had signed up to the PM's pledge to leave the EU on October 31. She also backed his decision to prorogue Parliament and oppose the anti-no deal legislation this week.
But she could not live with the decision to expel 21 Tory rebels who voted against the government, the source said.

She will be replaced as work and pensions secretary by Therese Coffey, Downing Street announced.
BuzzFeed News understands Rudd phoned Johnson to communicate her decision on Saturday evening, after she had given her interview to the Sunday Times.
Johnson asked her to reconsider but she had made her mind up.

Rudd had come under huge pressure from rebel Tory MPs who were furious she had stayed in the cabinet.

Team Rudd had exchanged messages with Number 10 earlier on Saturday asking for her to be able to attend the United Nations General Assembly for her women and equalities brief. But hours later, she announced her decision to quit the government.

A serving special adviser, who does not work in Number 10, told BuzzFeed News: "She should have been first out — she's trashed her rep anyway no. My message would be fuck off to the Lib Dems where you belong."
Hammond announced he would be taking legal advice against the government in a piece in the Surrey Advertiser.
He wrote: "We must get Brexit done – and our Bill provides the Prime Minister with the time needed genuinely to negotiate a deal, and leave in an orderly way as soon as possible. The National Interest must come before party or personal interest – but I am saddened that the Conservative Party (run by people who were serial rebels under Theresa May) has resorted to purging anyone expressing dissent. We all know only too well where that road ends up.
He went on: "This is my party, and I am not going to be pushed out of it by unelected Downing Street advisors who are not Conservatives and who care not one jot whether the party has a future. Nor will I have my party taken from me by entryists and usurpers who have infiltrated the party ranks, in an attempt to turn it from a Centre-Right broad church into an extreme right-wing faction."
Announcing he was taking legal advice, he added: "I have written to the Chief Whip asking him to provide a formal statement of the reasons for the removal of the whip, the process by which that decision was made and the procedure by which it may be challenged. I will decide in due course how I intend to proceed and my colleagues will reach their own decisions."