A Street In Central London Was Shut Down By A Swan
It's unclear why - or indeed if - the bird was mounting a sit-down protest, but its reign of terror is now over.
This was an odd thing to see on your way to work.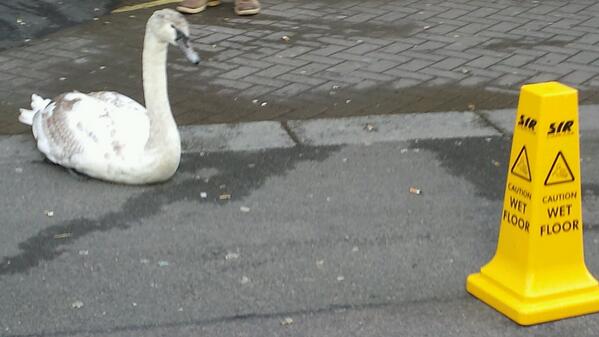 The swan had taken up residence in a parking bay, and wasn't moving. These images were uploaded to Reddit by user harry20larry.
This is currently happening on Jermyn Street, London, SW1. The Cygnet was there when my dad arrived for work sat down in the parking space. Police arrived, closed the street and placed traffic cones around it. Its causing quite the commotion.
It stems from the belief that the Queen is the only person who can eat a swan in Britain.
According to Royal.gov.uk:
Ownership of the swans by the Crown resulted from the medieval practise of feeding on the birds. However, the Queen does not own all the swans living in England except for the unmarked mute ones found in open water in the Thames.

She only exercises her ownership on certain stretches of the Thames and its surrounding tributaries. The Royal Household carries out an annual census of the swan population on stretches of the Thames in the counties of Middlesex, Surrey, Buckinghamshire, Berkshire and Oxfordshire.
BuzzFeed believes the swan may have been unwell.
Enquiries have been sent to the authorities regarding the swan's wellbeing, so keep an eye here for updates.
This post has been corrected to properly credit royal.gov.uk.