Earlier this week the Sheriff's Office in Hidalgo, Texas, posted this video of Argo, a police dog, in his final moments.
A voice can be heard saying:
"Sheriff's Office to K9 Argo.
Sheriff's Office to K9 Argo.
Sheriff's Office to K9 Argo.
End of watch for K9 Argo on October 10 2015. Rest in peace, K9 Argo."
Argo, born in 2006, was a narcotics detection dog: According to the Sheriff's Office's Facebook status, he removed "thousands of pounds of dangerous drugs off of our streets" and was responsible for "the apprehension of many dangerous felons."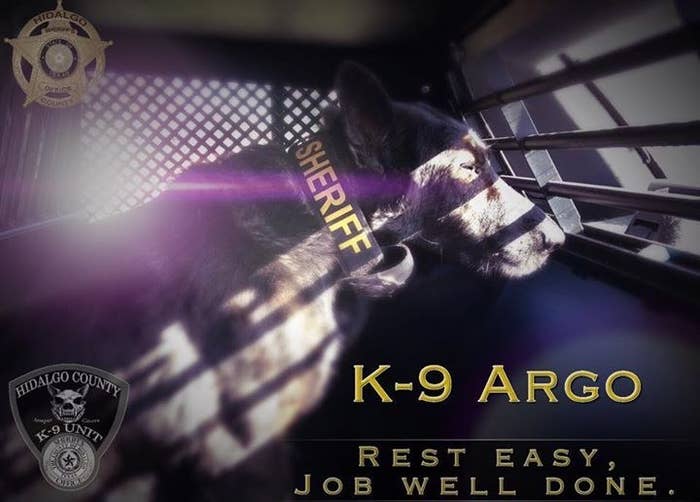 The status goes on:
Argo was diagnosed with bone cancer, but refused to let it slow him down. Only after the pain became evident to his partner and the cancer was found to be all over his body and terminal, was the hard, painful, but loving decision made to end his suffering. Argo was given a small and private ceremony where he was honored with the traditional Last Call, given to those who pass in the line of duty.
It concludes:
"Thank you for your kind words during this time. Argo will be publicly honored at the HCSO First Annual South Texas K9 Competition on November 10, 2015.
We forever remain your humble servants."