Look how happy Dave and Kathleen Long are!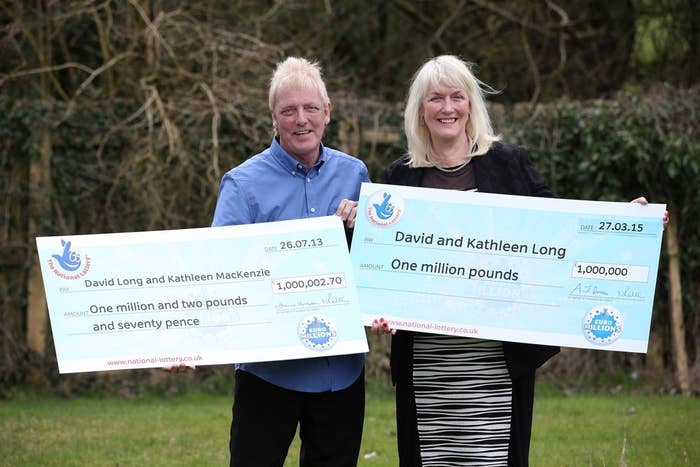 The Press Association has reported that the pair have just won £1 million on the EuroMillions lottery for the second time, after previously winning £1 million in 2013.
According to the Press Association, the odds of all that happening are 283 billion to one.
The agency reported that according to bookmaker William Hill, the chance of a double lottery jackpot is lower than (among other things) David Cameron winning the 100 metres at the 2015 Olympic Games and Jeremy Clarkson riding the winner of the Grand National – which have odds of a mere million to one.
Back in 2013 Mr Long, then working as an HGV lorry driver nearly didn't pick up his winnings. He actually binned his ticket because he thought he'd won just £2.70. He changed his mind and took it along to the shop, where he discovered the good news.
This time around, he said, he knew he had a "good chance because there were 100 prizes of £1 million."
He described the experience in a press release issued by lottery operator Camelot: "Last Friday night I was passing the local shop and saw there were 10 £1 million prizes on EuroMillions and a nice car and thought, yeah, I'll give that a go. Got to be worth a few lines and I got five using my usual numbers."
He told the Press Association his wife looked at the TV, checked online, and...
Then she went up right close to our television on the wall, put on her glasses and stared really hard at the raffle numbers. It seemed ages and then she finally said: "You said you'd do it again and you have!" Everything has been a blur ever since.

It's definitely taking longer to sink in this time!
He apparently feels it might now be time to "book a cruise". In the press release, he said: "Kath and I had a fantastic wedding last year but we never took a honeymoon because I'm just not keen on the idea of flying. Kath would love me to book a Mediterranean Cruise and I think I have just run out of excuses!"
It's fair to say all of Britain is delighted for them, and hopes they'll win it again.