1.
Fake Jo Swinson tweets were doing the rounds in the run-up to the election.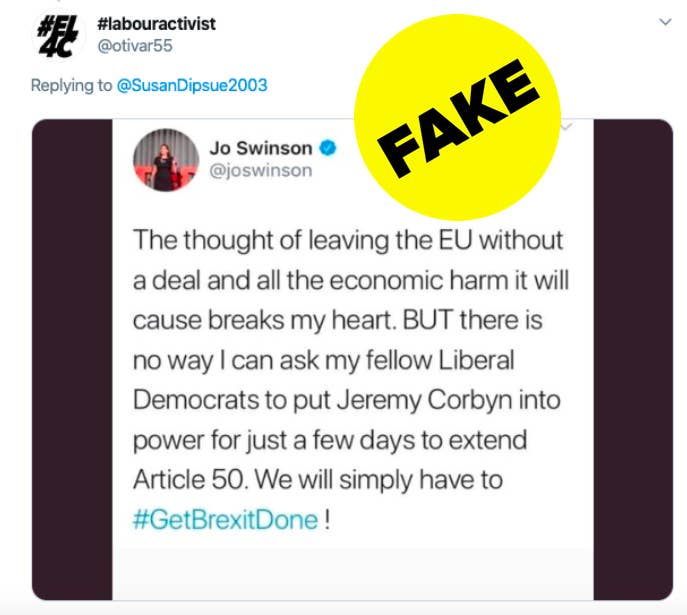 Other doctored tweets appeared on Facebook shortly after her appearance at Lib Dem conference — a summary of them can be found here.
2.
This bar chart from the Bath and North East Somerset Lib Dems, which at a quick glance appears to show levels of support in the area, is extremely misleading.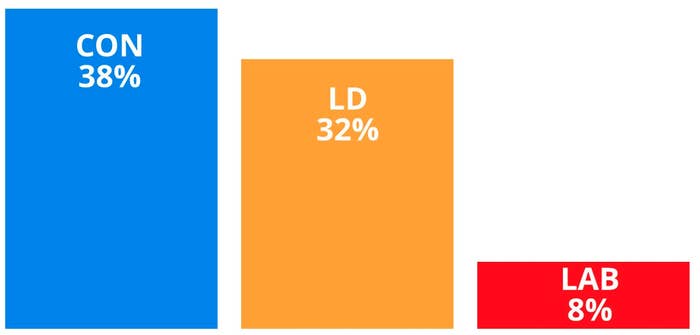 It actually shows how people responded to the question of which way they'd vote IF the only competitive parties were the Tories and the Lib Dems.

And so it got called out and went very, very viral.
Whereupon a bunch of people took the piss.
As a result, the Lib Dem leader had to defend it on Sky News, and it didn't really go all that well. Also worth noting, to say they have previous on this is an understatement: We've been pointing this out since 2014 for a start.
3.
Days later, another very questionable Lib Dem bar chart emerged.
It resulted in the party being accused of misinforming voters by the very company whose data they used to produce the chart.
4.
The Conservatives edited a Good Morning Britain interview to make Keir Starmer look confused when asked about Brexit.
Good Morning Britain demonstrated how the clip had been edited.
And Tory politician Johnny Mercer apologised. Which should have been the end of it.
But it wasn't, because for some reason Tory chair James Cleverly defended the editing the next day.
All the while this row was going on, the doctored video was racking up the views.
Then there was a massive furore over the fact Cleverly didn't turn up to a Sky News interview, which he claimed he'd never been booked for in the first place. To be quite honest, there's no point trying to get to the bottom of this one as we're getting off the point now, but here's some enjoyable Kay Burley action.
5.
This viral tweet claims Jeremy Corbyn was central to the Northern Irish peace process.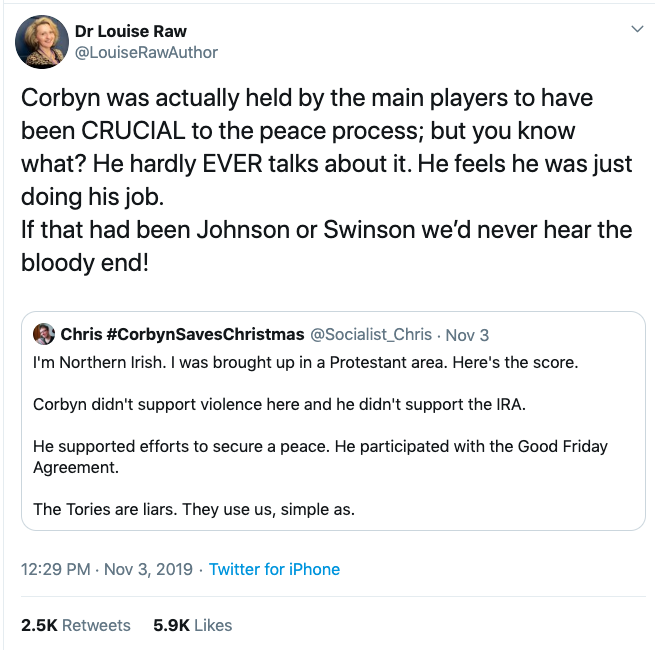 There is no historical evidence to support this claim, which has been circulating online for years.
In a 2015 interview, Corbyn talks about how Margaret Thatcher changed her policy on Northern Ireland so that it more closely reflected his views, and this appears to have been misinterpreted by some of his supporters.
There are also long-standing claims being repeated that he was Northern Irish secretary Mo Mowlam's "peace envoy" during the Troubles.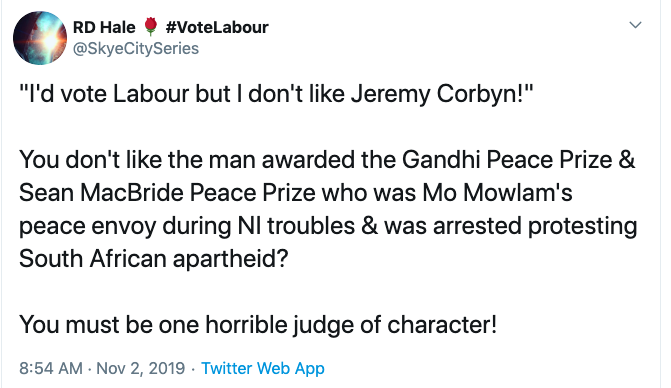 6.
This joke about a BBC Question Time member went viral.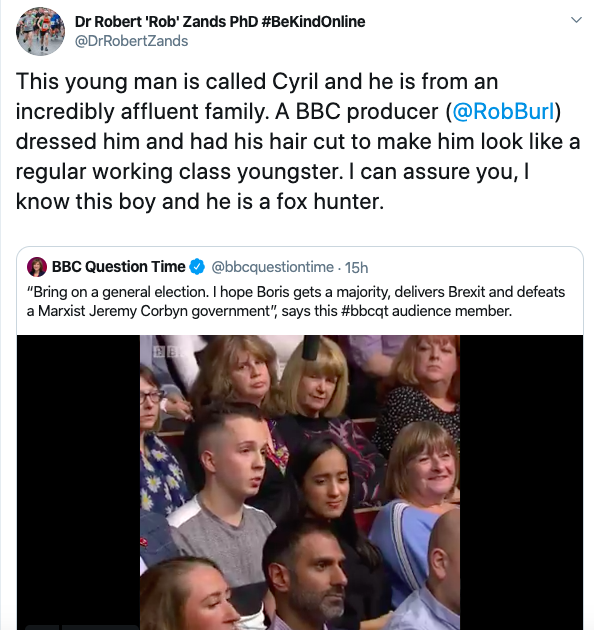 It then spread to Facebook. It's impossible to tell how many people sharing it took it seriously. This post says the audience member is an actor, which is true — but his social media posts suggest he has always supported Brexit, as Full Fact has pointed out.
All of which resulted in a rather frustrated BBC producer.
7.
Contrary to internet rumours, Jo Swinson's husband doesn't personally benefit from European Union funds, and this is not why the Lib Dems are opposed to Brexit.
As explained in this BBC post, he works for the UK branch of Transparency International, which has received far smaller grants than those claimed online.
As the BBC reports, the claim, which started on Twitter, went viral on Facebook after it was picked up by the Leave.EU page. The BBC reported: "It has now been posted by at least 248 different pages and groups, had close to 50,000 interactions (shares, comments and likes), and the story has now been viewed by a potential audience of over 1.5 million."
8.
A Facebook advert claimed Labour's tax plans would cost "an extra £214 each month".
The main problem was that Labour's tax plans hadn't even been published.
Another issue is that the advert was posted by a former Boris Johnson aide called Alex Crowley and was banned because it broke its rules on political advertising — every advertiser has to register with the social media firm and every advert has to show who has paid for it.
Crowley said the claim was based on a New Economics Foundation report from August, but as the Guardian reported: "The only report from the NEF published in that month says nothing about Labour's plans."
Then there's one more thing worth pointing out, because it reveals one of the major challenges in reporting on this stuff: The ad seemed to have very little reach at all — until it became a BBC story.
9.
This Lib Dem leaflet quotes the Guardian, saying the party is "on the up"...but the Guardian was quoting...Jo Swinson.
10.
When former Labour MP Ian Austin said voters should back Boris Johnson, in protest at Jeremy Corbyn's leadership, there were a number of comments made on Facebook — and by John McDonnell, the shadow chancellor — claiming he was "employed by the Tories".
11.
This Diane Abbott tweet is highly misleading.
Ken Clarke said there was a possibility he wouldn't vote for the Tories, but it was heavily couched — and he even added that he didn't expect them to run a campaign he couldn't vote for.
12.
A fake BBC reporter clocked up 8,000 retweets with a lie about Jo Swinson.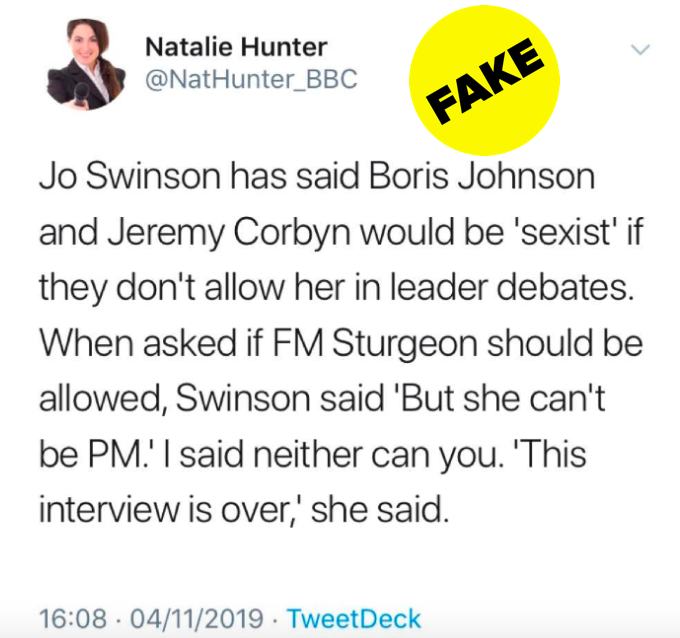 The disinformation was even shared by a Conservative candidate, who would later apologise and say: "As soon as I was made aware that the account and content was false, I retracted the tweet without hesitation, in the spirit of the positive campaign we are running in Kensington. We must call out false news and I hope that the other candidates will agree to do the same as the campaign begins."