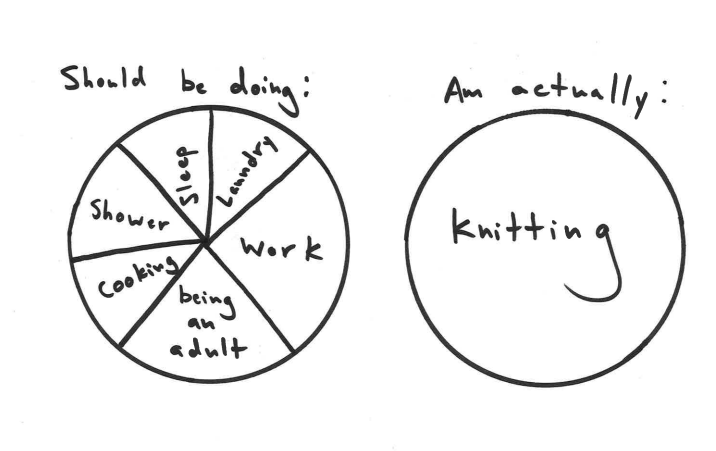 1. Oh man, September already? Better get started on all those presents!
2. Even though it's still 80 degrees out.
3. And people are still running around in bathing suits.
4. And the thought of wool on my bare skin is enough to make me set fire to my yarn stash.
5. No, no, I have to start now.
6. Don't want a repeat of last year.
7. You know, when I tried to make socks for every member of my family, including that second cousin I never see who apparently joined a cult, and got halfway through one cuff the day after Thanksgiving before abandoning the whole thing in disgust?
8. Yeah, no.
9. But this year will be different.
10. I've already bought all (okay, most) of the yarn I need.
11. And picked out all (okay, most) of the patterns.
12. We're keeping it simple: hats!
13. Hats are so easy, I could make one for the dog!
14. And the mailman!
15. And the goldfish!
16. Okay, rein it in.
17. Cast it on.
18. How did you manage to tangle — it's fine. Just…just start again.
19. Ahh, much better.
20. Only one episode of some trashy TV show in and I've already knitted a few good inches!
21. Five episodes and halfway through!
22. Eight episodes and I forget what outside looks like!!
23. Okay, time for a break. No use wasting the nice weather while it's still here.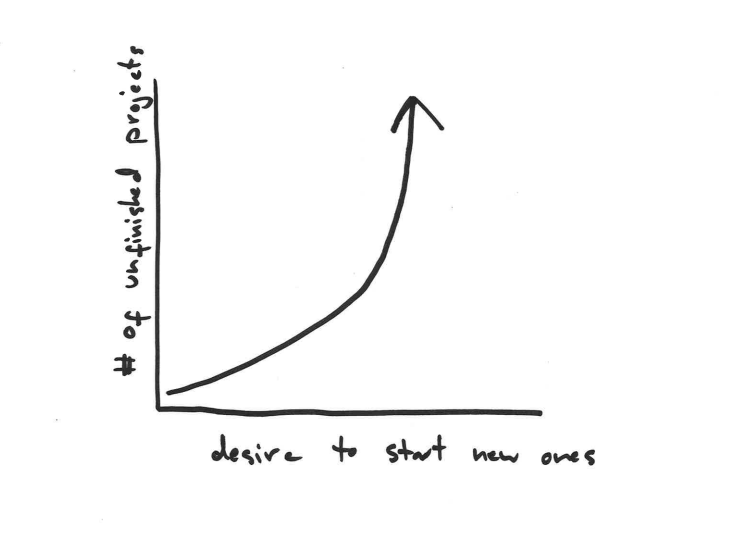 24. MY BREAK WAS TWO MONTHS LONG?!?!
25. No more messing around, it's time to hustle.
26. Gonna hole up all weekend and just become a knitting machine.
27. (I know there actually is such a thing as a knitting machine, that's not the point.)
28. Two down, feeling good.
29. Four down, wish I had new fingers.
30. Six down, why the bejeezus do people still make their own garments even though society has evolved to the point where I can hit half a dozen buttons on the internet and get literally the entirety of human research and convenience delivered to my front door?
31. Oh, right, it's calming and satisfying and I love it more than anything else, that's why.
32. Can't believe it's just two days before I'm supposed to give these away and I still have one more to do.
33. HAHAH SUPER COOL TIME TO RUN OUT OF YARN.
34. AND OF COURSE THEY'RE SOLD OUT OF MY DYE LOT.
35. AND I'M SMACK DAB IN THE MIDDLE OF A PROJECT SO IT'S NOT LIKE I CAN JUST MAKE IT OUT OF A DIFFERENT COLOR AND PRETEND IT WAS ON PURPOSE.
36. Maybe my sister would be cool with half a hat? She always wears her hair in one of those super high buns.
37. This could be a new invention!
38. Bunheads!
39. When I'm a millionaire I can pay people to knit my holiday presents for me!
40. Right, right, we've been over this: not the point.
41. Okay, if I just make a few tweaks here, and start the new color there, this'll actually look okay.
42. I DID IT.
43. IT'S DONE.
44. NOW ALL I HAVE TO DO IS WEAVE IN ALL THE ENDS.
45. …
46. This part should be illegal.
47. Like, who decided that the reward for weeks of knitting should be having to trim all these fussy little extra bits?
48. At least I don't have to seam.
49. Small blessings.
50. Phew, that's done.
51. Gotta wrap 'em.
52. Gotta arrange them just so.
53. Gotta stick my fingers in the freezer until they're halfway usable again.
54. Finally, the unveiling! It honestly feels so good to keep my loved ones cozy, and to show how much I care about them with the labors of my own two hands. It doesn't matter if it takes a long time or if I hit snags along the way: the looks on their faces as they unwrap my gifts makes it all worth it.
55. Wait a second.
56. Is my sister wearing—
57. Is that —
58. AN URBAN OUTFITTERS BEANIE?
59. THAT LOOKS EXACTLY LIKE THE HATS I SPENT MONTHS ON?
60. Next year you're all getting gift cards.