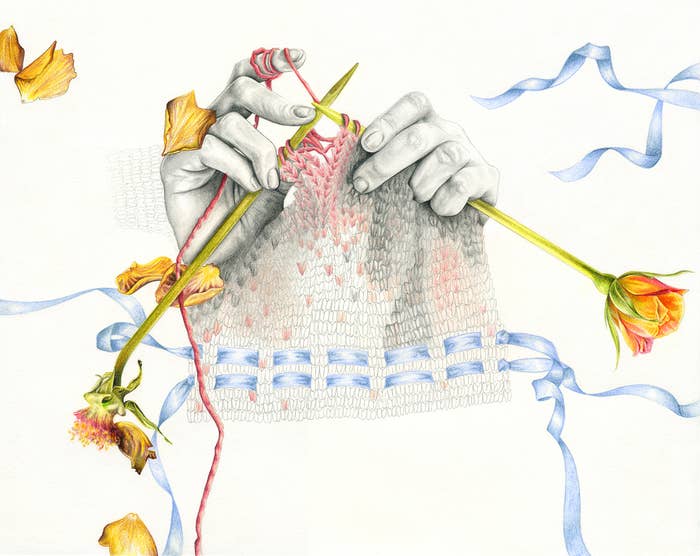 Anyone who makes things should make something for a baby. There are obvious objections: They will spit up on the beautiful item you spent weeks laboring over, and they will not appreciate how the slate gray looks next to the mustard yellow, no matter how carefully you selected them, and, in any case, they will outgrow whatever it is within weeks. In my 17 years of knitting — I'm now 23 — I'd barely made anything for what I considered to be the messy, ungrateful under-4 set, and they were so foreign and separate from me that I didn't think I would know where to begin. Still, about two months ago I found myself knitting a cardigan for a baby who hadn't even been born yet.
The baby was the as-yet-unborn child of my best friend's godmother. My friend and her mother had commissioned me to make a gift for the baby shower, and in exchange they bought the yarn and my friend bought me a lot of drinks. The baby would be a girl, and we eventually ruled out any too-saccharine colors in favor of a soft gray and cream for an accent.
I also bought a book of patterns to figure out how the sweater should be constructed. I've been knitting since before I could read (taught first by my grandmother during a rainy week at the beach and then reinforced and expanded with YouTube tutorials years later) but only for myself, or for bodies the size of mine. Until the baby sweater, there had been certain indelible rhythms behind adults' hats or socks, drummed in by dozens of repetitions. But here, my sense of scale was entirely thrown off. How could your head be so big but your shoulders so narrow, I wondered, working on a sleeve too tiny to fit my fist through. How could a person ever be this small? The pattern understood: Its author, Elizabeth Zimmermann, is widely considered to be the mother of modern, unfussy knitting, and so where other patterns specify dimensions that would have meant nothing to me, she simply wrote, "Don't worry too much about size; babies vary, and knitting stretches."
Still, I doubted at first that the sweater would ever take shape. And yet after a week of knitting on subways and while waiting for friends at bars, it began to look real. (That is one of the benefits of crafting for a tiny human: relatively instant gratification.) The essential thing about knitting that I will never get over is here you have these sticks and this string, and then you look down and you have this object. It's a very small act of hope, especially when the person you're knitting for isn't even here yet. She was on her way — parties were being thrown and gifts picked out for her arrival — but just out of reach.
I hadn't known that feeling, that anticipation of life, from this direction. I knew its opposite: In the past year and a half, two friends have died, both at 22 — she in a car crash, and he of leukemia. The bigness and the beginningness of their lives still doesn't fit at all with the fact of their deaths. She'd been my partner in crime for a summer internship, and I still find myself coming back to her many essays and poems and plays, as striking and loud and hopeful as she was. I'd met him in college. He was the person who showed me how to get into classroom buildings after dark and how to play Bananagrams. He used my name and all his friends' names as examples in the philosophy thesis he wrote ("Suppose Alanna is a brain in a vat..."). In our last semester at school, when he was in remission, he'd ask, in that half-joking way that friends of knitters do, when I was going to make him something. I would laugh and say I would make him a stocking cap or a tent for the yard our adjacent houses shared, and never did.
For months after each of them died, I saw them all over the city. I'd catch a glimpse of her sharp nose or his sticky-uppy dark hair and then I'd realize that of course it wasn't her, there was no way it could be him, and that absence would take my breath away. And so it was easy to forget that life can come into the world just as it leaves it. Making the sweater was a tangible reminder. Making anything feels a little like you are taking control in the chaos: This thing is yours, the way you would like it to be, and it exists where before there was nothing. With each row you knit on something meant for a baby, you start to see their outline more and more clearly, waiting to be fully formed. I liked knowing that the sweater was in my bag during the workday and by my bed when I woke up. I felt it glow; I felt it breathe.
I finished knitting with a few days to spare. My best friend suggested I sew a little tag with my initials into the sweater before handing it over.
"Who knows," she said. "Maybe it'll become an heirloom." She told me that whoever got it next would want to know where it came from; the idea that this thing was about to go out and have a life of its own even beyond the person it was intended for made me begin to miss it less.
A few weeks ago she sent me two pictures. They were of her godmother, and her godmother's husband, and the baby, who had been born the night before. The baby looked tiny and quizzical, with a shock of black hair that would have made bald infant-me insanely jealous. She is still too small to fit into the cardigan, or the matching hat my friend and I made together with the leftover yarn. This, I think, is good: It gives her something to grow into.