Please Witness The Face Issa Rae Made In Reaction To Her Golden Globe Nom
HER FAAAACE. [Updated]
On Monday morning, the 2017 Golden Globe nominations were announced. Among the nominees for Best Performance by an Actress in a Television Series — Comedy or Musical was one Issa Rae, the mastermind behind Insecure.
It's Rae's first Globes nomination ever, and she celebrated in style — at least, that's what it looks like according to an Instagram post by her co-star Yvonne Orji, who plays Molly on Insecure. The post shows Orji and Rae FaceTiming after the nominations were announced.
"That time @issarae got nominated for a @goldenglobes and I FaceTimed her at the but-crack [sic] of dawn and went through all the emotions of pure excitement in our matching headscarves!" Orji wrote in her Instagram caption.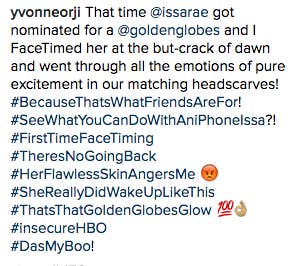 "I was asleep and I got a call from my publicist," Rae told BuzzFeed News over email. "I ignored the first call because I was like, Unh-unh. I'm asleep."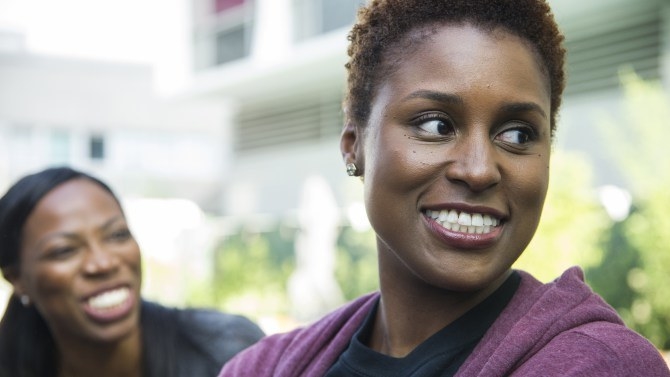 Rae said her nomination feels especially great because of the quality of shows that are on TV in general. "To be acknowledged in the same category as other women of color is already surreal," she said. "And then when I think about how Tracee Ellis Ross was the lead of one of the shows that paved the way for our own, it trips me out."
Rae also posted the Wale song "Black Is Gold" to Twitter in reaction to her nomination.
UPDATE — This post has been updated with a comment from Issa Rae.