That movie came out almost 18 years ago, but, as we know, nothing dies — and so it's rising anew: THR reports that My Best Friend's Wedding is on its way to becoming a TV show on ABC. And it's gonna be a sequel.
Where we left Julia Roberts' Julianne, her best friend Michael (Durmot Mulroney) had just chosen to go through with marrying his fiance Kimberly (Cameron Diaz), and a broken-hearted Julianna had given the union her blessing.
According to THR, the series will pick up right where the film left off, with Julianne heading home to New York with her other best friend, George (played by Rupert Everett in the film) to figure out her life and pick up the pieces.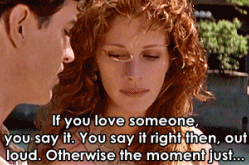 Though it seems unlikely Roberts and the other members of the original cast will pick up these roles for TV almost 20 years later, the original film's writer and producers will be along for the ride.