What is HIV?
HIV is a virus that decreases your body's ability to fight infections from bacteria, other viruses, and fungal infections. It is a sexually transmitted infection (STI), and the effects on your body from HIV may take years to develop. Therefore, you might not realize you have been infected. Because of this, it is recommended that you get tested for HIV every time you have unprotected sex, or having sex with a partner of unknown status. If not detected or treated, HIV can lead to AIDS (acquired immune deficiency syndrome). AIDS, if not treated, causes infections to become more serious and can allow even common infections to become deadly (CDC About HIV/AIDS, 2017).
How can I get HIV?
* Contact with blood, semen, vaginal fluid or breast milk from a person with HIV or AIDS. You cannot get HIV through kissing, which puts you in contact with a person's saliva, unless the infected person is bleeding from their mouth and you have an open wound (CDC HIV Transmission, 2017).
* Sex without a condom, female condom, or dental dam. Birth control does NOT prevent against sexually transmitted infections or HIV (CDC HIV Transmission, 2017).
* Anal sex (penis in the butt), oral sex (penis or vagina in the mouth), or vaginal sex (penis in vagina) with an infected person. Anal sex has the highest risk of transmitting HIV because the skin in your anus (butt), is more sensitive to bleeding compared to a person's mouth, or a woman's vagina (CDC HIV Transmission, 2017).
* Rape (without a condom)
* Tattoos with unclean tools like prison tattoos or home tattoos (CDC HIV Transmission, 2017).
* Sharing needles for drug use (CDC HIV Transmission, 2017)
* A baby born from an infected AND untreated mother can get HIV during birth or through the mom's breast milk (CDC HIV Transmission, 2017).
* Sharing unclean sex toys i.e. dildo, butt plug, vibrators etc... (U.S HHS, 2017)
The below graphic depicts one way to safely clean needles.
How to clean needles.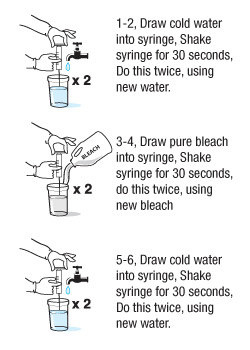 What increases my likelihood of getting HIV?
Your risk of getting HIV is increased by the following lifestyle practices:
* Men who have sex with men (CDC HIV Surveillance Report, 2017).
* Rates of HIV infection are highest in African American/Black males who have sex with males (CDC HIV Surveillance Report, 2017).
*Unprotected sex with multiple partners (CDC About HIV/AIDS, 2017)
* Unprotected sex with a partner of unknown HIV status (CDC About HIV/AIDS, 2017)
* Breastfeeding from an untreated, infected mother (U.S HHS, 2017)
* Lack of access to health care (U.S HHS, 2017)
* If either you or your sexual partner have been diagnosed with an STI in the past (U.S HHS, 2017).
* Letting the semen sit in your mouth after oral sex. If you are going to have unprotected oral sex, spitting or swallowing is safer (MDHHS, 2006).
HIV Diagnoses For Most-Affected Populations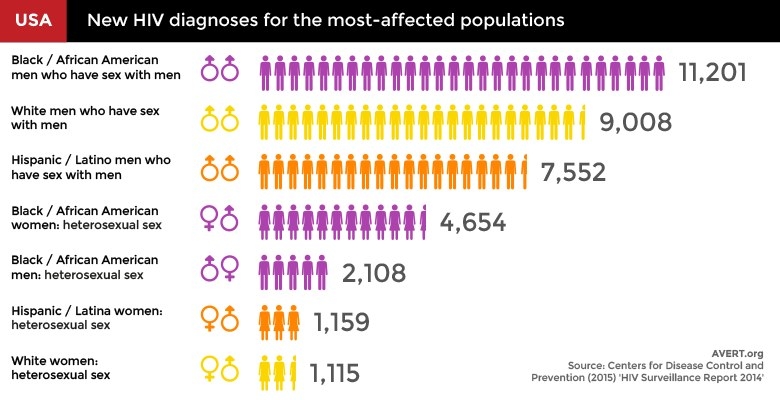 So what can you do?
The best thing to do is to get tested regularly, every 3 months, or after any source of HIV transmission (U.S HHS, 2017). You can find a testing location using the CDC.
Some example clinics that do free HIV testing in the Detroit area are:
* ACCESS Community Health & Research Center

6450 Maple Rd.
Dearborn, MI 48126

Monday, Wednesday, Friday 11 a.m. to 5 p.m. (appointment required)
* Wayne State University School of Medicine Detroit Medical Center HIV/AIDS Program 

4201 St Antoine UHC-7D
Detroit, MI 48201 

Phone: 313-745-6035
* Arab Community Center for Economic and Social Services

6450 Maple St

Dearborn, MI 48126

Phone: 313-216-2253
Find this article helpful?
Please take this quiz to help us improve our article!
Created by Wayne State University Medical Students
https://www.surveymonkey.com/r/X89LFGC
This post was created by a member of BuzzFeed Community, where anyone can post awesome lists and creations.
Learn more
or
post your buzz!