Bradford Independent Salma Yaqoob Will Keep Saying A Vote For Her Is A Vote For Corbyn
"A vote for Salma, therefore, is not a vote against Corbyn; it is an endorsement of his policies, Yaqoob says.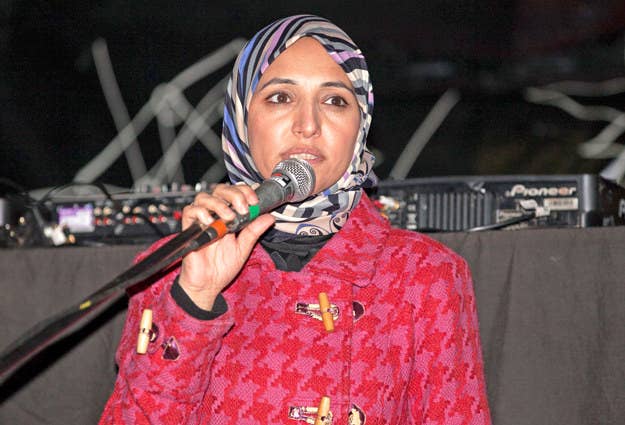 A left-wing independent candidate in Bradford West says she will continue using photos with the Labour leader and telling voters she is the pro-Corbyn choice despite a letter of complaint from Labour HQ.
Salma Yaqoob, the former Respect leader – who is challenging Naz Shah, the sitting Labour MP in the Yorkshire constituency – said she stands by her campaign slogan "A vote for Salma is a vote for Corbyn".
"I stand by this political point - a vote for me does not undermine or weaken support for Jeremy Corbyn," Yaqoob has written in a letter BuzzFeed News has seen, responding to Labour HQ.
"For almost two decades, I have consistently campaigned on policy issues, which also reflect the principles of the Labour leader," she added.
A spokesperson from Yaqoob's camp confirmed her campaign leaflets shown below, which sparked the caution ahead of the first hustings at Bradford University last week, would not be withdrawn.
Yaqoob continued in her letter sent on Tuesday afternoon to John Stolliday, the director of Labour's governance and legal unit, to "focus on the people of Bradford West" and saying her use of the photo with Corbyn on campaign material: "is not in any way implying an endorsement by him."
She said her leaflets "accurately" reflect how she campaigned alongside Corbyn, "including anti-war rallies over 15 years, austerity and student fees protests, and in campaigns to protect our precious public services."
In response to the Labour complaint accusing her of implying there was "tacit support" of the Labour party on 8 June and that she was "misleading" constituents, Yaqoob said: "At no point in the leaflet do I make the claim of an endorsement from Jeremy Corbyn or the Labour Party."
A Labour party spokesperson said last week, after sending the letter: "There is only one Labour Party candidate in Bradford West and that is Naz Shah," adding she had: "the full support and endorsement of Jeremy Corbyn as the best choice for Bradford West."
The Labour leader had launched the party's manifesto in Shah's constituency and also filmed a video backing her.
Yaqoob accused the party of making a "malicious accusation" and said it was part of "Naz Shah's petty political game designed to discredit my campaign, which is focused on reversing the years of neglect in Bradford West."

Yaqoob however went onto say she was a candidate who would support Corbyn "on a national level", reiterating the message on her campaign leaflet that Shah had campaigned against Corbyn's bid for the party leadership.

BuzzFeed News has contacted Labour for comment.