Islamic Institutions Say They Never Signed Saudi-Linked Mosque's Open Letter About Yemen
A number of Muslim organisations have distanced themselves from a letter published by the London Central Mosque, which carried their signatures.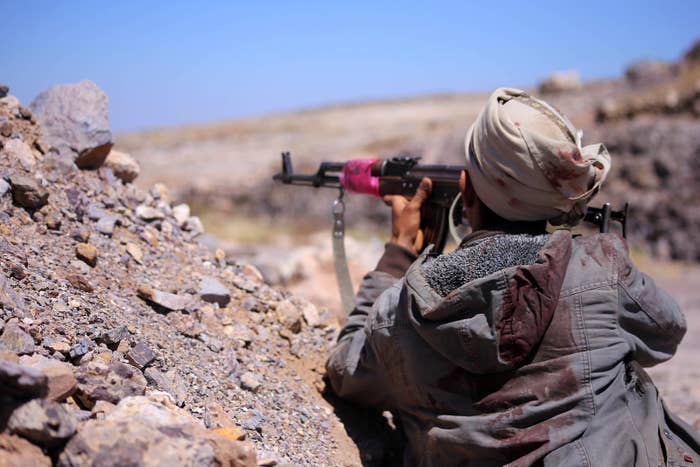 A number of leading Muslim organisations have said they never gave approval for their signatures to appear on an open letter about an alleged attack on Mecca by Yemen's Houthi militia, which was published by a Saudi Arabia-linked London mosque.

In October Saudi Arabia, which is leading coalition airstrikes intervening in Yemen's civil war between the Houthi militia and supporters of its exiled President Hadi, claimed in a statement to its state news agency that the Houthis had launched a ballistic missile towards Mecca, Islam's most holy place.

Houthi rebels – who belong to the Zaidi sect, an offshoot of Shia Islam – confirmed the launch of a Burkan-1 ballistic missile into Saudi Arabia to their official news agency, according to Reuters agency, but said they targeted King Abdulaziz International Airport in Jeddah, the kingdom's busiest airport.

The Saudi state news agency statement was followed by a letter on the website of the London Central Mosque in Regent's Park, which 16 major mosques and organisations appeared to have signed. Saudi Arabia's ambassador to the UK, Prince Mohamed Bin Nawaf Bin Abdulaziz, currently sits on the mosque's board of trustees.
It stated there was "profound regret and bottomless pain" from the Muslim community in Britain after it received news of the missile's launch.
The letter had signatories from a number of significant Muslim institutions, including the Islamic Sharia Council and some of Britain's largest mosques. However, it has since emerged some organisations had not seen the letter before it was published, and were not aware they were listed as signatories.
A spokesperson from the al-Manaar mosque in west London said they had been caught by surprise over the letter, while the East London Mosque has asked to be removed from it.
In a statement, the East London Mosque said: "As the joint statement was not approved by the appropriately authorised persons from East London Mosque Trust, we have written to the statement organisers clarifying our position and have asked them to remove our name from the statement.

"Any proven attacks against Islam's most revered sites are of course condemned by all."
Croydon Islamic Community Trust tweeted to also say it had not been consulted about the letter in question.
In another tweet, the Croydon institution posted a press release that read: "CICT released a statement earlier today to inform readers we did not know of, or sign permission for our name to be used."
It added: "This was to ensure that in the future, organisations do not attempt to use our name to support their causes without our permission."
The Muslim Association of Britain (MAB), which had its logo and signatory on the letter, has published a statement that says: "MAB has not been party to any discussion about this, nor have we been consulted about the statement. We therefore wish to make it clear that the above statement inaccurately carries our name."

It added: "Working for the common good and just causes, MAB condemns the killing of civilians and innocent people in Yemen and other countries like Syria and Iraq; we also condemn in the strongest terms any attempts to attack religious sites."
A source from one of the institutions named in the letter said there was a meeting on Monday 31 October among the London Mosque Committee, a group of mosques that established a unified prayer timetable. They said they had been notified about an alleged attack on Islam's most holiest site. However the letter was dated 30 October, suggesting it had already been drafted.
The source said UK mosques were not willing to engage in "sectarian propaganda" on behalf of Saudi Arabia and were concerned the letter had been published with their names and logos. They said many mosques would be worried to voice their opinions on the conflict.
The letter, still available in Arabic and English online, reads: "This horrific action and blatant assault cannot be described except as madness and foolishness, which undoubtedly provokes the feelings of Muslims as a whole worldwide."
It adds that the sanctity of the holy land could not be violated by any group, and warned if it is attacked, "Allah SWT [an acronym for the most glorified, the most high] would afflict them with a painful torment, and result in their conspiring entwined in the depths of misguidance and error."
The letter goes on to directly pray for the Kingdom of Saudi Arabia and states: "We ask Allah SWT the Almighty to preserve the country of the Two Holy Mosques, and to preserve the Kingdom of Saudi Arabia from any harm and grant it peace, safety and security and likewise all lands of Islam and Muslims."
Few joint statements with other high-profile institutions have been made through the London Central Mosque, the last being a condemnation of the Paris attack in November last year, according to its website.
The Saudi state-run news agency last week also reported how Islamic centres in Britain had condemned the targeting of Mecca by Houthi militia.
A spokesperson at the London Central Mosque said he was not aware of any complaints and said the letter had been discussed.