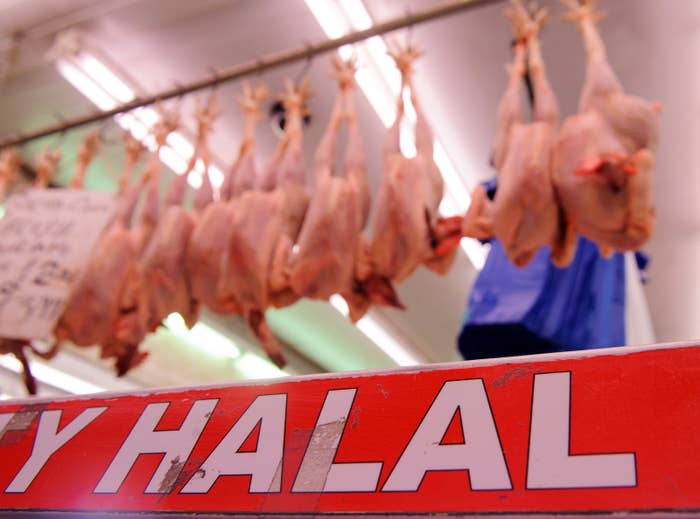 Complaints have been made to Downing Street and the Conservatives after the Tory leader of a county council in north west England was accused of an "Anti-Semitic and Islamophobic outburst" during a meeting where the council voted to ban serving non-stunned halal-meat in schools.

Lancashire County Council (LCC) last week found itself at the centre of a religious row after voting to ban some forms of halal meat served at lunchtime in the schools it runs.

Addressing the full council in a review of the county council's policy of supplying halal meat to schools, leader of the council, Geoff Driver, addressing councillors, implied that a task force that had been set up in 2013 to look into halal slaughter practices could not have been objective in its decision-making as it included: "two Muslims and a Jew."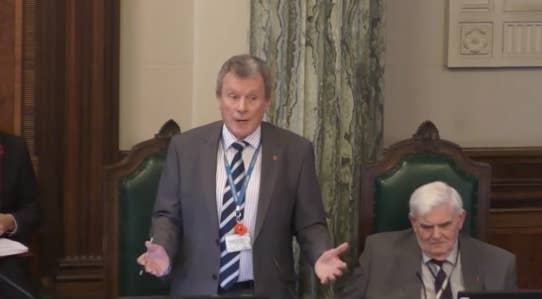 In a point he repeated twice, Driver said: "I made a statement of fact of the three members of the Labour group, two of them were Muslim and one of them was a Jew.

"And if anyone thinks they were going to go into a working group... with an open mind, I think you're entirely wrong," the council leader said.
Mohammed Iqbal, Labour county councillor for Brierfield and Nelson West, told BuzzFeed News he felt the council leader was: "Simply trying to deflect other issues going on in the county council. [But] the way he's gone about this is a blatant abuse.
"I said to him, as soon as he mentioned the words around Jews and Muslims, as a Muslim I take offence to that comment. Islam is my faith but that doesn't mean I can be objective on issues that affect non-Muslims for example.
Iqbal said: "For a lot of children, some of them would have come from a deprived backgrounds and that school meal is the only hot meal of the day that they get, and he's taken that right away."
He also said he was sceptical it was due to concerns about animal welfare and said: "If it's animal welfare then they shouldn't be thinking of bringing fox hunting back."
Azhar Ali, the leader of the Labour group in Lancashire county council, said: "It's outrageous that you have the leader of the third biggest council in the country making these outrageous comments in a time when all political parties said they will tackle any form of anti-Semitism and Islamophobia.
"We have these blatant comments on record, on video, not just once but twice in the debate, and therefore it needs investigating."

Ali had pushed for an amendment saying the Board Of Deputies Of British Jews, a national body representing British Jews, should also be consulted alongside the Lancashire Council of Mosques.
In letters sent to the prime minister and Patrick McLoughlin MP, the chairman of the Conservative party, Ali said: "The inference by County Councillor Geoff Driver that Muslims and Jewish Councillors are not trusted, is outrageous and deeply offensive."
The letter reads: "We argued that Muslim/Jewish slaughter was protected under law but it fell on deaf ears.
In a ruling that will affect about 12,000 children who have served non-stunned halal meat in 27 of the county council's schools since 2013 across Blackburn, Nelson, Burnley, Rawtenstall, Hyndburn, Clitheroe and Preston, mosque leaders said the decision may lead to a boycott of the school meals and a legal challenge.
Abdul Qureshi, chair of the Lancashire Council of Mosques a body that also monitors halal provision, said: "It could be possible there will be a campaign to [take this to] the courts.
"There could be a lawsuit against the county council as well as the leader of the council on the grounds he was very discriminatory in his narrative he put forward. And second, if the law of the land allows you to have non-stunned meat as religious slaughter, what right do you have to ban it? These discussions are taking place," Qureshi said.
The latest row comes five years after the authority under the leadership of Driver last banned meat from its schools where pre-stunning has not been used.
At the time, the Lancashire Council of Mosques told Muslim families to boycott all such 'halal' meat as it did not meet their interpretation of Islamic law.
Responding to the row and pointing to the legal provision for religious communities, a government spokesperson said: "The procurement of school meals in local authority schools is a local matter, with school governors having the final say. Schools should take into account the cultural, religious and dietary needs of their pupils, and listen to the views of local parents.
The statement continued: "We are clear that animals must be stunned before slaughter unless they are being slaughtered for religious purposes. The law enables people to eat meat killed in accordance with their religious beliefs. There are strict rules to provide the maximum possible protection to animals subject to religious slaughter."
Parents and council leaders said they are worried pupils will miss out on hot meals and that children are being used as "pawns in a political game" after last week's resolution, which said the council "recognises and respects" the Muslim community's requirement for food to comply with religious beliefs, but claimed slaughtering animals without stunning them first "causes unnecessary stress and suffering".
County councillor Ali accused Driver of dragging school children into a political game adding: "Unfortunately it's the kids who are going to suffer. There's a number of staff that will lose their jobs as a result." He went on to claim there could be a loss of loss of £900,000 in revenue and up to 19 jobs with Lancashire County council cutting contracts of non-stunned Halal meat provision.
One parent, who did not wish to be named, said: "It's going to be inconvenient having to move from school dinners, particularly as both my husband and I work early mornings. The kids enjoy school meals and we have to explain the move. We'll probably adjust. but really annoyed."

Onaysa, who is from Lancashire and did not wish to use her last name, said of the council decision: "It's so segregated as it is and I don't think stuff like this helps."
A spokesperson for Lancashire County Council said: "When the contract to provide non-stunned halal meat came due for renewal, Cabinet referred the decision on whether to continue to provide meat slaughtered in this manner to Full Council, in recognition of the strong views held on the subject. Following a comprehensive debate, Full Council has decided that Lancashire County Council will not provide meat, other than poultry, to its establishments unless animals are stunned before they are slaughtered.
"The council will now consult with the Lancashire Council of Mosques and others on how this can be implemented whilst still providing meals that comply with the Muslim community's beliefs as well as investigating the stunning of poultry before slaughter."
There are differences in religious opinion on the issue of whether animals are pre-stunned or not, which affects the type of halal certification. The Halal Monitoring Committee considers all pre-stunning against Islamic law and tradition, while the Halal Food Authority permits stunning providing the animal is still alive at the time of slaughter.

Figures from the Food Standards Agency, a government department responsible for food safety, in 2012 showed 84% of cattle and calves, 81% of sheep and goats and 88% of poultry slaughtered according to halal rules were stunned first.
Driver, who became leader of the county council in May but is on police bail after he was arrested soon after the elections as part of a long-running fraud investigation, did not wish to comment about the specific accusation that his comments were anti-Muslim and anti-Semitic. BuzzFeed News has contacted the Conservative party for comment.