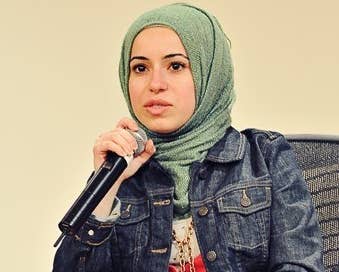 This week, to coincide with Muslim Women's Day, she dropped her first rap music video, "Hijabi", which has had almost 500,000 Facebook views so far.
In the video, directed by artist and songwriter Tunde Olaniran, Haydar is flanked by a squad of Muslim women and raps about wrapping her hijab, shutting down haters and celebrating diversity of women around the world.

The lyrics include, "Yo what yo hair look like / Bet yo hair look nice", and, "I'm bored with your fascination / I need that PayPal, PayPal, PayPal / If you want education."
When the music video was released with the hashtag #HijabiXMona, the response was pretty wild. Some people were really feeling it.
Some thought she was totally slaying.
And even though some people had mixed feelings about the whole thing, they still appreciated it.
But some thought it was cringeworthy, or were very critical, comparing it to a recent video about hijab by Deen Squad, a male Muslim hip-hop duo.
Haydar, 28, told BuzzFeed News she wanted the song to be "a party".
"We wanted it to lift people's spirits and bring people together in levity and sweetness," she said.

"Of course I have conservative Muslims, Islamophobes, internet trolls, and your general run-of-the-mill haters coming at me. They're coming at me from all sides but I'm doing my best to stay positive and focused on my goal which is to speak truth and spread love."
Haydar, who is a seminary student in New York City, previously came to attention when she set up a booth on the street with her husband, encouraging strangers to ask them about Islam with placards that said "talk to a Muslim" and "free coffee & donuts".
With her video, Haydar said she was inspired by "the more beautiful world we all know is possible.

"In light of the current American government's agenda to demonise and malign the bodies of women, Muslims, and others, like trans people, I'm intentionally putting out this message now to help shift the narrative back to one that is positive and full of love," she said.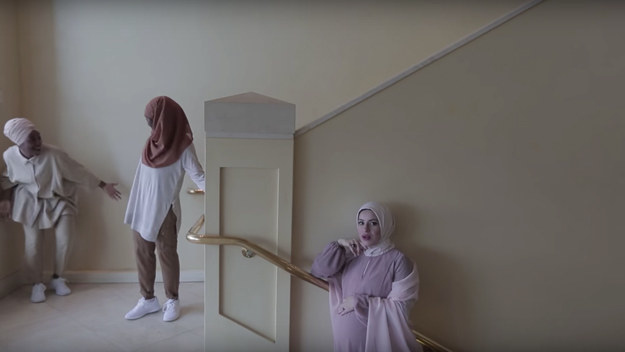 Haydar is eight months pregnant in the video.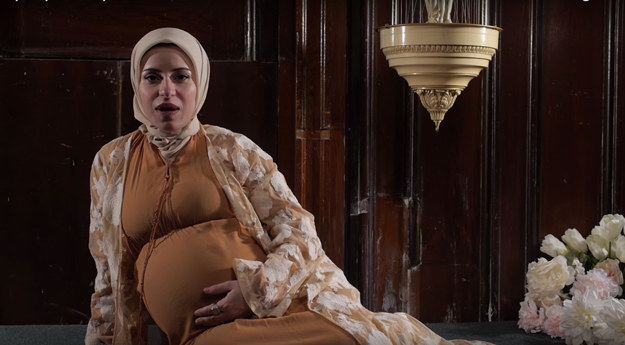 "I didn't anticipate having to record the video while being pregnant but that's how it worked out," she said.
"I'm a real person – a woman artist with a family and a life. My art intersects and interconnects with all parts of life."
She told BuzzFeed News she had got many more messages about being pregnant in the video rather than the song itself.
"I don't know why it's so shocking," she said. "It shows me that we have so much more work to do to dismantle the misogynistic ways of the world. We all came from a pregnant woman. We all have that in common."
But Haydar said she was glad to be pregnant for the video. She said she was grateful for "the response from women who are or have been pregnant and how inspired they are by the video that I didn't wait to deliver the baby and have the 'perfect body' before making the video. In a lot of ways that's what the song is about.
"It's about tearing down the invisible structures that oppress women in ways most of us don't even realise. Hijab, pregnancy – none of it holds me back. In fact, I can actually use them for the benefit of my own personal and spiritual development and not to mention the advancement of my career."
"Wrap my hijab / Wrap my hijab / Wrap, wrap my hijab."