This is Mo Amer. He's an Arab-American standup comedian who was on his way to Scotland to kick off his UK tour this week when he found himself sitting next to Eric Trump on his flight.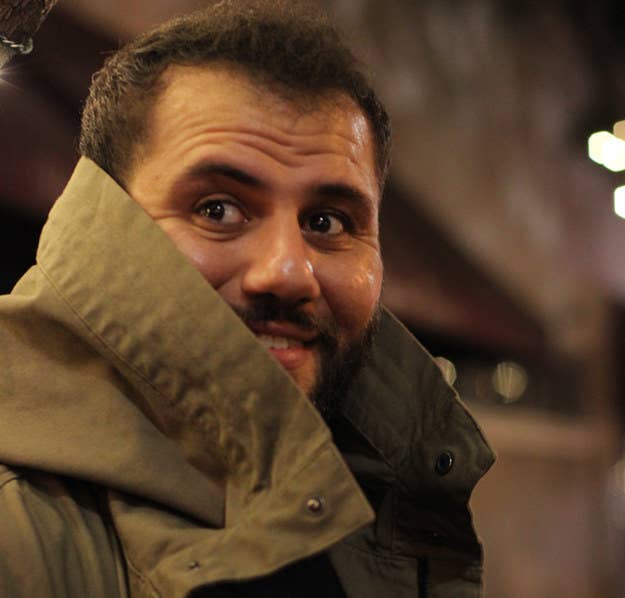 Amer posted a photo on Facebook on Thursday morning with the caption "Hey guys heading to Scotland to start the U.K. Tour and I am 'randomly' chosen to sit next to non other than Eric Trump."
And sure enough, in his Facebook post, he is shown sitting next to the businessman and third child of the president-elect of the United States.
He added: "Good news guys Muslims will not have to check in and get IDs. That's what I was told."
"I will be asking him a lot of questions on this trip to Glasgow, Scotland. Sometimes God just sends you the material."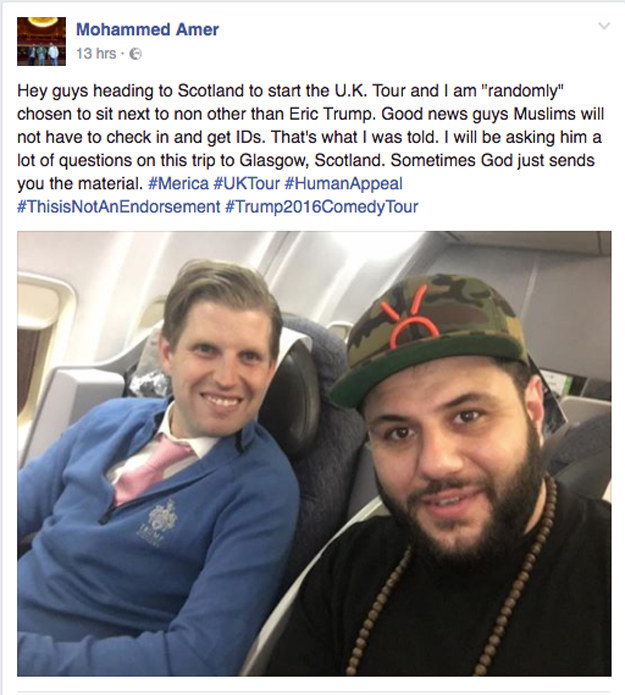 Amer, who is best known as being part of the comedy trio Allah Made Me Funny, told BuzzFeed News in a phone interview from Scotland he could not believe the situation was real: "I was just walking in and he was just sitting there with his Trump shirt on and I was like, Is this real?"
"Is this real? Is this a setup? I mean, I'm an Arab-Palestinian, everything is a conspiracy, right?"
"So when I walked into the plane I was like, 'What is this?' This is obviously from Allah – Allah is just trying to hook me up right now. That's what's happening."
The comedian said he had flown back to the US from his last tour in Australia and booked the six-hour flight to Scotland "last minute," and was unexpectedly upgraded to business class.
He said he felt some tension on the plane and was shocked to find out who would be his seatmate.
It took him a minute before he sat down to process the situation. "When I sat down I said: 'How you doing?' Trump says: 'I'm doing good.' And I said: 'You have no idea how fantastic this is for me right now. My name is Mohammed. Salams. I'm a standup comedian. This is fantastic for me.'"
"And I said – just FYI I'm not getting that ID shit done. You gonna really make my people get ID cards and all this? You know we're not doing this shit," he said in reference to a proposed registry for immigrants from Muslim countries, which has made headlines, even after Donald Trump's 2016 election win.
Amer said that Trump replied: "Ah, come on, man. You can't believe everything you read. Do you really think we're gonna do that?"
He told Trump he thought his father had played the media like a fiddle, and knew the tricks inside that "created this firestorm", and how it had "worked out lovely", to which he said Trump replied: "Yeah you're absolutely right."
"That's what he told me. He basically acknowledged the fact that his father played this thing like a mad genius and that's how he got elected and he admitted it."
According to Amer, Trump said this about his father: "He's a good man. He's a good good man. He's really really good. Just beautiful. He's really really great."
He said the pair ended up talking about Hillary Clinton and said that Trump maintained that his father's opponent was "crooked and so unlikeable."
"I just felt he was a robot, in the sense this guy has a routine that has been there since he was 6. I believe his dad raised him super old-school and that's the feeling I got from him. He's flying first-class to Scotland for a day, checking in on their golf course, going in and talking to them. This guy is all about business," Amer said.
"He also seemed disconnected from the reality of race attacks and violence. The vibe that I got, this was a game to them and they had no regrets and they did it to win and they will most likely keep doing it," he added.
The comedian, who is said to be one of the most well-known Arab-American performers, said their conversation was interrupted when a flight attendant asked what they would like to order. "He goes: 'I'll have the pork chop'. And I'm like, Are you trying to mess with me here? He ordered the pork chop but he never ate – he just passed out."
The two spoke for at least half an hour before the businessman fell asleep. He said that other passengers "were taking selfies with him while he was sleeping. It was really fucked up." He said he even joined in the fun.

"I was making dua [prayers] for him, like, to make him convert to Islam. I really wanted to take a video together where I was saying, 'Hey repeat after me,'" he joked.
He said the whole interaction was pleasant for the most part.
Amer, who lives in New York but grew up in Houston, said he had not voted in the election but would have voted if Bernie Sanders was on the ticket.

Amer said he was a person who had been interrogated around the world and had come to the US as a refugee from Kuwait when he was 9 years old. Because of his Palestinian heritage, his family lives all over the world.
On social media, people had asked why he sat next to Trump for the duration of the flight, and he responded: "I'm not running away from anything."
"As a comedian it's my responsibility, it's my duty, to find out as much information as possible to provide an accurate commentary. So for me it's like I'm not rejecting a gift from the divine. Are you kidding me? 'I just gave it to you on a platter. Do you want to deny this whole situation?' Of course not, I'm gonna jump right in."
Amer said the experience has given him lots of material to work with for his Human Appeal comedy show, which is touring 25 UK venues this month.
Hundreds of people liked his post, but mostly people had *many* questions:



BuzzFeed News has contacted representatives of Eric Trump and is waiting for comment.
CORRECTION
Hillary Clinton was Donald Trump's opponent in the 2016 US election. An earlier version of this story misstated her role.