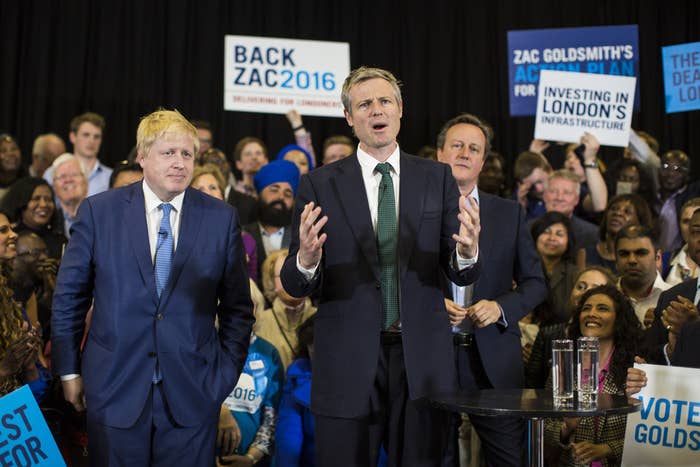 Muslim voters who previously supported Zac Goldsmith said they have been left disappointed by the way the Conservative candidate fought his campaign and will no longer be voting for him in Thursday's London mayoral election.
The backlash comes just days after Kingston Mosque released a statement urging the Richmond Park MP to express regret "for the damage that has been done" in terms of what has widely been criticised as a negative and divisive campaign.
Goldsmith has been accused of focusing on Labour's Sadiq Khan's religion in a bid to turn voters against him by insinuating he may be soft on terror because he is Muslim.
On a number of occasions, the Tory MP raised concerns about Khan sharing a platform with imam Suliman Ghani, which was later echoed in parliament by the prime minister, leading to shouts of "racism" in the House of Commons.
Tahmur Huq, a tax director who lives in North Kingston, told BuzzFeed News he was a lifelong Conservative voter, but was now thinking of supporting another party for the first time on 5 May.
"If you had asked me two months ago, I would have said I'm voting Zac. Personally, I prefer Zac to Sadiq; I think he is a much nicer guy. But now I really don't know. I'll wake up tomorrow and decide."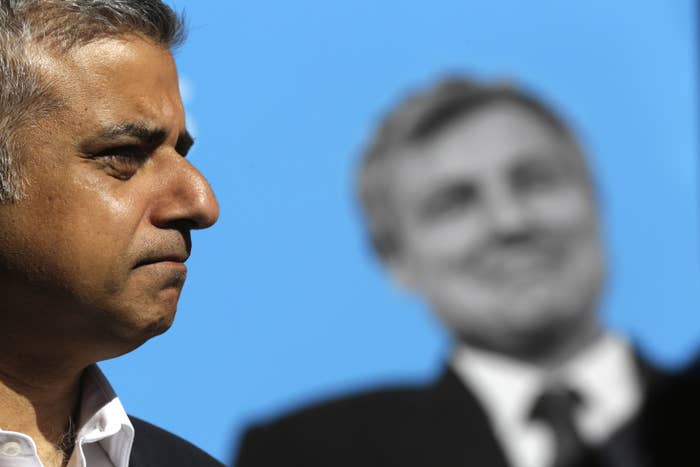 He added: "As a Muslim, there is so much suspicion as it is, and Zac suggesting Sadiq is a terrorist sympathiser – which is not true – has really put me off."
Goldsmith's campaign came as a shock to some Muslim voters in London, particularly those living within his constituency, who said the MP had cultivated a good relationship with the local mosque.
Huq personally attended one of Goldsmith's surgeries at Kingston Mosque and said the pair had discussed schools, jobs, and housing.
Shakeel Butt, 50, who works at a blue chip company, said he had also initially backed Goldsmith for mayor but would now be voting for Khan to send a message.
"I thought Zac was a nice guy; I was turning blue," Butt said. "But I'm now going to vote for Sadiq to give Zac a bloody nose. You can't turn communities against each other."
Butt said it appeared "the Tories have gone back 10 years", despite the good work Goldsmith has done in the area in terms of reaching out to different communities.
"Zac used to come to the mosque. He was the most ethnic-friendly, whose brother-in-law [Imran Khan] got him into politics," he added.
"I would never think Zac would be part of [a campaign like] this. This is what really disappointed me. I'm sure me and my friends would back him. We are capitalists. I'm affluent and can afford to buy houses, and follow politics closely."
He added his 22-year-old daughter and 18-year-old son would be voting in a mayoral election for the first time. "My daughter would have voted Zac. Now I'm not sure. Don't think my son would have voted but we're going to drag him by the ear because we need the numbers."
A mother of four, who did not wish to be named and also lives in the London suburb, said she had gravitated toward Goldsmith before having second thoughts.
"I liked Zac; he seemed trustworthy," she said. "I used to hear about him a lot. He seems to know what he's doing and he's approachable – he's not the stereotypical Tory. My husband has spoken with him about schooling and the amount of new housing in Kingston and the fact there isn't the infrastructure to support it."
She said she changed her mind after Goldsmith accused Khan of sharing a platform with terrorist sympathisers. "He's obviously out and out lying, and that's when I thought, What else is he lying about?" she said.
A retired constituent, who did not wish to be named due to his close links with Goldsmith's family, said: "I am shocked at the way the campaign has been hijacked and lost a lot of credibility with the community – and they do like him. A lot of people were going to vote for him."
"He had been building bridges between religious groups, and he has been associated with the Kingston Muslim Association, and he has been cooperative. He has been genuinely sincere coming to the mosque," the local resident said.
He added: "Personally, it won't affect my relationship with him, but I think there will be some tension [in the community], but we will continue to invite him and play it by the ear. Demonising all Muslims is not right."
Although he would not reveal whether he would lend his vote to Khan, he said, "I wouldn't discount it. He's certainly gained a lot of supporters."
Goldsmith has repeatedly rejected allegations he had led a negative or anti-Muslim campaign.
In a statement, a spokesperson for his campaign told BuzzFeed that any allegation he had done so was "demonstrably false".
When challenged on Tuesday by BBC Newsnight reporter Secunder Kermani on the same issue, Goldsmith insisted: "I'm very comfortable with the campaign. It's a good campaign, it's a positive campaign."
Saria Waraich, a doctor who lives in Surrey, did not reveal who she would be voting for, but said she was concerned the controversy would discourage young Muslims from getting involved in public life.
"You're much less likely to feel you belong in a city where the mayor came to office by throwing your community under the bus," she said. "The bottom line is Goldsmith is trying to appeal to people's prejudices and insecurities rather than their intelligence and better nature."