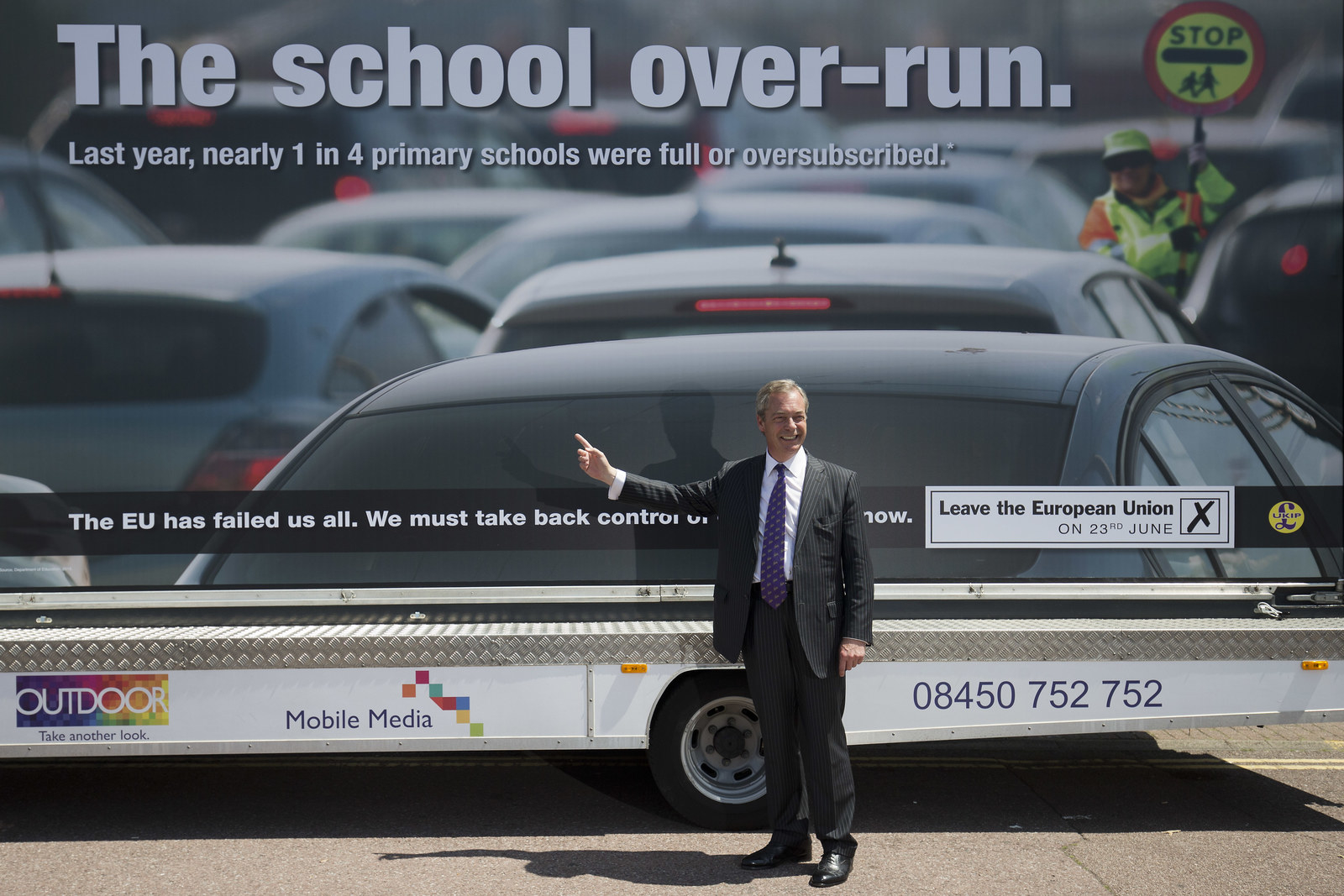 Reports of racist or religious abuse recorded by police in England and Wales increased by 41% in the month after the EU referendum compared to the same period last year, official figures show.

In the year 2015-16, there were 62,518 hate crime offences logged by the police, according to a Home Office report published today.
Of these cases, 8 out of 10 incidents, approximately 49,400, were race hate crimes – up 15% from the previous year.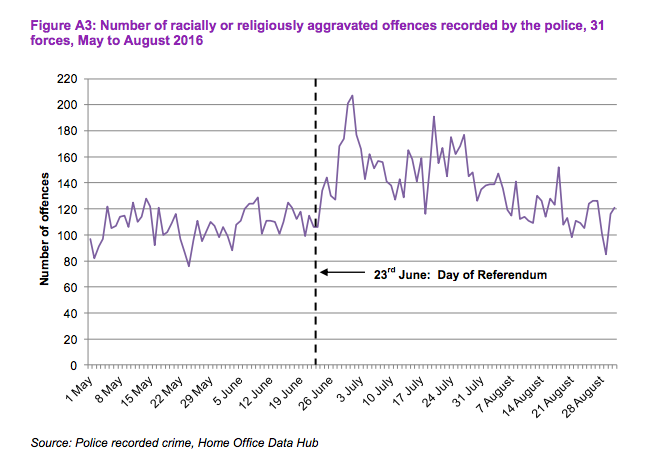 In July 2015, there were 3,886 of such crimes recorded, rising to 5,468 in July this year, according to official government numbers.

Amber Rudd, the home secretary, said in a statement: "Hatred has no place in a Britain that works for everyone and we are determined to stamp it out. I am pleased to see government action is working and that more victims are finding the confidence to come forward to report these crimes.
"Our hate crime laws are among the best in the world, but we cannot be complacent. Our Hate Crime Action Plan, published in July, sets out how we are further reducing hate crime, increasing reporting and improving support for victims."
Overall, the figures show an increase of 19% of hate crime cases this year compared with around 52,500 hate crimes recorded in 2014-15.
In all 44 police forces, racially aggravated incidents were the most commonly recorded strand of hate crime. For 43 forces, religious hate crime was either the third or fourth most common.
Alistair Carmichael, the Liberal Democrat home affairs spokesman, said in a statement: "This massive spike in hate crimes is down to the nasty, divisive European referendum campaign that pulled apart communities, families, and neighbours.
"Farage stood next to dehumanising posters that depicted people as hordes and then stood back shocked that their fanning the flames of prejudice had a reaction."
Carmichael also criticised the language used by Theresa May in her address to the Conservative conference earlier this month.
"Our government is treating the the post-referendum landscape in the same divisive way," he said. "Telling 16 million people they are 'citizens of nowhere' is beneath contempt and not a way to treat those who believe Britain should be at the heart of Europe."
The Home Office figures come after a series of reports of racist and xenophobic attacks in the UK, including the murder of Arek Jozwik, a 41-year-old Polish man who died in August after being attacked in Essex.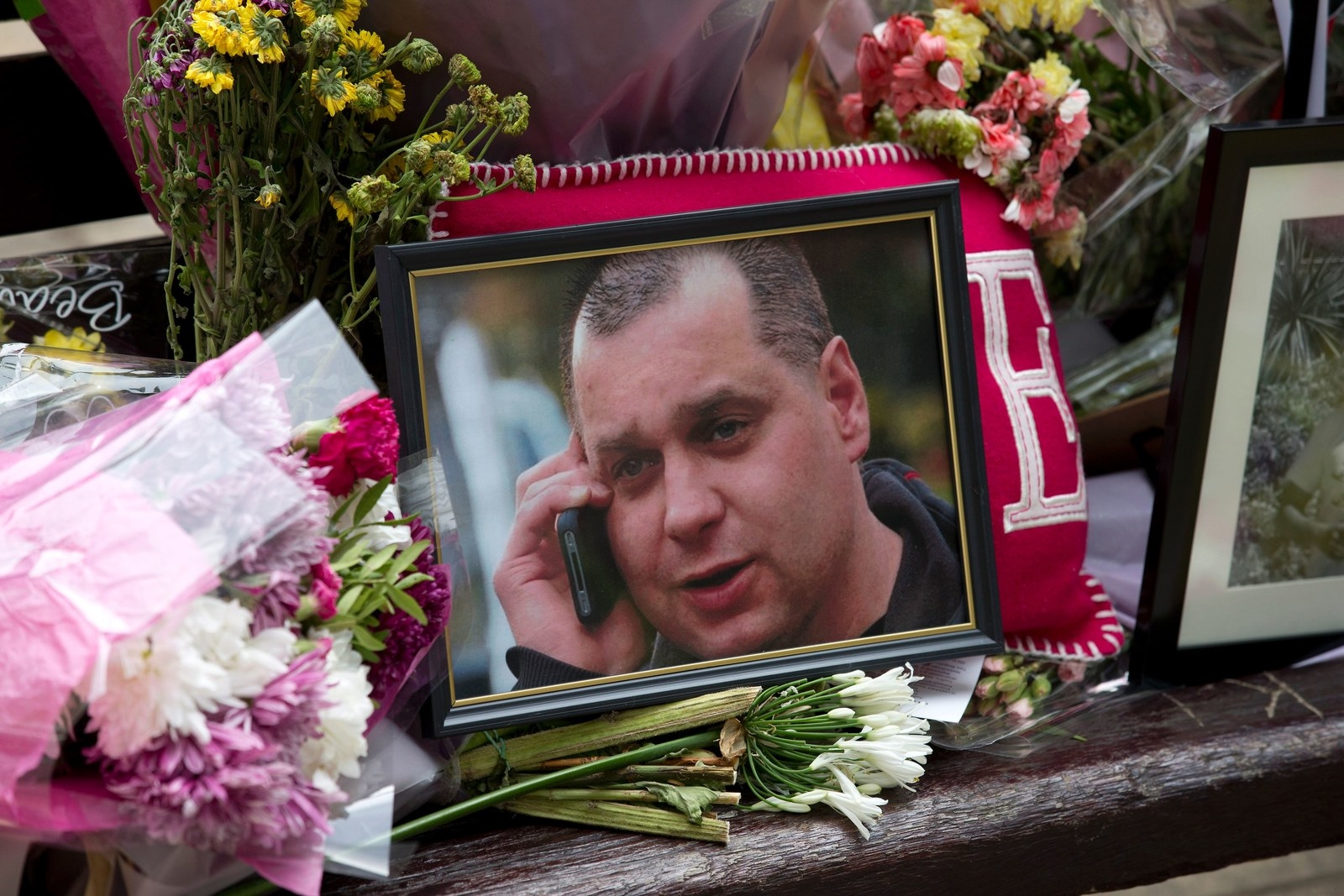 The latest figures follow a trend of increased reports of hate crime after the EU referendum. Days after the 23 June vote to leave Europe, complaints filed to police online hate-crime reporting site True Vision had increased by 57%, the National Police Chiefs' Council (NPCC) said.

Yet figures dropped in August, and Assistant Chief Constable Mark Hamilton, the NPCC lead for hate crime, said in a statement: "We have seen continued decreases in reports of hate crimes to forces and these reports have now returned to formerly seen levels for 2016."
Salam Arabi-Katbi, a higher education Prevent officer for South West England told BuzzFeed News that cases of far-right referrals to the government's counter-extremism scheme had also increased after the EU referendum vote.
"Certainly following Brexit there has been a rise in the number of referrals of the extreme right-wing," Arabi-Katbi said.
She said: "Some are more severe than others, but the classic racist narrative is used, with students telling other students to go back home."
Figures show 7%, or 4,400, were recorded as religious hate crimes, up by 34% from the previous year – although offences recorded by police can have one or more hate crime strands as motivating factors.
Esmat Jeraj, from Citizens UK's commission on Islam, participation and public life – a civil society project – told BuzzFeed News the hate crime statistics demonstrated a "worrying trend" in the UK, adding that she feared the figures did not reflect the depth of the issue.
"During our tour of the country," she said, "the Citizens Commission into Islam, Participation and Public Life has repeatedly heard horrific stories of Islamophobia and racism – many that go unreported or unfortunately accepted as 'the norm' for Muslims in Britain."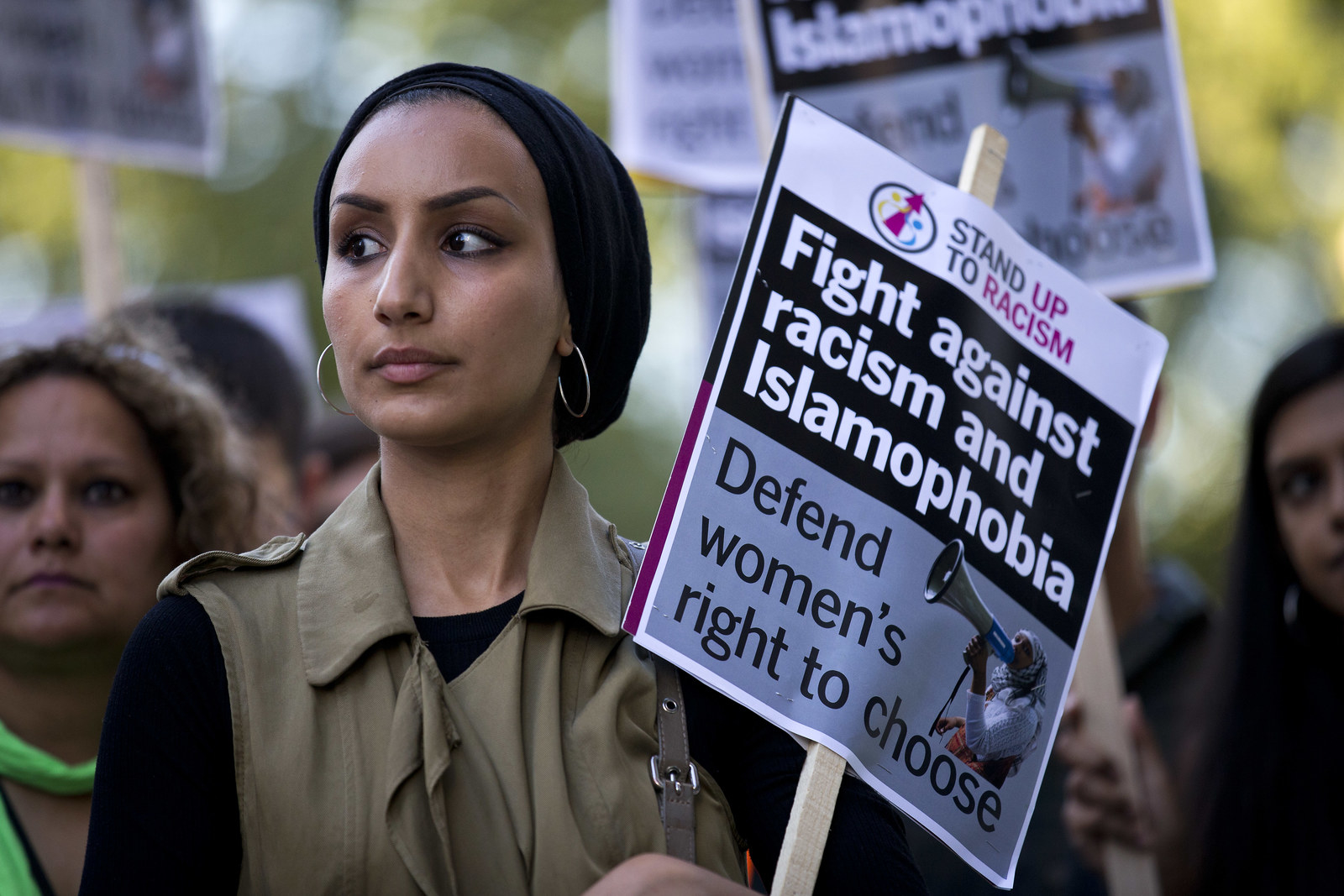 "Many Muslims who 'raise their head above the parapet' now expect to receive abuse, particularly online for sharing their opinions or for practising their faith," she said.

She added: "Our Hate Crime Commission in Nottingham led to that constabulary becoming the first in the country to identify and recognise misogyny as a motive for hate."

The Home Office report also breaks down other hate crime figures: 12% by sexual orientation and 6% by disability, while 1% were transgender hate crimes.