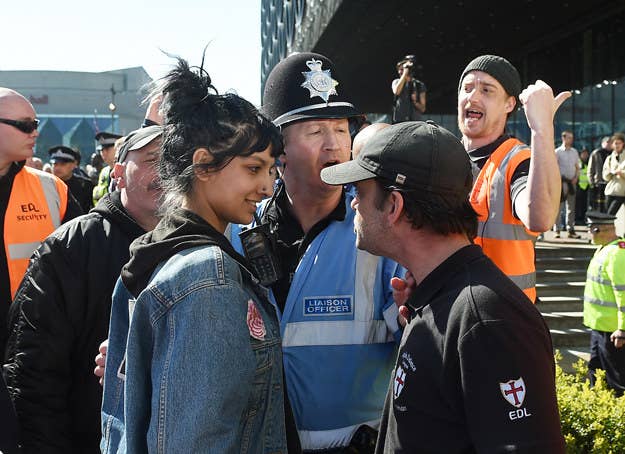 The British government has been urged to adopt the term "anti-Muslim racism" to tackle Islamophobic bigotry in a year that has seen anti-Muslim hate crime soar by 500% in one month.
Baroness Warsi, former co-chair of the Conservative party and the first Muslim woman to serve in the Cabinet, said "Islamophobia is Britain's latest bigotry blind spot", adding that there has been little political will to tackle it.
She said: "In 2011, I said that Islamophobia had passed the dinner-table test. I was speaking about those who display their bigotry overtly, but also those who do so more subtly in the most respectable of settings – middle-class dinner tables.

"It is this more covert form of Islamophobia, couched in intellectual arguments and espoused by think tanks, commentators and even politicians, that I have spent the last decade trying to reason with," she said in a foreword to a landmark report on Islamophobia – which comes 20 years after the Runnymede Trust, a race equality think tank, published their first report on the issue, bringing the term to public prominence.
In the Islamophobia: Still A Challenge for Us All report published today, Warsi wrote that the UK government still does not have an agreed, published definition of the term.
"Sadly, six years on from my first keynote speech on Islamophobia, there has been little funding for work combating Islamophobia and little political will to tackle the issue," she wrote.
The think tank has urged the government to agree that Islamophobia is "anti-Muslim racism".

In the last two decades, the authors of the report said, there has been an "intensification and banalization of Islamophobic sentiment, policy and practice in Britain", which was alongside the increased targeting, both violent and mundane, of British Muslims.
The wide-ranging report – which features contributions from 23 academics and authors who look at the impact of the discrimination on issues such as the labour market, mental health, civil society, Prevent, the government's counter-extremism programme and gender – focuses on barriers that hold Muslims back from fully participating in society, and not just anti-Muslim hate crime.
Speaking to BuzzFeed News ahead of the report launch, Farah Elahi, research and policy analyst at Runnymede, said: "One of the things we've arrived at in the last 20 years is the reduction of racism to hate crimes."
"What this report is trying to do is [show] it's deeper than that – if you don't want to for example rent your house to Asian people, and Muslim people, that is a form of Islamophobia and a form of racism," she said, referring to the case of a buy-to-let tycoon who banned Indian and Pakistani tenants "because of the curry smell".

"It's not just about individual violent attacks, but it is something that's structural," Elahi said.

The government has been urged to adopt a wider strategy to tackle inequalities that particularly affect British Muslims, while the report recommends for employers to address the barriers to equal labour participation – with Muslims having a more disadvantaged profile than other minority faith groups and being less likely to own their homes compared with the population as a whole and living in the most deprived neighbourhoods.
Khadija, a Muslim woman in her mid-twenties who identifies as a British black African writer, said she had faced multiple challenges with career opportunities – despite graduating with a 2:1 and a portfolio of published work that she built alongside her studies. She is currently in a part-time job in a field she does not want to be in.
She said: "When I left university I was unable to even get an internship, let alone obtain an entry-level position in my field.
"When I compare myself to white friends and colleagues I notice that I need to work twice as hard for what I want to accomplish," Khadija said, adding that her non-English name may also have an impact on how her CV gets overlooked.
"When I do manage to get through to interviews, the fact that I am an ethnic minority who also wears the hijab makes them less likely to offer me a job," she said.
She went on to add: "My family told me that wearing my hijab was holding me back in the job market and that if I wore it differently it would increase my prospects. But this is who I am and in 2017 why should I have to change myself into something that I don't recognise?"

Layla, a 23-year-old British-Arab nurse in London, said she regularly faces Islamophobia and racism in her healthcare job.
"I'm a born and bred East Londoner and despite London's multiculturalism, the amount of Islamophobia I experience is astonishing," she said.
In one incident, she said a middle-aged man who had various medical issues refused to acknowledge her as his nurse from his first night, telling her to: "fuck off back to your Paki country" and calling her a "terrorist bitch".
She said: "Many Muslims will tell you that they don't pay much attention to the Islamophobic comments from strangers because of their ignorance, but you can't play down comments from your own colleagues and friends who've known you for years"
Responding to the report, Iman Atta, the director of Tell Mama, an organisation that monitors anti-Muslim hate crime, said: "We welcome the Runnymede Trust's report and any report that highlights the issue of anti-Muslim hatred in the context of intolerance towards communities is welcome. Clearly social media, inflammatory press headlines and terrorist attacks are triggers for perceptions that may be laid down over time about Muslims."