This is Tarana Burke, 44, from Philadelphia, who is a longstanding advocate for sexual assault victims.
It's been a busy week for Burke, who has been inundated with media requests after friends started messaging her asking whether she was behind the #MeToo hashtag.
The phrase has been used more than 825,000 times on Twitter after the actor Alyssa Milano encouraged survivors of sexual assault to share their own stories, using the hashtag #MeToo.
It comes after the New York Times and The New Yorker published stories detailing multiple allegations of sexual assault and sexual harassment against Hollywood producer and studio executive Harvey Weinstein.
Many people wanted to highlight that it was Burke who first started a "me too" campaign 10 years ago, to help support sexual assault survivors in marginalised communities. Her contribution was written about in Ebony magazine.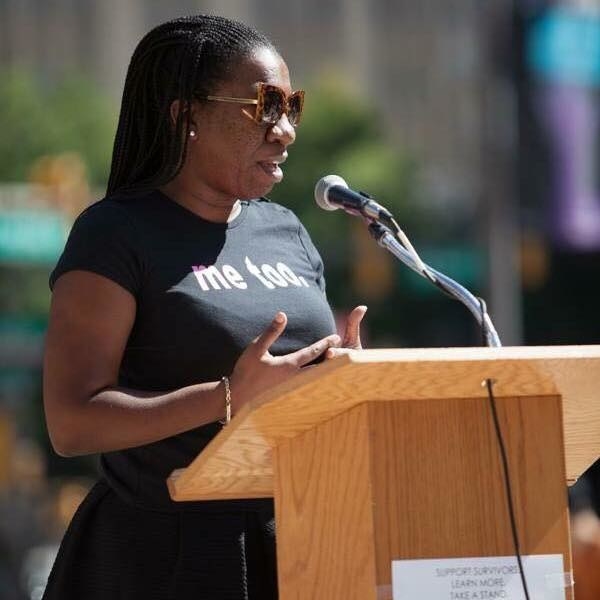 Journalist Britni Danielle shared a clip on social media of Burke's speech from three years ago, where she told the crowd "healing is radical".
She added: "For those who are ready and able, saying 'me too' can be a deeply cathartic experience."

Some people on Twitter wanted to make sure Burke's work was not being erased:
Burke has written about what motivated her to start the Me Too movement on the website of Just Be Inc, a youth organisation for women of colour that she founded in 2003.
She wrote that a young girl had asked to speak to her privately about sexual abuse she had faced from her mother's boyfriend. Burke admitted that she didn't feel ready to have that conversation and cut her off before directing her to another counsellor. She said she has never forgotten the look on the girl's face.
"I watched her put her mask back on and go back into the world like she was all alone and I couldn't even bring myself to whisper, 'me too,'" she said.
Speaking to BuzzFeed News from New York, Burke – who is a survivor of sexual violence – said she was working with women and young girls in Selma, Alabama, and found rape crisis centres and guidance councillors were not reaching women in marginalised communities. She felt she had to do something.
"'Me too' became a term that was both succinct and powerful and it was a way to ring up immediate empathy between survivors," she said. "It's really about survivors talking to survivors and it started in that way to support young women of colour who did not know where to turn, did not have any vital support in the healing process, and to help them get an entry point to healing."

Burke, who has worked in social justice since she was 14 years old and is the programme director for Girls for Gender Equity, a Brooklyn-based organisation that works to empower young women of colour, said Me Too did not begin as a hashtag.
"It started off as a community campaign," she said, adding that she wanted to give the young people she met language they felt comfortable using "because a lot of times we take it for granted whether people even know they survived a thing."
She added: "I had 12-year-old girls telling me they had 21-year-old boyfriends. And the start of it was trying to give them language to describe what they had experienced and then to make the connection that as an older person in their life –as a leader in the community – I also share in that experience.
"And that's what Me Too is about. This is a way I can talk to you, that you hear me, and you understand that you're not alone. And this is a larger movement that is about radical community healing."
Me Too was a campaign that changed people's lives, Burke said. She would give out her T-shirts to survivors and in some cases her speaking out for them was the first time their trauma had been acknowledged by others.
"I had so many people … young girls, older women, across races, across the gender spectrum, telling me this thing has helped them seek healing, and for the first time they said it out loud," she said.

Burke said she was concerned about the effects of mass disclosure on social media. "Social media is so immediate and in your face that I know many people have been helped and many people who have been traumatised by their entire timeline filled with 'me too'."

She said this often left little space to digest what had happened. "I think the work we have now is to build that space and create those containers to help people process what they've experienced, process what's happening, to go through this moment and figure out what to do now."
When asked whether the latest incarnation of Me Too has been inclusive, Burke replied: "The thing is, I say this all the time: Sexual violence knows no race, no gender, no class."

But the response to sexual violence, she said, is both highly racialised and highly gendered.
Burke said: "The truth of the matter is [the Harvey Weinstein allegations] have been amplified because these were white women who were victimised, and it was in protection and in support of white women."
She said there have been many black women who have made allegations of sexual abuse "who are publicly ridiculed, who are questioned, who people don't raise up in support of."
In a series of tweets, Burke described #MeToo as "empowerment through empathy" and one that needs to include women of colour.
Burke said she always intended Me Too to be an inclusive campaign: "I think the way in which this grew, and the way many of these moments grow, is not completely inclusive. But that's part of the work too. We find ways to amplify our voices and include our stories and to make sure those most marginalised are centred in this work."
Her next steps, she said, involve pulling together a national webinar to continue the conversation on sexual violence.