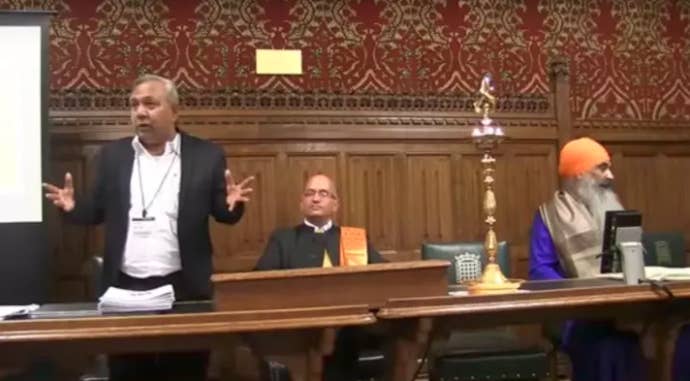 Labour MP Naz Shah has demanded an answer from the home secretary as to why a well-known anti-Muslim extremist, who advocates for the birth rate of Muslims to be controlled and has boasted of his relationship with the former English Defence League leader Tommy Robinson, was granted a UK visa.

In a letter sent to Amber Rudd, and seen by BuzzFeed News, the Bradford West MP said she had "serious concerns" about the admittance of far-right Hindu nationalist Tapan Ghosh into the country.
Shah wrote: "When Pamela Geller, anti-Muslim US blogger, was not granted permission to enter the country, the Home Office statement was rightly very clear: that an individual who 'is not conducive to the public good' could be excluded by the Home Secretary, and that the Home Office condemns 'all those whose behaviours and views run counter to our shared values and will not stand for extremism in any form.'

"Given the publicly available views that Tapan Ghosh has expressed on his social media profiles, how did the Home Office fail to identify this individual as someone who is 'not conducive to the public good' and take appropriate action?"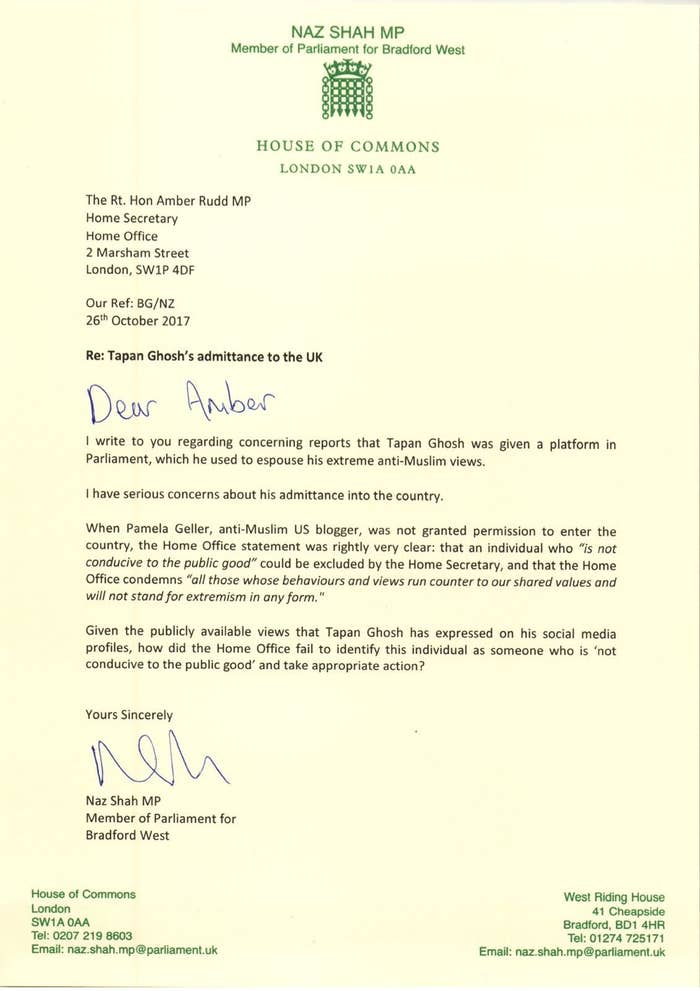 Speaking to BuzzFeed News, Shah said: "How on earth was this guy even given a visa to enter our country? What's this guy doing on our soil?"
The letter comes after BuzzFeed News reported on Wednesday that the home secretary addressed a Diwali event on 18 October that was also attended by Ghosh, who was being hosted in parliament by Bob Blackman, the Tory MP for East Harrow.
Shah had raised a point of order in parliament earlier today, saying: "Mr Ghosh holds abhorrent views, is on record for calling upon the United Nations to control the birth rate of Muslims, praising the genocide of Rohingya Muslims in Burma, and also said Muslims should be forced to leave their religion if they come to a Western country.

"Only this Monday Mr Ghosh was pictured with UK far-right extremist leader Tommy Robinson."
Shah continued: "It seems incredible to me that any member would think it would be acceptable to host a meeting with this individual, let alone invite him to our House of Commons."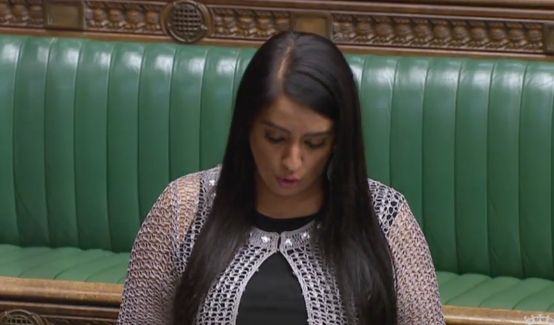 In response, Blackman told the Commons he had not personally invited the anti-Muslim extremist but that he had hosted him in his capacity as chairman of the all-party parliamentary group (APPG) for British Hindus at two separate functions last Wednesday.

Referring to one of the events, called "Tolerating the Intolerant", which billed Ghosh as the keynote speaker, Blackman continued: "Tapan Ghosh was invited by the National Council of Hindu Temples to attend that meeting and present evidence of physical attacks, rapes, and false marriages, and false conversions that have taken place in west Bengal and other places."
Blackman went on: "I have made clear, and the National Council of Hindu Temples has made clear, that it was only in that capacity as presenting that evidence that that individual was invited to this House."

The event, which was not a formal committee hearing, was not organised by the APPG for British Hindus but by the British Board of Hindu Scholars and supported by National Council of Hindu Temples, as seen on promotional material for the event.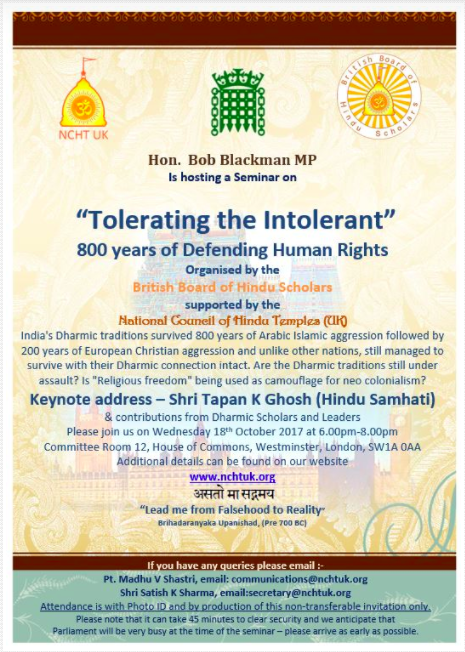 Speaking in the Commons, the Harrow East MP said Ghosh had "made no abhorrent remarks at the meeting, and I am quite clear that both myself and the National Council of Hindu Temples do not agree with his views that have been previously stated, do not accept them, we do not endorse them in any shape or form.

"I do think it's right that this House has the opportunity and members have the opportunity to hear evidence from people of what is happening in other countries."

As BuzzFeed News reported on Wednesday, Ghosh was filmed speaking of the need for a "Hindu Defence Force" in his home state. He appeared to brush aside concerns of human rights violations, which included Muslim men being killed over suspicions that they had killed or stolen cows for beef, and churches being attacked by Hindu vigilante groups. "We have to protect our land," Ghosh said.
In a statement given to BuzzFeed News yesterday, a Home Office spokesperson said: "The Home Secretary fundamentally disagrees with Mr Ghosh's views on Islam. The Home Secretary accepted an invitation from the Hindu Forum of Britain to attend an event in Parliament last week to celebrate Diwali. She did not speak to Mr Ghosh and was not present when he spoke."