When businesswoman Naheed Majeed voted to leave the European Union last month, it put her in the minority of British Muslims.

"I've always been a Leaver, probably since I was a teenager," Majeed, one of the founding members of Muslims for Britain, said. "My reasons were around sovereignty and democracy. I've always believed we wanted to be more sovereign, and to be more sovereign and democratic we needed to come out."
Although 70% of Muslims in Britain who cast their ballot voted to remain, Majeed's views resonated with those who, like her, also want to see Britain sever ties with the EU.

In a tweet on 2 July, Conservative MEP Daniel Hannan praised Muslims for Britain for helping the Leave camp to secure a victory in Birmingham, where nearly 22% of the population are Muslim, according to census data.
In the wake of the referendum, however, there have been widespread reports of people being subjected to racist and Islamophobic abuse on the streets and public transport, and attacks on community centres around the country.

Figures show an increase of 57% in reported incidents compared with the same period four weeks earlier, the National Police Chiefs' Council said. BuzzFeed News spoke to British Muslims who voted to leave to find out whether their views had changed.

So why did some British Muslims back Brexit?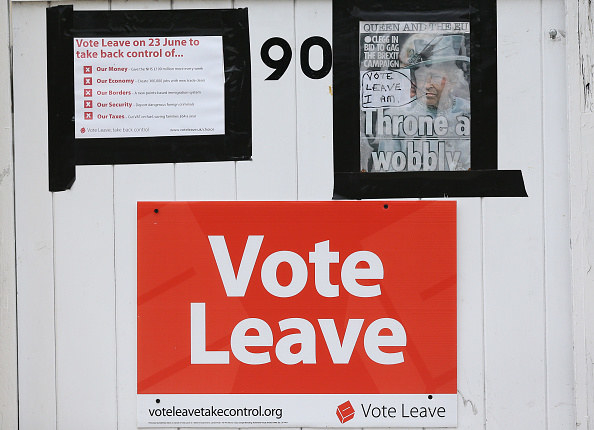 "It's a mixture," said Majeed, from Yorkshire, adding that as well as wanting more sovereignty for Britain on decision-making, there was also a strong economic component. "I didn't want to be tied to some bloc and ... the EU is one of the most stagnating economy blocs in the world."
These reasons chimed with Farzana Baduel, founder and CEO of Curzon PR agency, who told BuzzFeed News: "I joined the Vote Leave camp because as a businesswoman with a Commonwealth background I believe the EU has a discriminatory migration policy.
"EU citizens are able to enjoy freedom of movement whilst those from outside the EU face greater restrictions. I believe Britain can now negotiate bilateral trade deals with countries outside the EU including Commonwealth nations such as India, Pakistan, Australia, and fast-growing economies like China. In an increasingly globalised world, we need to be open to global talent and trade on a global stage."

Another reason why some British Muslims voted to leave – often highlighted in conversations around dinner tables, WhatsApp messages, and Facebook statuses in the run-up to the vote – was the fear of anti-Muslim sentiment across Europe.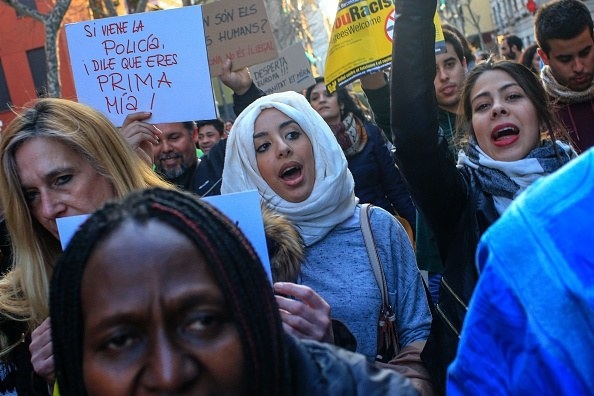 "I look at Slovakia and Hungary making it quite clear Muslims aren't welcome in their country, the rise of far-right [parties] such as Pegida, and I didn't want to be a part of that … Yes, we do have issues of race [in Britain] but don't have fascist MPs," said Majeed, a former mayor of Windsor and Maidenhead.

Iftikhar Awan, another founding member of Muslims for Britain, said this was one of the key reasons why he wanted to vote Leave.
"We were seeing the rise of the far right within Europe, particularly in the political establishment," he said. Awan pointed to nations such as Slovakia, a country he said had an Islamophobic prime minister in Robert Fico, and France, in terms of the ban on the niqab – or face veil – in public places and banning of hijab, the headscarf, in state schools and public sector, as well as the growing popularity of the far-right Front National in France.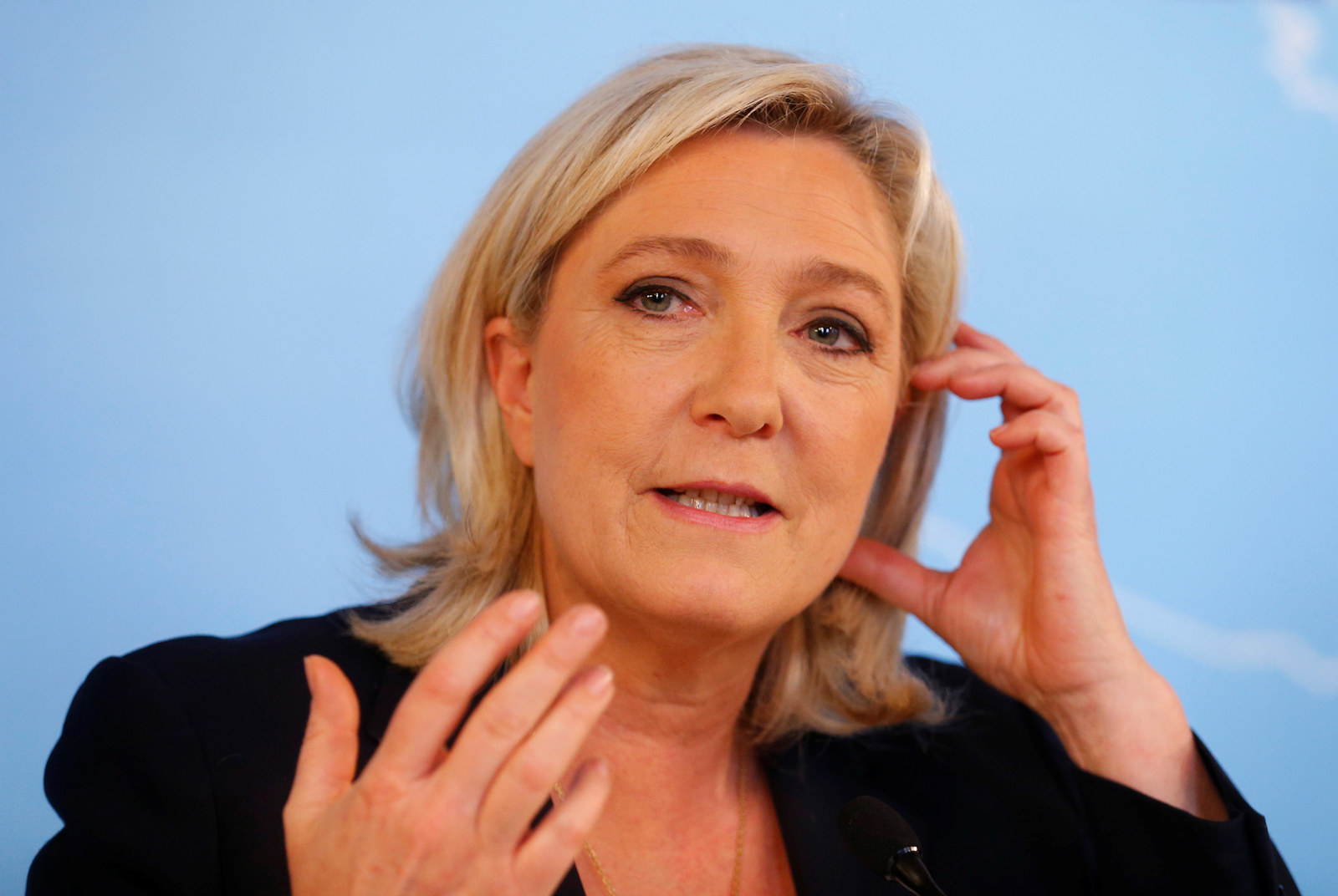 "These people were getting into power politically, and within the European parliament I think there was a danger of the far right having quite a lot of influence, and therefore it would have an impact on Muslims particularly," Awan said.

Unofficial campaign messages were circulated informally, addressing Muslims who were unsure whether to vote to Leave or Remain, and featured lists of anti-Muslim policies being rolled out in different parts of Europe, including bans on minarets and hijabs.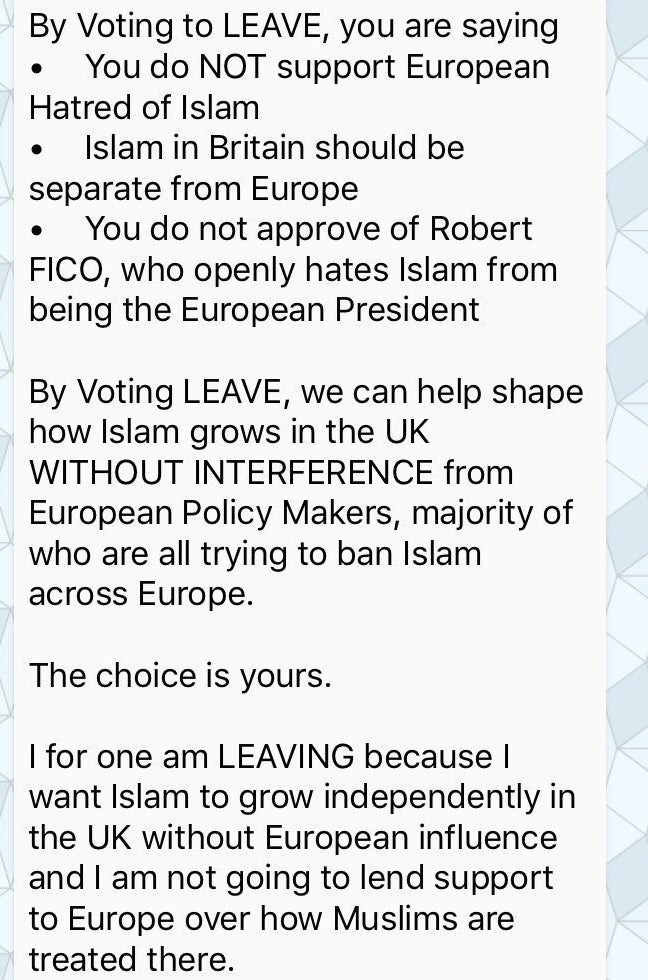 What do Muslims who backed Brexit think now?
None of the things that have happened since Britain voted to leave the EU – from David Cameron resigning to the economy dipping – were a surprise, Awan said.
Yet the one thing – besides the implosion of the Labour party, he added – that did shock him was the increased reports of racism and anti-Muslim hate crime.
Awan said it was sad to see "the rise in racism, the anti-immigration feeling, and the rise in anti-Muslim hatred, such as in the instances we've seen in the last week".
"I certainly didn't expect that, and in some ways one of the reasons I wanted to leave Europe was because of the far right [in Europe] … but I think the police and the government are trying to take action," he said.
"I have a lot of faith in British people. If you look at Britain compared to the rest of the world, it has always been a far more tolerant society than anywhere else. I think the fact that communities in this country have been allowed to express their differences and culture and language – and not only to express them but to have them celebrated – is one of the great things."
Businesswoman Baduel said she was also shocked by reports of post-referendum Islamophobia, but added: "Voting for Brexit has nothing to do with Islamophobia. We need unity across the political divide to show a united front to the rest of the world."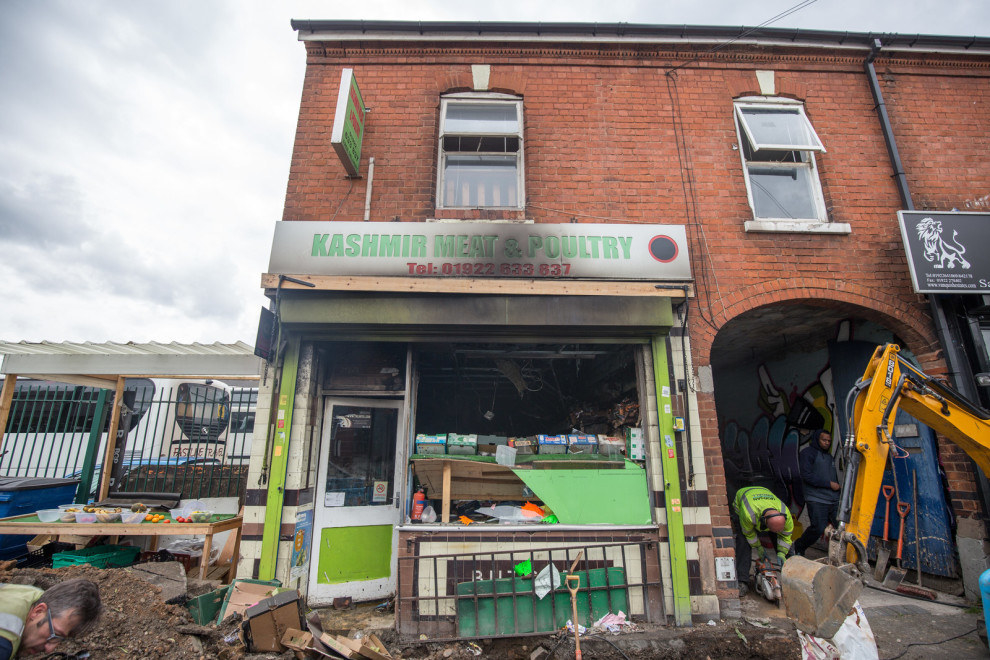 And despite the economic challenges Britain is experiencing, such as the value of the pound dropping to a three-decade low, Baduel thinks that soon it will be business as usual.

This was echoed by Syed Kamall, MEP for London and chairman of the European Conservatives, who is optimistic about the outcome of the referendum. In an upbeat article for Conservative Home, he wrote: "With self-belief and hard work, we can make the most of leaving the EU."

Sayed Bukhari, a property developer and another supporter of leaving Europe, said: "As a Muslim I was in the minority in my support of Brexit, and I still believe leaving the EU has the potential to improve matters in the UK for Muslims."
He said the many reported hate crimes since the vote had revealed "a basic intolerance in the UK – an intolerance for a diverse population, clearly, but also an intolerance for uncertainty".
"As a businessman, I have always followed the principle that when my business stops changing, it starts failing," Bukhari added. "The most important thing is that, regardless of what one supported or not, now is the time to unite, embrace the uncertainty, and make the best of the situation – only in this way will the UK become a great independent economy and nation."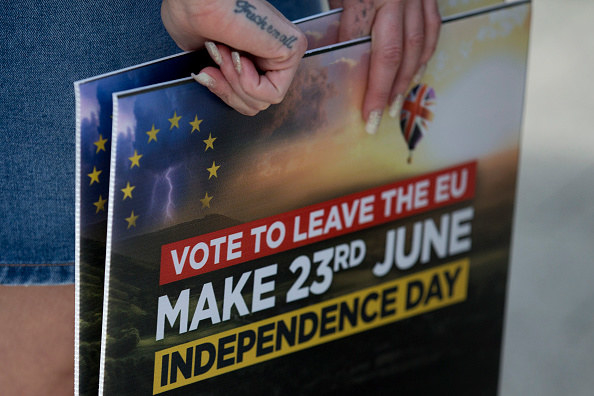 Majeed, who eventually left the Muslims for Britain group saying the tone of the campaign had gone sour, campaigned independently in the last two months.

She said she has no regrets about voting to leave the EU.

"I still strongly believe coming out the EU was the right decision, and we can't put the blame on Brexit for the racism over the last few days and I think it's quite naive. People don't just become racist."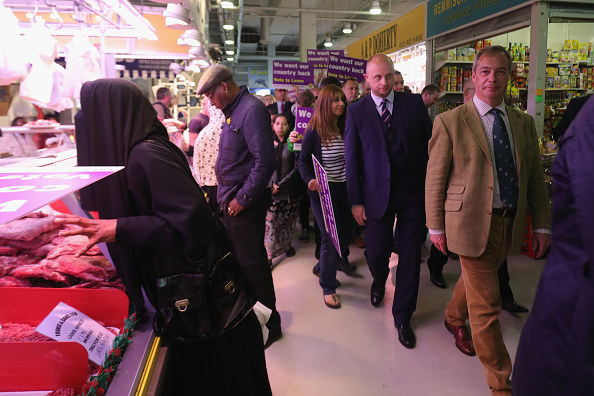 She added: "It's become evident over the last few days we have a real issue with racism, and whereas before it was an underlying issue, what Brexit has done has made this underlying problem come out to the surface."

Majeed called on the government to do more to address racism and anti-Muslim sentiment, and suggested a programme similar to Prevent, the government's counter-terrorism strategy.
"How do we prevent people from becoming right-wing extremists? I don't think the government can turn away from this issue," she said. "Cameron has rightly condemned it but condemning it isn't enough. Tougher sentences need to be handed out, but also how do you prevent people getting to that stage? Are they going to use Prevent now?"
Looks like there are no comments yet.
Be the first to comment!