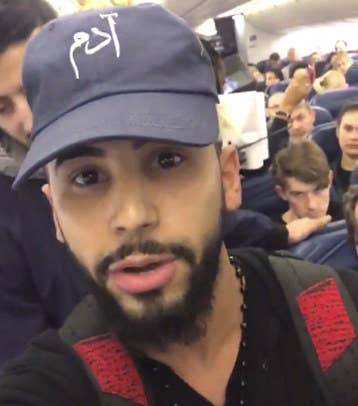 An Arab-American YouTuber is claiming he was removed from a Delta airline flight from London this morning after passengers said they felt "uncomfortable" with him speaking to his mother in Arabic on the phone.

Adam Saleh, 23, whose YouTube videos have millions of fans, posted a dramatic video on Twitter claiming he had been "kicked out of" a Delta flight headed to New York early on Wednesday.
However, some passengers on the plane have cast doubt into Saleh's version of what happened before he was kicked off the flight, and Delta said in a statement that, after speaking to several passengers, Saleh and his friend appeared to have sparked the entire incident.
Many social media users have also expressed skepticism because Saleh is best known for posting "prank" videos involving airlines. In his most recent one, he pretended to have "sent" himself to another country.

In a statement issued Wednesday afternoon, Delta Airlines said Saleh and the others removed from the flight appeared to have "sought to disrupt the cabin with provocative behavior," suggesting the entire event may have been staged.
"While one (passenger), according to media reports, is a known prankster who was video recorded and encouraged by his traveling companion, what is paramount to Delta is the safety and comfort of our passengers and employees," the airline said in a statement. "It is clear these individuals sought to violate that priority."
In the past, Saleh has also had to come clean about a viral video he had produced purporting to show anti-Muslim discrimination on the streets of New York, admitting later that it had been a staged "dramatisation."

Saleh's manager told BuzzFeed News that he always revealed his pranks in his previous videos, whereas the latest one was "as real as it gets."

"We spoke a different language on the plane, and now we're getting kicked out," says Saleh, who was traveling with his friend known as Slim Albaher.

The clip of him before being escorted by Delta airline staff has been retweeted more than half a million times.
A video later posted online by Albaher shows the pair in a heated discussion with staff following their removal from the flight, after which they address the camera.
In the video he says: "I was speaking Arabic and the lady started coming at me, but I froze up and I couldn't even stand up for myself, because I was scared – like a bunch of them were coming at me at the same time and I felt like a criminal."
"Adam – he's like my big brother, he stood up for me."
Delta initially confirmed that two customers were removed from the flight and later rebooked after a "disturbance in the cabin resulted in more than 20 customers expressing their discomfort."
In the video, Saleh adds: "This is 2016. Delta airlines is kicking us out," as passengers at the back of the aircraft wave at him and say, "Bye."
"You guys are racist. I cannot believe my eyes. I cannot believe it. I spoke a word in a different language and you say you feel uncomfortable?" he says.
"I'm about to cry right now. Because we said a word in a different language and there's six white people against us bearded men," he says, adding he has an account with the airline.
One passenger nearby speaks up and says, "That is insane. That is so crazy — why are you being kicked out?" as a flight attendant standing close by tells Saleh to step outside, the footage shows.
Airline officials, however, said in a statement that after speaking with crew members of the flight and several passengers, they believe Saleh and his companion tried to cause the disruption with yelling and other behavior.
Marvin Avilez, a passenger on the plane, told BuzzFeed News that after speaking with five passengers who witnessed Saleh's behavior — Avilez himself didn't see much of it — he didn't think Saleh was calling his mother and that the two were instigating other passengers.
Avilez said it didn't seem like Saleh made a call, adding, "I would want to see his phone records."
Some passengers told Avilez that Saleh's friend was prompting Saleh to say words in Arabic and to pump his fists in the air. He said that Saleh repeated those words and pumped his fists four to five times in a "joking manner, without any hint of aggression or anger." Still, he said, about 20 "people felt very uncomfortable."
A woman sitting near Saleh told him to shut up and they exchanged words, Alivez added.

A passenger who said he was sitting two seats away from the men had details similar to Alivez, telling BuzzFeed News that Saleh and Albaher never spoke Arabic to each other or on a phone call.
The passenger, who asked to only be referred by his first name, Anthony, told BuzzFeed News that the two men mostly spoke in English. BuzzFeed News has reviewed Anthony's boarding pass and passport to confirm he was on the flight. Anthony originally posted his account on Reddit.
Anthony said passengers became agitated when Albaher began shouting the phrase "Om Telelot Om" which Anthony recognized as an internet meme which means "Sir, honk your horn, sir," in Indonesian.
Anthony said Saleh was recording passengers' reactions as Albaher yelled out the phrase.
Albaher yelled out the phrase again, Anthony said, this time raising his fists in the air. That is when a woman, who Anthony described as being white, blonde, and in her 40s, asked the men to stop yelling.
According to Anthony, the men refused to stop, and then more passengers spoke up, asking them to keep it down. Anthony said Saleh continued to record everything on his phone.
Anthony said the men being kicked off the plane was not racially motivated, but a result of the argument that had erupted.
"They never spoke Arabic," Anthony said of the men. "My mother is Jamaican, if I thought people were being racist against him … I wouldn't let anyone get away with that. It wasn't racial, it was an argument."
Passenger David William told BuzzFeed News he was sitting directly in front of the two men and said he overheard Saleh ask Albaher if he's "ready to get this crowd going" and if his cell phone was turned on.
After that, David William — his first name, he refused to provide his last name for the record — said Albaher made hand gestures in the air and said something that he thought was in Arabic, though David William said he was not entirely sure of the language.
David William added that Saleh was recording his friend on his phone, and then asked him to do it again, "a bit louder this time."
Neither of the men ever made a phone call, said David William, who provided his boarding pass to BuzzFeed News.
Once the men repeated the phrase and the hand gestures, David William said passengers started getting upset, adding that one woman "really let him have it."
"I think they were more upset with them being loud and chanting and doing it over and over," David William said. "They could have been speaking any language."
"A lot of the passengers were upset and eventually, it delayed the flight at least an hour, and a lot of people missed their connections," David William said. "In my opinion this was a well-planned coordinated stunt to get everybody all riled up right before Christmas and make a post about it on the internet."
Max Ortega, another passenger on the flight, confirmed to BuzzFeed News that an argument had broken out in cabin.
Ortega — who is seen on the original video standing up for Saleh and Albaher — said he did not hear or see what led up the arguing but "whatever it was, it wasn't loud enough to cause a disruption in the plane."
Once he realized something was happening several rows behind him, he turned around and said he saw a woman being aggressive with Saleh, pointing a finger in his face. He then said that other passengers began to "gang up" on Saleh and Albaher, telling them they should get off the flight.
Ortega said he was aware that some people have cast doubts on Saleh's story because of his past as a YouTube prankster, but he believes the woman who was allegedly being aggressive with them should have also been removed from the plane – even if the incident was a performance.
"I just think that woman should have been taken off [the plane] too," Orega said. "If you're going to kick someone off a plane to be questioned, you should get the other person involved off [the plane] too, to explain to authorities what happened."
Other passengers also said the incident looked staged.

Rev. Karen Georgia Thompson told CBS News speaking Arabic in a plane was not a good reason to kick someone off the plane, but that Saleh seemed like "he knew what he was doing," during the disturbance.
"lt was clear that this guy knew what he was doing because as he was leaving the plane he would stop, he would kind of make eye contact with people and say, 'Delta is kicking me off the plane.'"
Another passenger, Jacqueline Willemsen, also said the incident looked staged.
"To be honest, it seemed more of a scene than anything had actually happened," she told CBS news. "I'm not sure what happened before but the way he was acting in a very arrogant way, immediately brought out the camera and seemed like he was pretty prepared before for what he was ready to do."
When Saleh began recording the video — saying he was kicked off for speaking Arabic to his mother — everyone "felt horrible" and that some passengers began to cry as it "became an issue of race," Alivez said.
However, he added, one female passenger eventually told another who was crying that "this guy's a prankster and he does stuff like this."
Avilez said he and other passengers "were like whaaat?"
Still, Avilez said that he did not think the incident was fabricated or a "premeditated prank."
"Like any prankster, you're always joking, you're always 'on,'" Avilez said. "I just think he and his friend were horse playing, they were goofing around, they were just being young kids."
"Just like you don't say the word 'hijack' on a plane, you don't pump your fists and speak words in Arabic on a plane during these times," Avilez said. "He was being immature, but was not preplanned."
Saleh posted a statement Wednesday night addressing Delta's allegation that it was he and his friend who started the commotion, and accused the airline of "trying to deny it to save their brand."
"Delta has been called out previously for racial matters," he said. "Yes we're pranksters, and it sounds like the boy who cried wolf but today you can clearly see its as real as it gets."
Saleh said he would not be speaking to reporters about it any more until speaking with his attorney.
Avilez said he would not use the words "kicked off the plane" to describe what happened to Saleh and his friend. "That's something different that being rebooked" — the two were eventually placed on a Virgin Atlantic flight.

He said he wanted to congratulate Delta, saying the staff never raised their voice and dealt with the situation like "we don't have time for horseplay."

For its part, the airlines said it was conducting a full review of the incident.
"We are taking allegations of discrimination very seriously; our culture requires treating others with respect," Delta said in a statement. (Here's a complete statement from Delta.)

The Metropolitan Police was also contacted by the airline over the incident, Scotland Yard confirmed to BuzzFeed News.

In a statement a police spokesperson said the passengers were escorted to the terminal "where they were assisted with making alternative travel arrangements."
No arrests were made.
Saleh's London-based spokesman told BuzzFeed News he dropped off the YouTube star at the airport at 9:30 a.m. and got a call from Saleh saying he had been "kicked off" the flight.
"He always speaks to his mum to get her blessings. As he was speaking, a British lady said she felt uncomfortable," the spokesman said. "He's upset with the fact it's happened to him. 'They targeted me of all people.'
"He's in tears. We dress like them, we think we are like them. It's just a different skin colour."
In a separate video broadcast on Periscope, Saleh, who is visibly distressed, says, "What are we supposed to do? We don't know what to do."

"We are literally off the plane because we spoke in Arabic I swear on my mum's head, I will die on my own head, I'm not even joking, [or] exaggerating," Saleh adds.
He added only four Pakistani passengers backed him up and told the captain that he was "being stereotypical."
"Even the captain knew he was wrong", Saleh says in the video.
In another video he urges his fans to boycott the airline.
In a statement, staff with the Council on American-Islamic Relations, the largest Muslim civil rights group in the US, said they were working to investigate the incident:
CAIR is concerned about any allegation that a passenger has been removed from a flight for speaking Arabic. Racial and religious profiling of Muslims, and those perceived to be Muslim, is a real and continuing problem. We don't yet know whether this case fits that troubling pattern, and are currently trying to determine the facts based on input from all parties involved in the incident.
A number of social media users, however, have speculated the incident is yet another one of Saleh's hoaxes.
CORRECTION
An earlier version of this article, using information provided by Saleh's spokesman, misstated the nationality of the passenger who said she was uncomfortable.