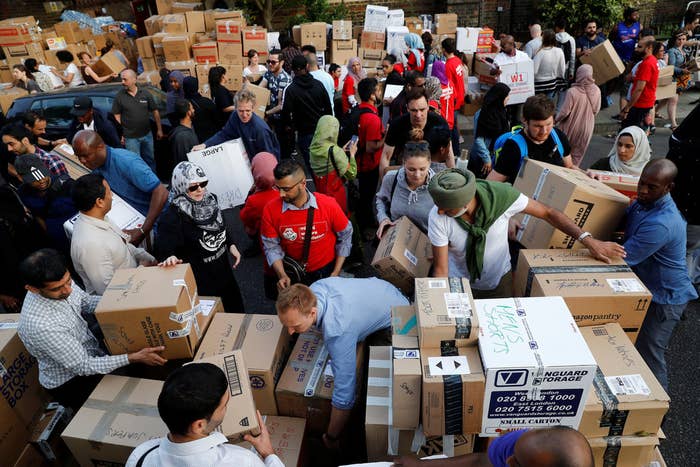 The charitable work of Muslim communities is not considered "newsworthy" and is not given due credit, according a report by MPs published today.

The first report from the All-Party Parliamentary Group (APPG) on British Muslims said the role Muslim charities often play during the festive season is "wilfully ignored", and laid the blame at the media's door for the way it portrays Islam and the voluntary sector.

This year, the MPs said, there has been a huge response from Muslim charities on the ground – from assisting Grenfell Tower residents, to supporting victims of the Manchester Arena attack, to giving blood donations.
The APPG said it wanted to highlight the untold story of British Muslim charities, and said too often Muslim charities only received attention because of negative media coverage of governance issues, or bad practice among a handful of individuals working in the charity sector.

MPs were critical of "latent fears" about Muslim charities being abused for terrorism financing, adding that evidence assembled by the Charity Commission showed there was a "near non-existent level of threat" of such abuse in the sector.
The report, titled A Very Merry Muslim Christmas, outlined wide-ranging charitable work from running soup kitchens for homeless people, to mentoring through prisoner rehabilitation projects, to support for domestic violence victims, with MPs saying: "Muslim charities are at the forefront of domestic crisis response," adding that the perception of such charities was "wide of the mark".

There has been a 32% increase in blood donations this year through the Imam Hussain Blood Donation Campaign, a service provider and one of the first national campaigns that aimed to increase the number of regular blood donors from Muslim communities, while Penny Appeal, a humanitarian charity, assessed over 300 applications for adoption and fostering, figures published in the report show.
In a statement, Anna Soubry MP, co-chair of the APPG, said: "As I have said before, communities have much to learn from one another. There is much we can learn from British Muslims and the work they do over Christmas. I have been deeply moved by the evidence we have heard. The number of British Muslim charities supporting non-Muslims during the season of good will is testament to the true nature of the Islamic Faith."
Wes Streeting MP, co-chair on the APPG, said: "British Muslim communities are living out their faith by playing an active role and supporting the most deprived in their communities. Motivated by faith and a commitment to their fellow citizens this Christmas we will once again see British Muslims feeding, clothing, housing and providing friendship to those that are often forgotten as we celebrate Christmas with our families."
Omar Salha, the founder and director of the Ramadan Tent Project, a scheme that feeds hundreds of people each year during the Muslim holy month, said it's important to serve the community through initiatives that promote community cohesion and empowerment.
Salha said: "Compassion, grace and kindness are core values shared by all faiths and none that are not bound by time or space. We often associate and revere a particular day, week or month with almsgiving, neglecting the importance of performing this act consistently."
He said the spirit of goodwill often seen during Ramadan, Christmas, and Yom Kippur should "serve as an inspiration and a reflection of what we can do every day".
In the past year, he said, the Ramadan Tent Project, which started off by feeding students in London, is now assisting residents affected by the Grenfell Tower Fire, has hosted over 10,000 guests at the annual month-long Open Iftar campaign in London and Manchester, and is supporting local initiatives in central London through feeding and providing warm clothes to homeless people during the festive period.
"British Muslims are often problematised and viewed in a negative light. But when British Muslims do good work and contribute to society, it's not really highlighted that much," said Mohamed Jawad Gulamhussein, the lead organiser of the London chapter of nonprofit Who Is Hussain?.

He agreed with the assessment made by MPs and said the positive work of British Muslims was not being highlighted. For the last three years his charity has led a weekly food drive in central London, he said. On 23 December they will be holding a Christmas event for homeless people at which 90 volunteers are expected to help.
"We'll be serving the homeless food, mince pies and cake, we will have Christmas hats, we will offer haircuts, and we will also have a CV workshop," he said. "The main objective itself for the Christmas period is to tell the world there is hope and humanity, and that they are not alone."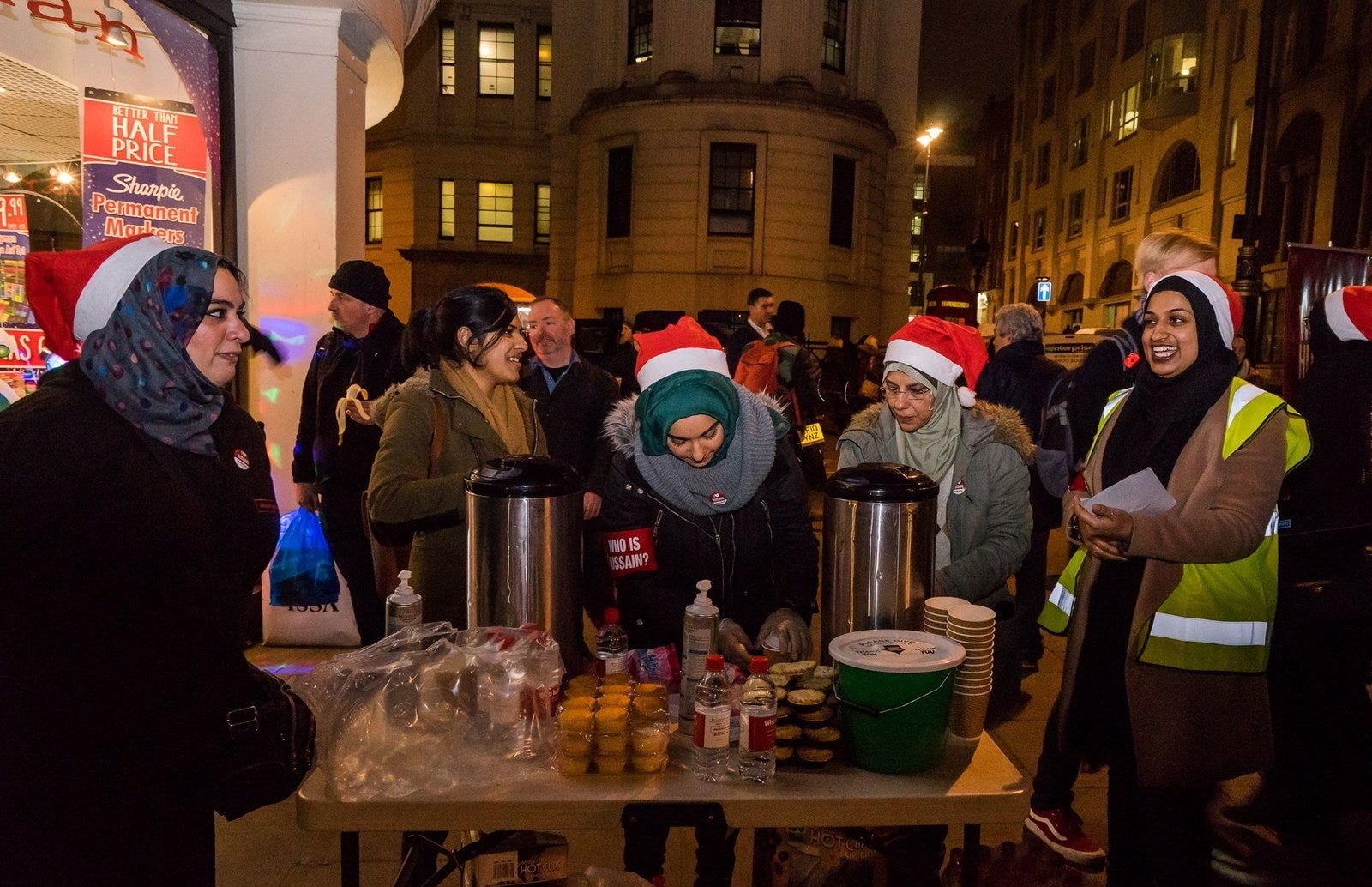 Aamer Naeem, the chief executive of Penny Appeal, said: "Charity begins at home, and Britain is that home for millions of British Muslims. The media may not see this as a headline, but we salute the many donors and volunteers that give of their wealth and time freely in the service of others."

Due to the severity of weather over the winter months and the increased vulnerability and loneliness felt by many over Christmas, he said, the charity scales appropriate interventions at this time of year – particularly for the sick and elderly.
In its planned 2017 Winter Emergency programme, the charity will be providing 20,000 hot food and family food parcels in Glasgow, Wakefield, Coventry, Birmingham, Bradford, Rochdale, Manchester, Oldham, and London, as well as distributing 500 winter warmer packs to rough sleepers.

The report comes at the end of a fraught year for Muslim communities, with five terror attacks including an attack targeting worshippers during Ramadan in Finsbury Park and with anti-Muslim hate crime up 500% in one month.

Baroness Warsi, the former Conservative chair, told BBC Newsnight on Monday: "We have a man in the White House now who thinks that it's OK and acceptable to retweet far-right activists in the United Kingdom. He's practically declared open season."

She added: "We had a year when we had people in the media talking about 'The Muslim Problem', much to the horror of people like the Board of Deputies, Jewish and Muslim communities, who said this was reminiscent of Nazi Germany. So yes, there have been some real low points this year, which is why even more so, parliamentarians are trying to focus on the good."
The APPG's report says: "These preliminary findings will, we hope, move us to look again at a community of less than three million people who, through their charitable activities, punch far above their weight."