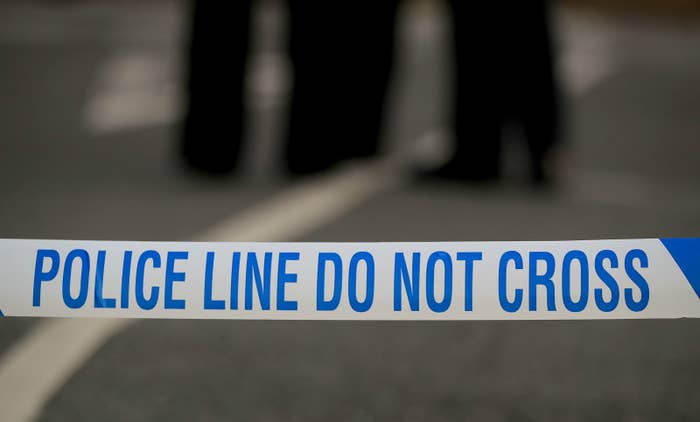 A driver ended up in hospital and a journalist was left in shock after they were "violently" stopped by up to 10 police officers in the early hours on Wednesday in London, BuzzFeed News has learned.

Ali Deeq, 28, was admitted to A&E after, he said, a police officer kicked his arm continuously until it went numb while he was held to the ground. He said his arm became swollen from how tight the handcuffs were.
Deeq was stopped because police believed the car he was driving was stolen, but he was not actually arrested. The Metropolitan police confirmed an investigation was underway into the officers' actions.
Speaking to BuzzFeed News after the ordeal, Deeq – who has worked as a driver for Alaraby TV, a London-based pan-Arab TV station, for the last two months – said: "This is something I wish never happened and was so unnecessary, and to be honest I feel very angry and there's nothing I can do."
He said prior to Wednesday morning's incident he had heard no sirens. "All of a sudden they [police] came in front of me, and just after that they came out of the car running."
One officer put him on the ground "and kept kicking my arm so hard, after one minute it was numb". The officer had a baton, Deeq said, and pinned him to the ground with his knees. He said the officer verbally abused him, saying "shut the fuck up".
Deeq, who is originally from Somalia, said the officer twisted his hand harder and harder until he could no longer feel it. "I felt like I had a broken hand," he said.
At no point was he told why he was being restrained, Deeq said, until an officer said: "This is what you get for stealing the car."
"I had respect for the police. Not any more – they abused their power," said Deeq, who has filed an official complaint.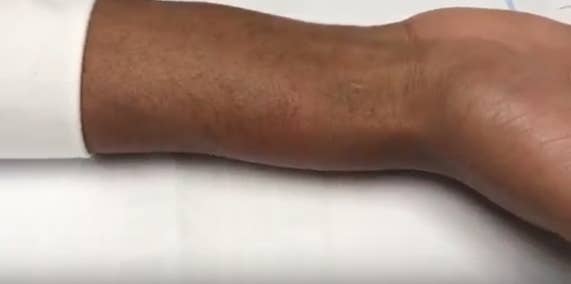 The Metropolitan police confirmed the incident took place, saying a car had been stopped in west London at 4:22am after activating an automatic number plate recognition systems.

"Information on the system linked the registration plate of the car to a burglary. The car was stopped and a man was placed in handcuffs while officers investigated. A woman was also in the car," a statement said.
"After it was established that no offences had been committed, both were allowed to go with no further action."
The Met confirmed it had received a complaint about the officers' actions, and that it would be passed to the Directorate of Professional Standards. It added that all the officers were equipped with body-worn video cameras.
BuzzFeed News understands that the officers will remain on duty pending the outcome of the investigation.

Maha Rezq, the news presenter who was in the car when it was stopped, said she was "still processing" what had happened as she was travelling to work for her morning show. She has accused the officers of racial profiling.

She said the experience had been "traumatic", and that Deeq had been "violently" forced from his car.
"Things escalated, and soon enough the police officer tackled Ali, put his face to the ground, and kept shouting and beating him up. The violence used was so unnecessary. Ali kept explaining that he was being hurt and assured them he wasn't resisting, but to no avail," she said.
"I was pretty shaken up by the violence used before my eyes," Rezq said. "I tried to explain to the officers that he is a harmless, respectful man and he will comply without the abuse, but they didn't listen."
She said: "I was separately asked about my relationship to both the driver and the car. The police suspected that Ali owned the car. I confirmed that he is just a driver picking me up to work on a daily basis. I also confirmed that the car belongs to the travel office."
Alaraby TV said its staff members were left "injured and severely shaken" after their "horrific treatment" that it said "can only be described as unlawful, unjustifiable and unacceptable".
In a statement, the station said Deeq and Rezq were subjected to "unjustifiable and violent treatment at the hands of the Metropolitan police", and it would "do its best to ensure that its staff are protected and their rights are upheld".