This Is Why People Are Crazy About The Halal Food Scene Right Now
The UK halal economy is worth around £800 million. So we went to London's Halal Food Festival to speak to people who want a slice of it.
Thousands of people turned up to the Halal Food Festival at the weekend to try halal food from all around the globe.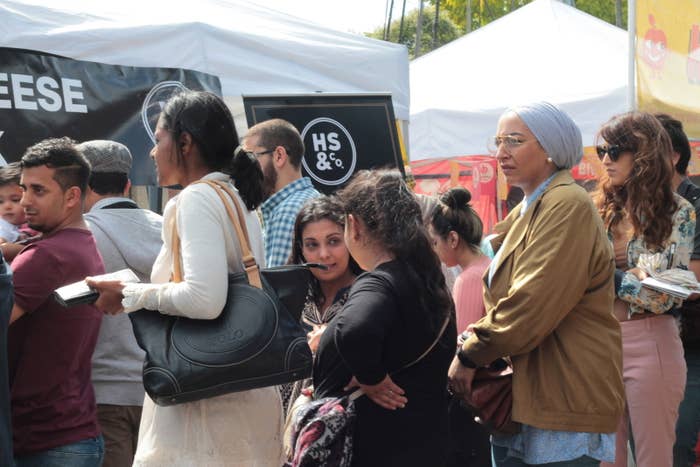 There was Great British Bake Off stardust.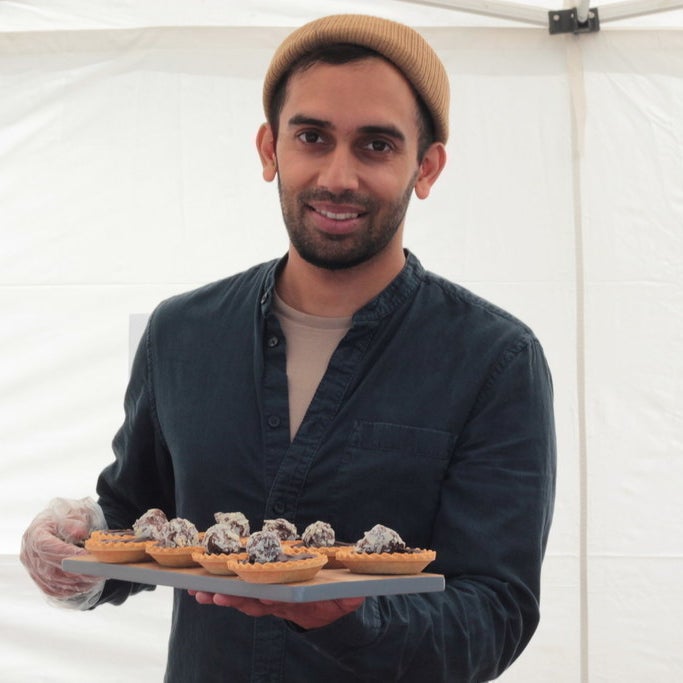 Ali Imdad, a former contestant on BBC One's The Great British Bake Off, came from a cooking demonstration on stage to rustle up a Mediterranean chicken salad.
"This is the first time I've had a stall like this, and I've got some tarts, some brownies, some macaroons, and to be honest it's been maybe four hours and I've almost sold out," he said. "I don't know what I'm going to have to sell tomorrow.
"My favourite product by a mile is the matcha tart. Matcha [powdered green tea] is a new sort of thing right now, and anything with matcha in it I'm just obsessed with it. Anything matcha-related – I'm in. I'm just encouraging people to try it.
"The halal food scene is really growing and someone who has a bit more disposable income to spend on food is not just looking for chicken and chips any more, we have so many options now. And to have all under one roof? For a foodie it's a dream."
There were sushi burritos.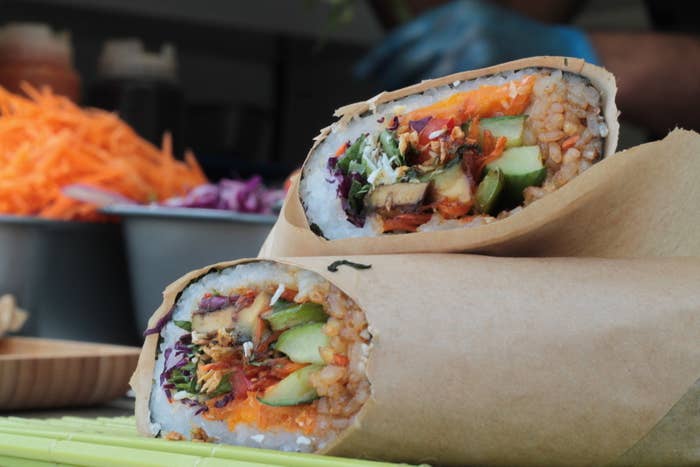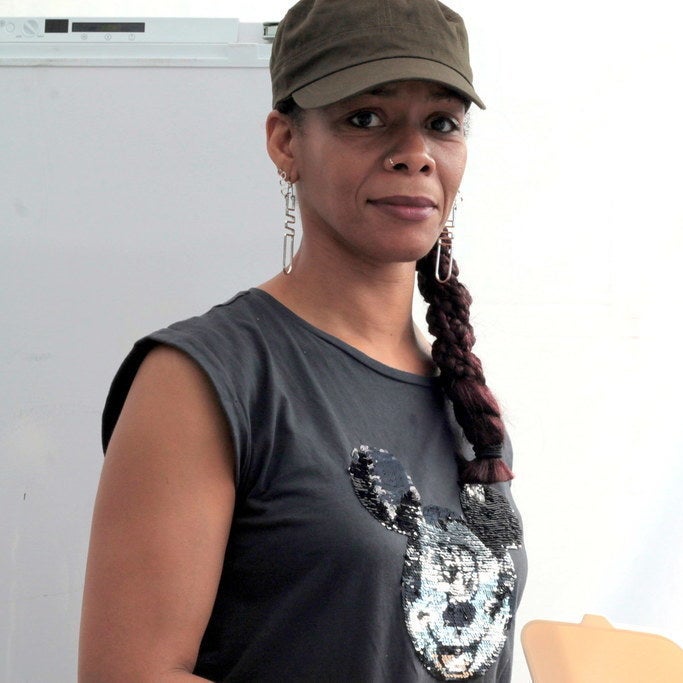 Corrine, of Jerk City, said: "It's a West Indian food business and we're based in Soho, been established there for 16 years, and at the moment we only have a few things on our menu – we've got jerk chicken, curry vegetable, curry goat, rice and peas, and a vegetable roastie also. It's been very busy and we're waiting for the next influx to come in. This is the first time we've done this."
There was chaat (South Asian street food).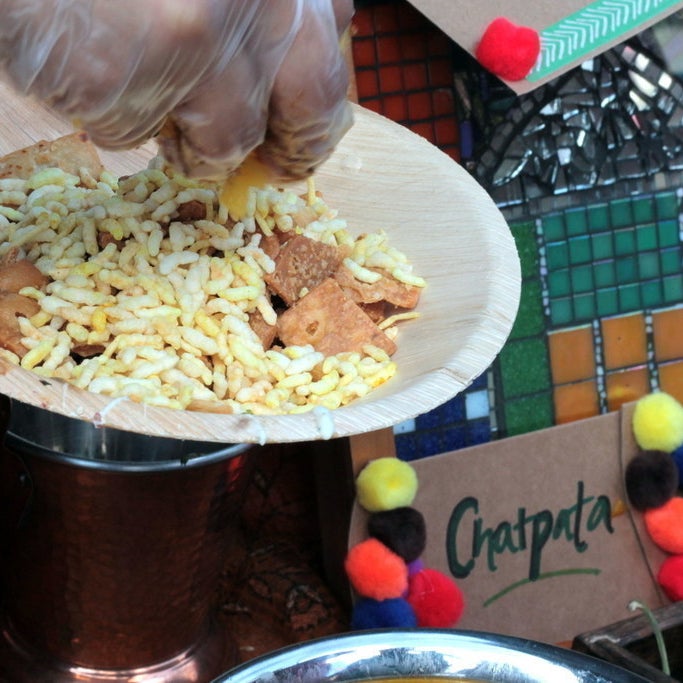 "I'm just starting up and this is Taz's Kitchen. I'm trying out chaat today," Tehreem, from northwest London, said. "The basic ingredients are chickpeas, potatoes, and black-eyed beans with coriander and mint. And then you have tamarind sauce, yoghurt-based sauce, and then all the various condiments that go with it.
"In my day job I'm in the pharmaceutical industry, and I like cooking and I like entertaining so I thought, Well, why not? [I'll] give it a go. People have really enjoyed it, it's very fresh."
There was chapli kabab and pakoras.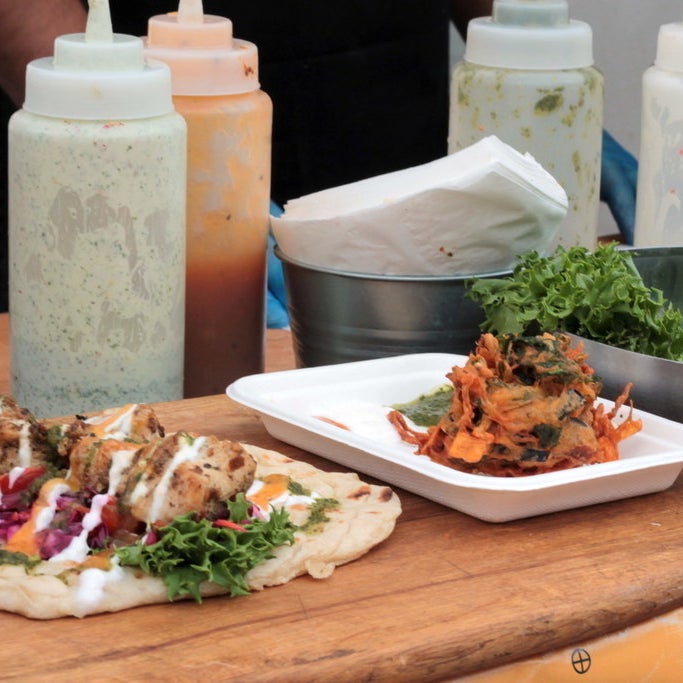 Zulf, co-founder of Curry Cookhouse, said: "Me and my wife Harima started our business three years ago, and we've always loved food. I worked in IT before, and I thought, Why not? Harima's a really good cook and I thought we better make the most of it. We always said we'd build it slowly, organicly, but I think we're losing a bit of patience now so we need to be a bit more proactive. So hopefully you'll see a bit more of us.
"Our base is Pakistani food, but we use seasonal British products, all our salad is seasonal, we make our own sauces, marinate all our meat, so we're kind of responsible for everything from A-Z. My favourite dish is the lamb, my wife's favourite dish is the chicken and the pakoras as well. We love the pakoras.
On the eye-catching, even hipster-ish branding, Zulf said: "We trade in Brick Lane and I saw a graffiti piece there, and so I was inspired and made it ours."
There were curry boxes.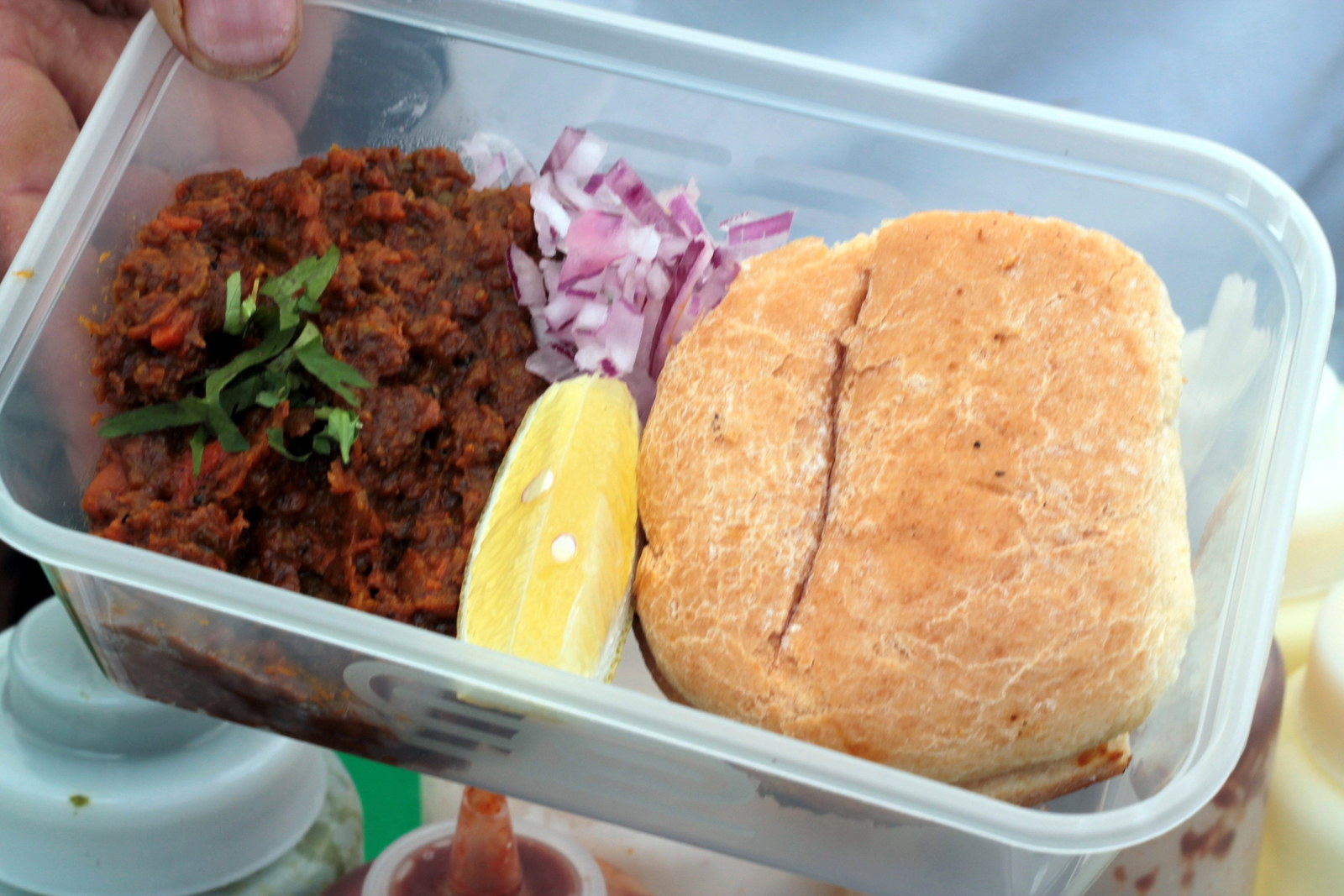 There were British takes on Egyptian hawowshees (a kind of minced meat sandwich).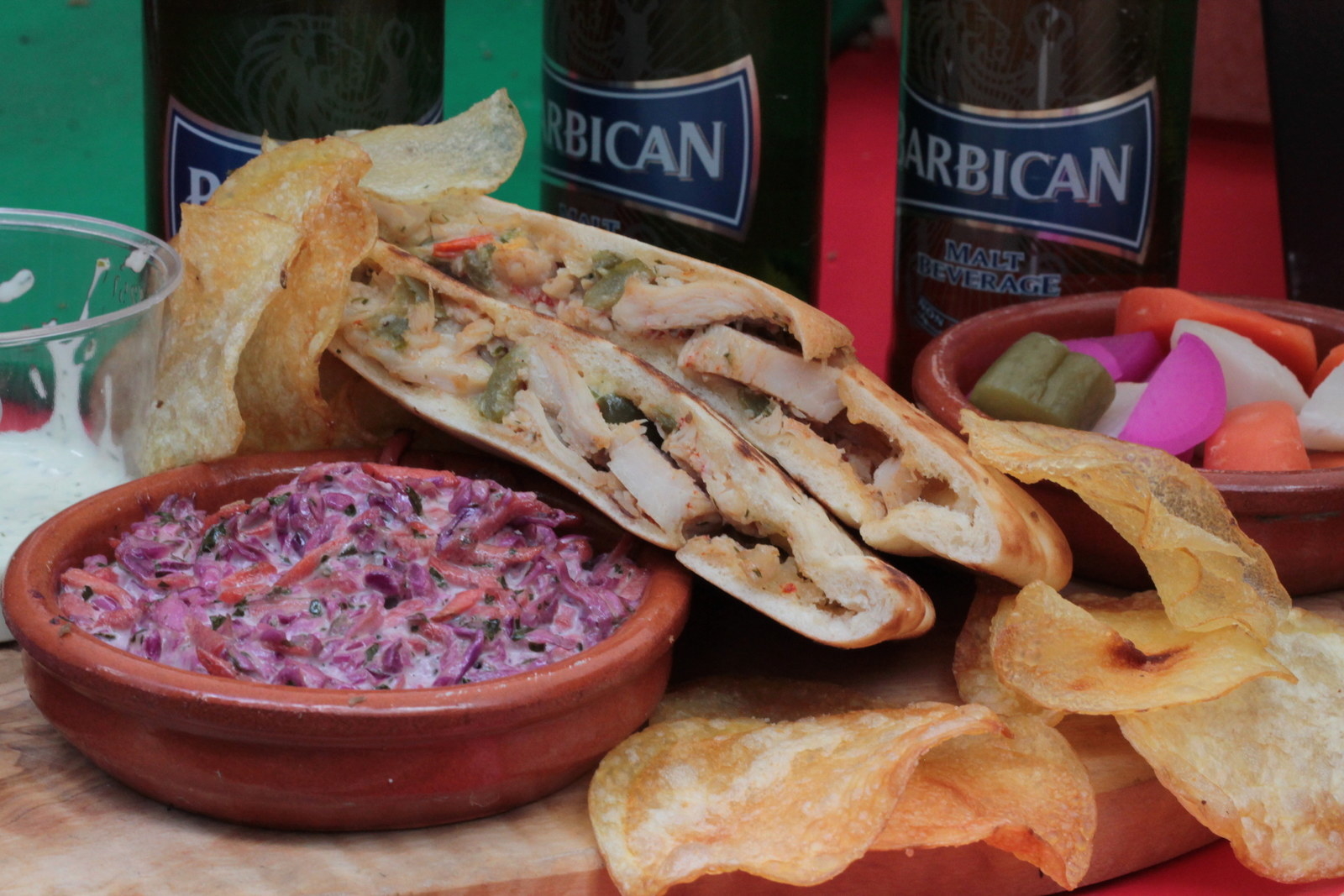 There were ready-to-eat meals (for millennials).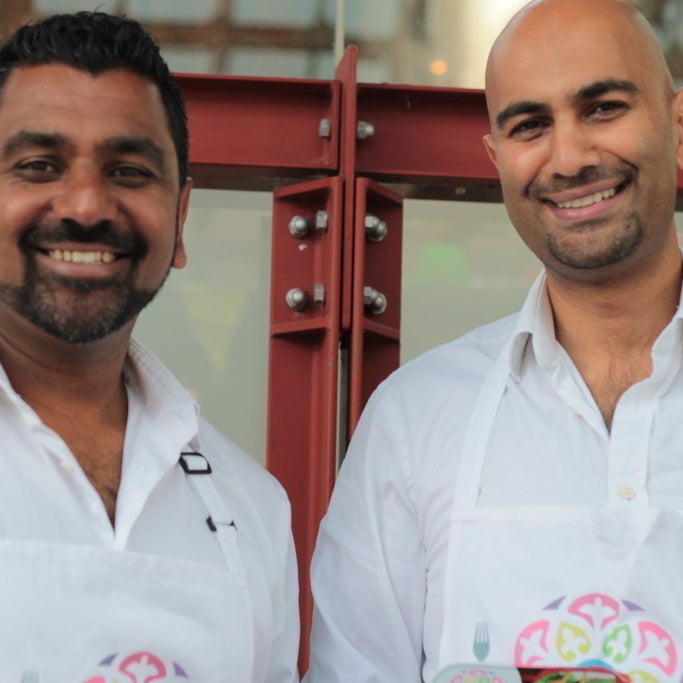 Friends Imran and Noman, who founded Haloodies – a portmanteau of "halal foodies" – were giving out samples of their line of ready-to-eat range of chicken, including peri-peri split sticks, southern fried chicken, battered chicken fillets and bites, chargrilled mini-fillets, and also sliced chicken with cajun and tikka flavourings.
They started the company three years ago, giving up jobs in medicine and dentistry to provide quality, convenience and ethically sourced produce for halal consumers. Haloodies has grown fast, and is now sold at Tesco as well as Amazon Fresh and Ocado.
"Twelve per cent of London's population is Muslim," Imran said, "and although there are a lot of halal choices particularly with restaurants, for the average London resident, there is a limited option and range. This is for the young millennial Muslims who are time poor, have cash, want good quality – and we're here to provide that. We will be the product that will be in every Muslim's fridge, inshallah. That's our ambition. The supermarkets are waking up to the fact halal is big business, and we're one of the handful of mainstream halal brands that are coming through."
"We're selling a non-alcoholic mohito, named it Nohito, and it's a premium bottled drink, nice flavoured mohito, in a good-looking bottle," said Shahin Hussain, one of the founders. "We saw there was a gap in the market for [non-]alcoholic drinks and obviously the consumer nowadays is getting more and more assertive, more and more social, and they want better choices than a J20, Appetizer, or Shloer."
Bottles of Nohito were selling for £2, manufactured in Portugal. The drink contains lime juice, mint, and orange, and the founders say it has fewer calories than regular soft drinks. "We've had amazing feedback people coming back and getting more and more bottles," Hussain said. "They're loving it, loving the flavour, the concept, are asking which supermarkets are stocking it. We're buzzing."
There was Mecca Cola.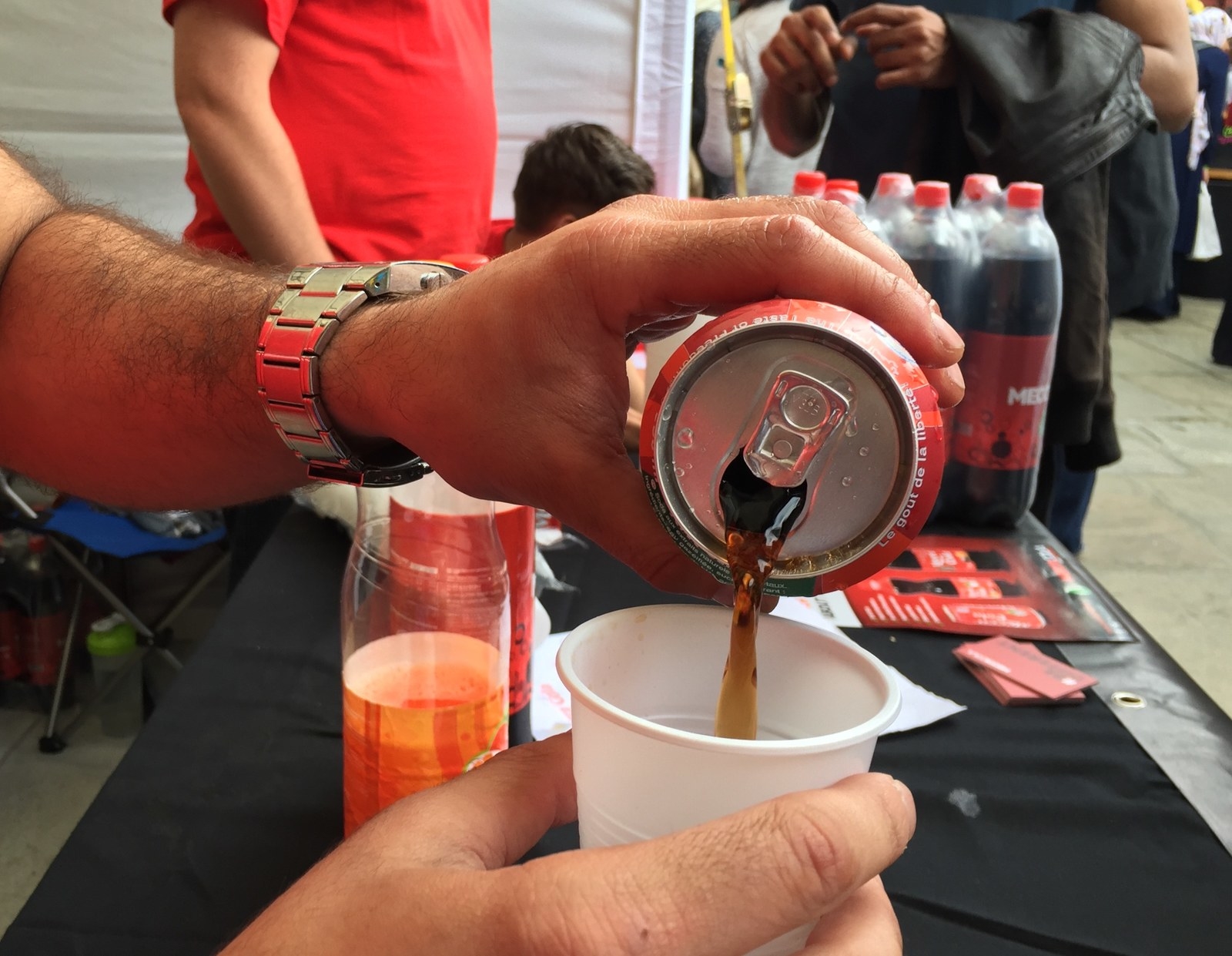 There was gluten-free hot sauce.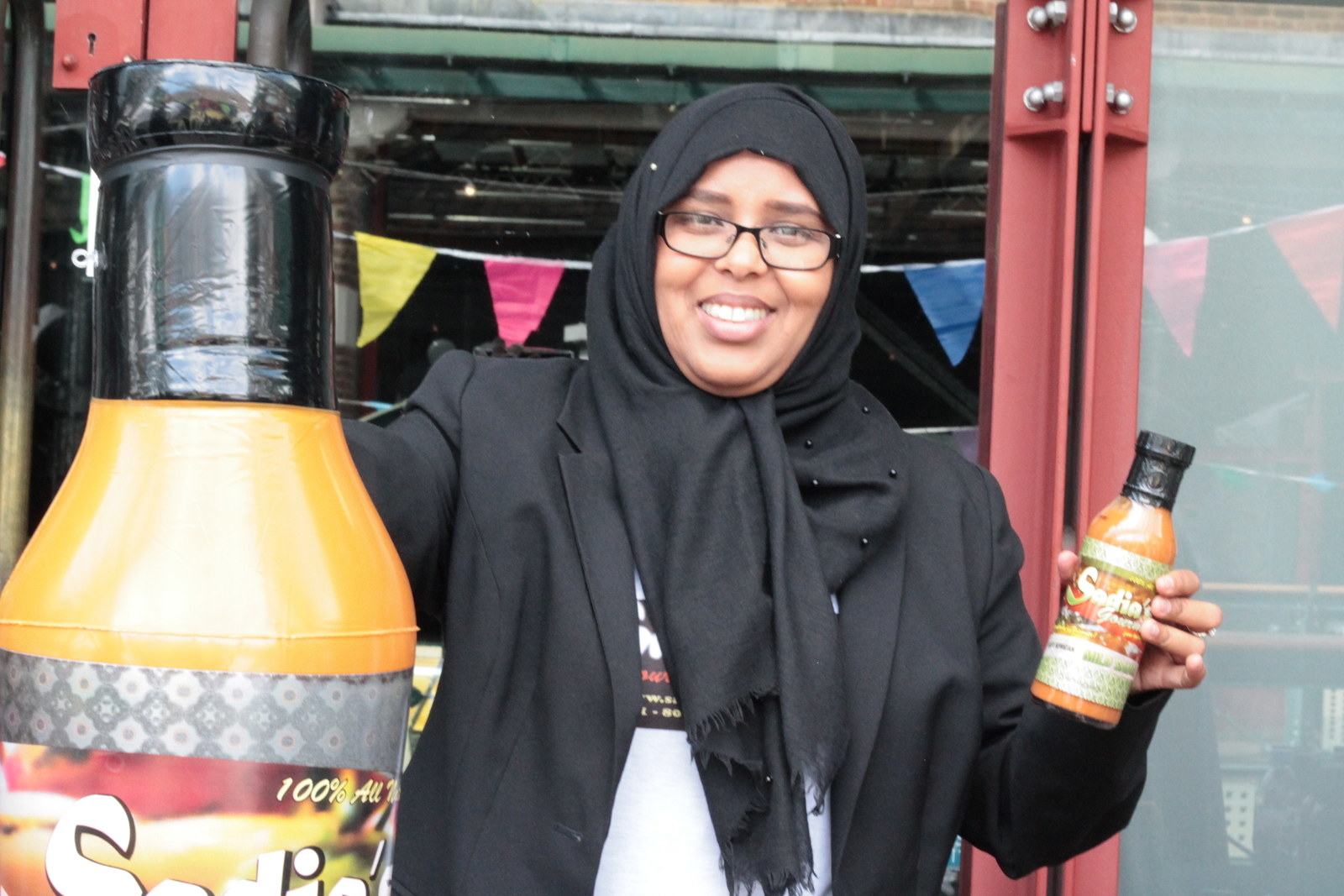 There were Belgian chocolate-coated Medina dates.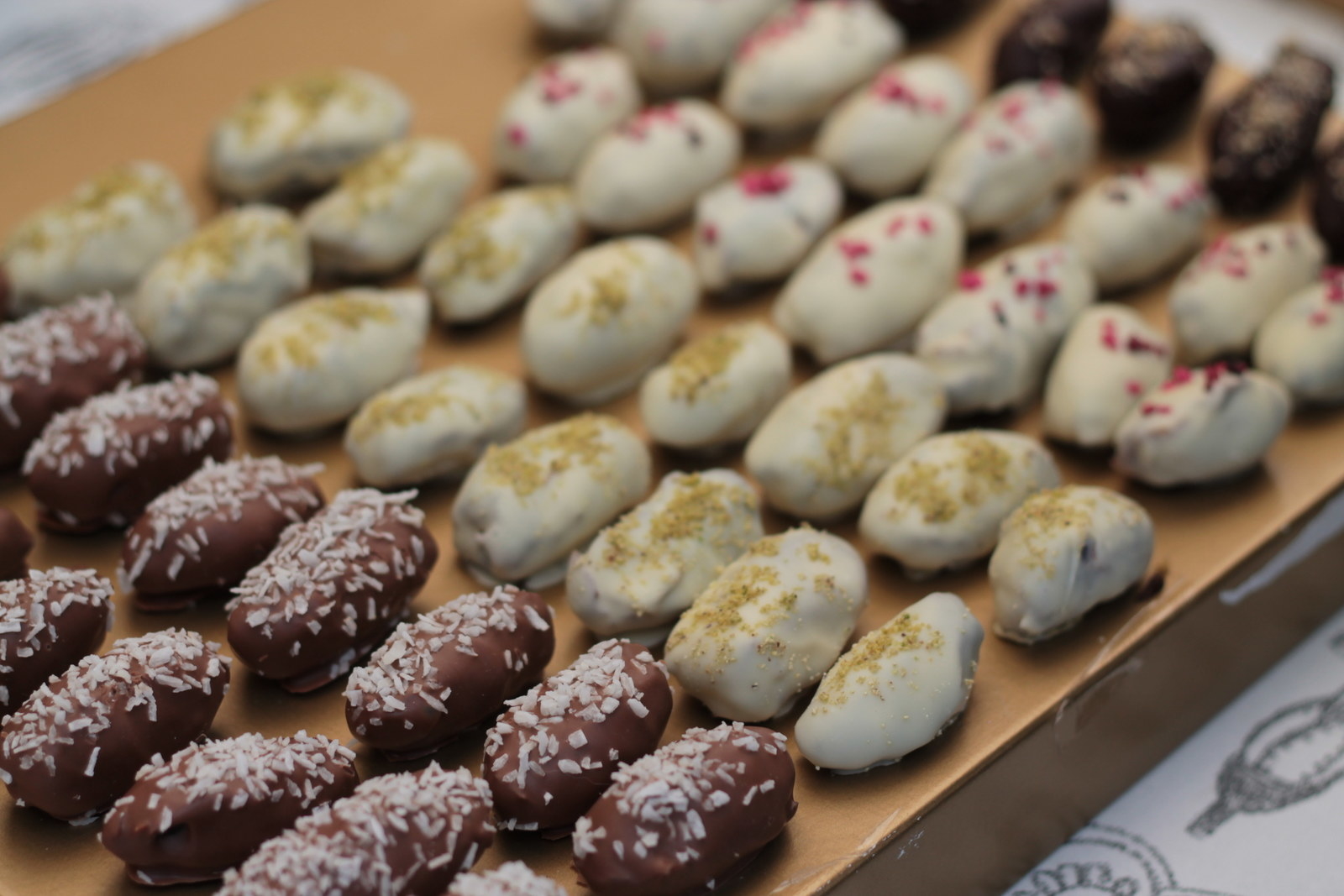 And finally, there was posh candy floss.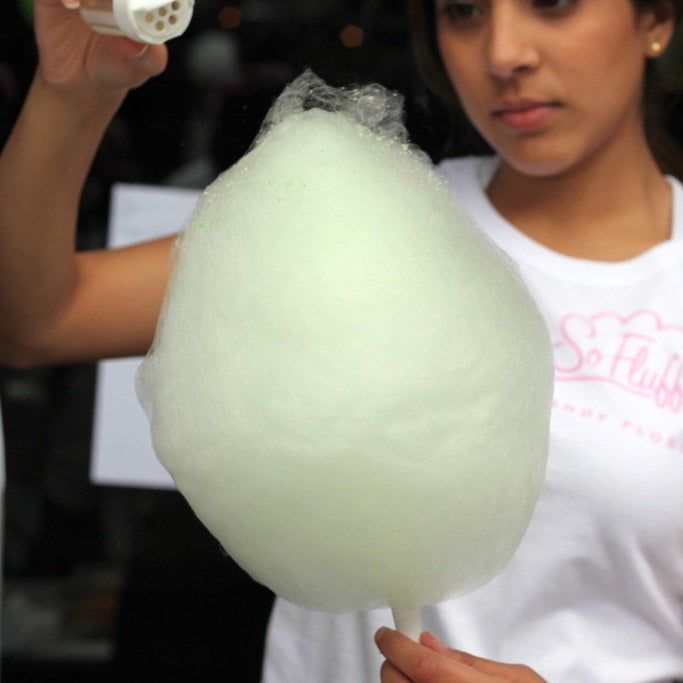 So Fluff founder Zora said: "We are trying to bring back candy floss and make it a bit more fun, so we've got our own flavours. So we've got coconut with toasted coconut flakes, banana with cinnamon sugar, sour apple with popping candy, and vanilla with popping candy.
"We're here as we heard about the event and love to support the Muslim community and it was a great opportunity to get our product out there. We're quite new, so it's a great way to market ourselves. And it's busy because there's a lots of kids – it's been great."
Asked about her inspiration, Zora said: "I was travelling through South-East Asia and Australia and saw candy floss was quite popular, and I thought, This reminds me of our childhood and let's do it here but mix it up a bit."