This Student Is Feeding Hundreds Of People Every Night During Ramadan
Omar Salha, a 28-year-old from London, set up a tent to give lonely students free meals and a sense of belonging.
Below the white marquee and twinkling fairy lights set up in a garden square in the middle of London, hundreds of people sit on rolled-out banqueting paper in perfect rows. It is nearly sunset, and each guest has water, fruit, and dates to hand, waiting to break their fast, for which they have gone without food and water for 19 hours. Among the volunteers in teal T-shirts distributing food parcels and welcoming guests, stands Omar Salha, the founder of Ramadan Tent.

"In 2011 when we started, we had only a [shopping] trolley with a handful of foods donated to us," recalls 28-year-old Salha from London, a postgraduate student at the School of Oriental and African Studies. "It wasn't healthy at all – we only had things we could get our hands on. Most of the stuff was [from] the supermarkets. Around 10 to 15 of us would go and buy pizzas, crisps, tea, coffee, water, and dates – you know, the simple stuff."
Salha and a handful of friends set up the scheme on his university's grounds and invited random passersby to join them in breaking their fast during Ramadan, the Islamic holy month. He tells BuzzFeed News that in five years his grassroots crowd-funded project has grown rapidly, with tents pitched in seven cities across the globe including Manchester, London, and Plymouth in the UK, Istanbul in Turkey, Ndola in Zambia, and Toronto and Portland in Canada. He says around 400 volunteers have signed up to help, while over 300 guests now turn up in London's Malet Street Gardens each night.
They've also hosted a variety of inspiring speakers from performance artists, entrepreneurs, and leaders from other faith groups. He reckons over 20,000 people have been part of the Ramadan Tent family since it first began, and his team has served up a variety of meals – from pasta, to meat and rice, to even fish and chips – all provided by well-wishers and sponsors for free.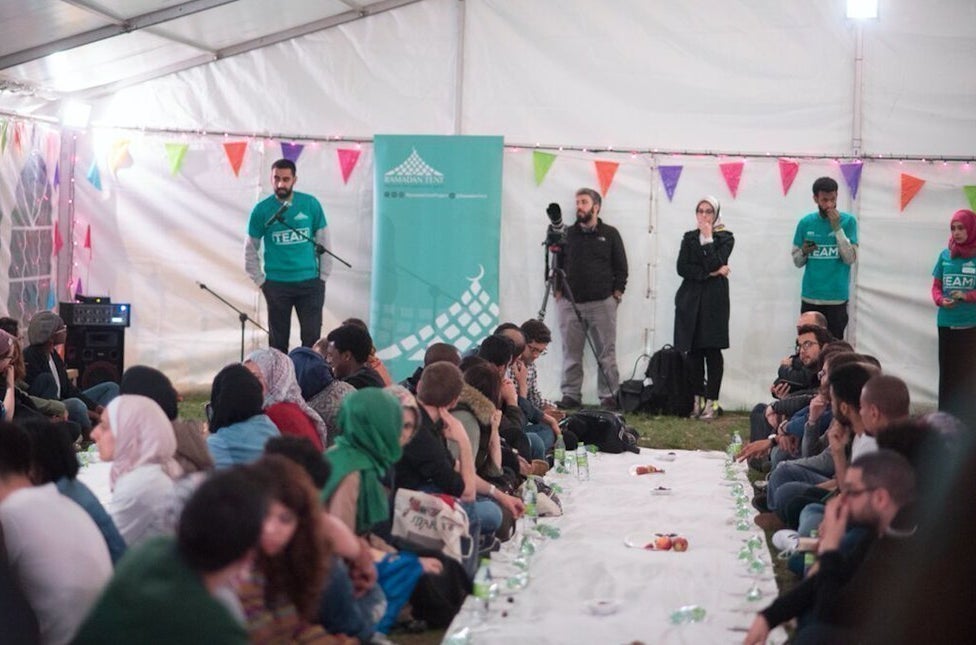 "All that's needed is a tent, a generator, banquet rolls, plates, bin bags, patient volunteers, food parcels, funding, T-shirts for volunteers, and a PA system. And you need desserts," Salha says. "It's a simple concept and in Muslim-majority countries it's very normal during Ramadan to have these open tents where people can come and collect free food."

His main inspiration for founding Ramadan Tent came after he saw some of the difficulties and challenges international students faced during Ramadan in a large city such as London, away from the warmth of their own families and communities.

"I wanted to embody that spirit here in London where there was a space – an alternative space so to speak, a third space – where you can invite people from all faiths, all backgrounds to come and learn and to connect with their Muslim neighbours," he says. "But it's also for Muslims to reach out to their local community, and not just the Muslim community, but with communities in general."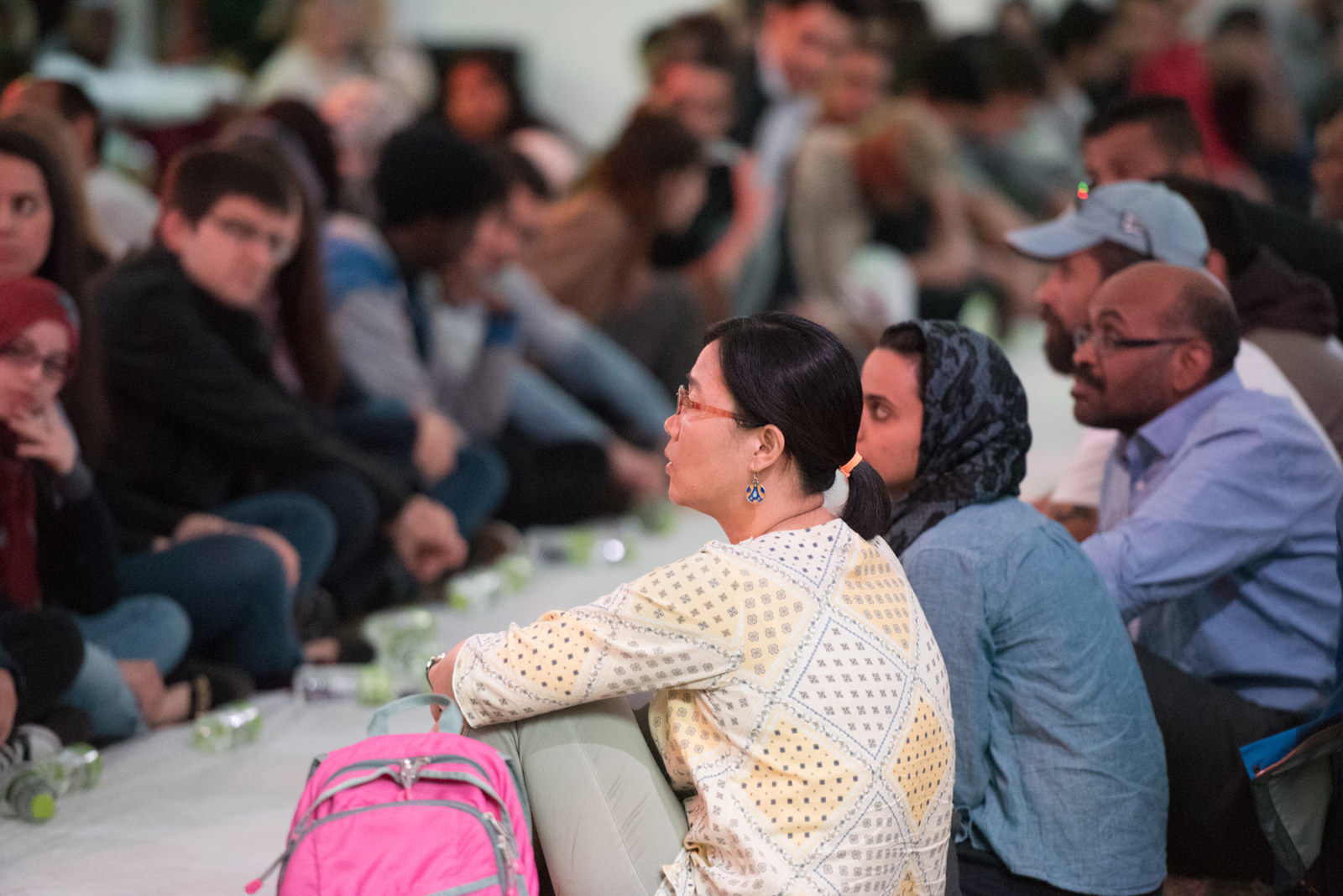 The riots in the summer of 2011, which Salha says "ripped apart" north London where he lives, also made an impact. The chaos happened during Ramadan, "so for me it was an opportunity to showcase how strong London is and Londoners should be coming out in force, and it made sense with Ramadan coinciding, to be strong", he adds.

On whether the daily headlines he reads about Muslims and anti-Muslim rhetoric in the public sphere were another factor, Salha adds: "I wouldn't say it was a reaction, as we should be doing this irrespective of the climate.
"But we can't be naive and not acknowledge the climate that we're living in, and it's important to say that despite the media onslaught there's nothing to be afraid about – please come and have a look. We're not forcing people to come; the doors are open and it's an open-door policy for everyone."
"I think the space we've created had brought about a sense of confidence, a sense of belonging, trust, and respect."
Salha, who is of Lebanese-Turkish heritage, wears many hats: As well as directing Ramadan Tent Project, he is a member of Football Beyond Borders, a youth charity, and is writing his PhD on the ways Muslim football players are seen as diplomats for the Islamic faith. When asked about the biggest challenges his fellow Muslim students face, Salha responds: "Well the main challenge is fasting, fasting 19 hours. Not everyone is looking forward to that.
"But I think students up and down the country want to feel they are given a space to excel and not to feel they are being subjugated. What this project does is send out a positive message – that you can become part of a global initiative and give a service to the community.
"A lot of the youth I speak with talk about this third space – they may feel neglected when they go to a mosque, they may not feel welcomed maybe because of the generational gap or there's not enough activities that can be arranged because of a lack of resources lack of space even. But it's either that or there's nothing else really," he says. "So this is an opportunity where friends can actually have a night out, connect with new people, and create long-lasting friendships. I think the space we've created had brought about a sense of confidence, a sense of belonging, trust, and respect."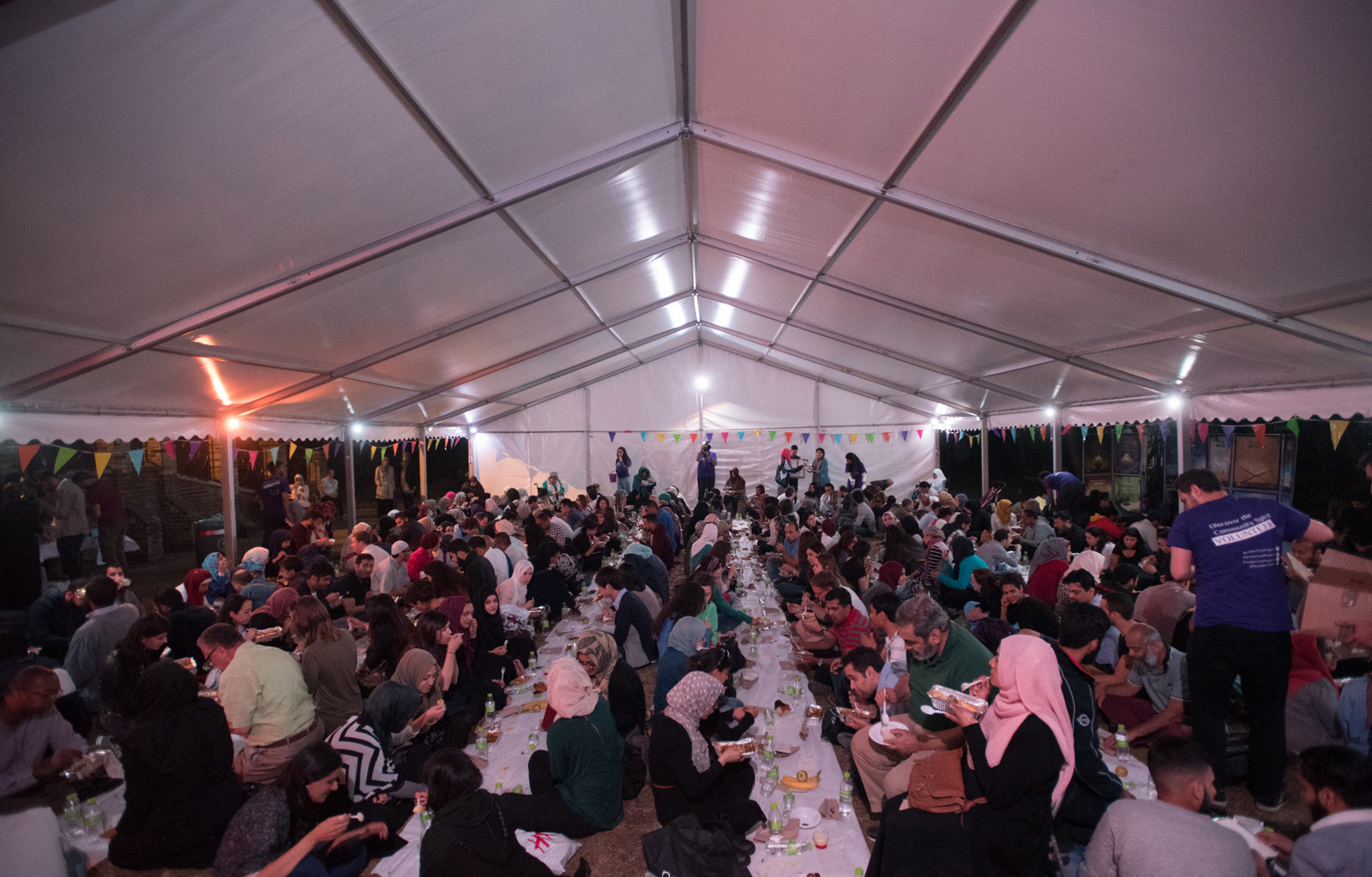 Salha says the Ramadan Tent is also about being environmentally friendly, pointing out they have a recycling policy for excess food as well using an anaerobic digestion system that turns it into renewable energy, and they share out ethically sourced dates to break the fast with. It all seems incredibly wholesome – so is the Ramadan Tent for a particular Muslim? Is it where the hipster, or mipster (Muslim hipster), will feel most at home? "It's funny because I don't categorise myself as a mipster or a hipster at all, so I'm not aware where that's come form," Salha says. "Look, we try to accommodate everyone and I think it's important that we don't enforce a particular ideology. What we do is nothing controversial. At the end of the day we are providing iftar and there are many, many people who attend, and it is interesting to see the spectrum of Muslims that attend."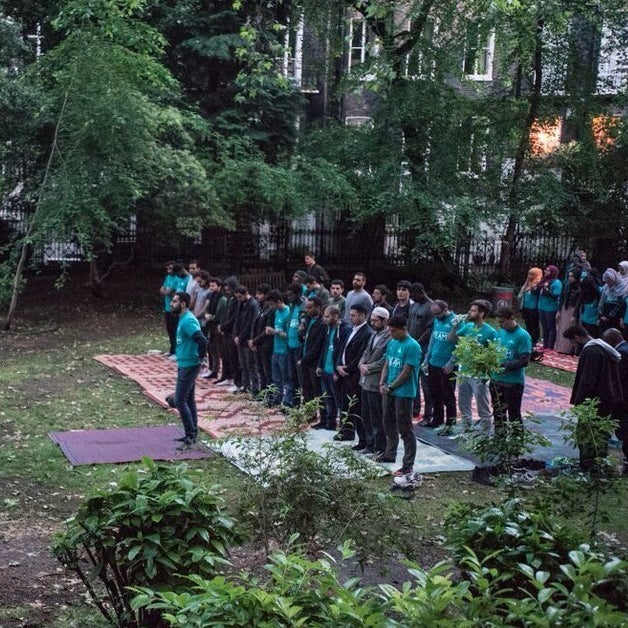 Among the highlights of the last five years was an encounter with a group of Polish men who were on a night out. "We invited them in and said there was free food, and they said, 'We haven't got anything else to do' and they came and sat with us," Salha says.

"It's funny because I don't categorise myself as a mipster or a hipster at all … we try to accommodate everyone and I think it's important that we don't enforce a particular ideology."
"When they saw the call to prayer being made and saw us praying, I sat with a couple of them. It was very interesting to hear what they had to say: 'Oh Muslims are pretty cool, you're fun, you're laughing, and before I came I thought all Muslims are terrorists.' It's funny when you hear these comments and think, In 2016, really? So it only gives us the impetus to do more and to carry on with this project."
There have been some challenges along the way. "It's nothing to shy away from. On some evenings we have run out of food – there were too many people so we made an announcement and said, 'Can you please share a food parcel with your neighbour?' If people are upset then they've missed the point. That's the whole point of Ramadan – to share and care and be generous."
One evening the generator for the lighting failed. "But that evening probably proved to be the most memorable night ever," Salha reminisces. "I still have people telling me that that's one of their best nights, where people used the light from their phones' screens, and put flashlights under bottles so there was a lantern-esque feel around the tent."

Salha also tells of the time an elderly couple walked into Malet Street Gardens calling out his name. "I didn't know who they were. They said they were from Kuwait and here for a short period of time," he says. "They said they heard about us on Kuwait TV and said they called the news channel and reporter who interviewed me, asking for the address. I'm talking about a couple who were over 70 years old. So they arrived and they had an envelope and said: 'This is for you and we want this to go towards the project.' And this was at a time when we were thinking where we'd get funds."

Looking forward, Salha says he hopes to continue and expand his project, including looking at ways he can help in places affected by the refugee crisis. At the heart of his project is a simple ethos: "I tell the committee if one person attends, just one person, but we made that person feel welcome and fed them, that's a success for me. But if one person came and felt neglected then that's a failure despite us serving 300 people."