Standing in a queue in front of rows of colourful ice creams, student Mahmadul Hasan is torn between the Oreo cookie flavour and the Ferrero Rocher chocolate milkshake. He's already broken his 19-hour Ramadan fast and is looking forward to tucking into a sweet treat with his friends. It's 11pm on a weekday and the dessert cafés of Whitechapel, in London's East End, are steadily becoming full.
Over the last decade, milkshake bars and dessert parlours have been popping up across the city – far more sophisticated outfits than a blender in a booth at a local shopping centre. And in the evenings during Ramadan, the Islamic holy month, when the doors of local coffee shops have long closed and the shutters of some restaurants have gone down, milkshake bars are attracting a very particular, and hungry, sort of clientele.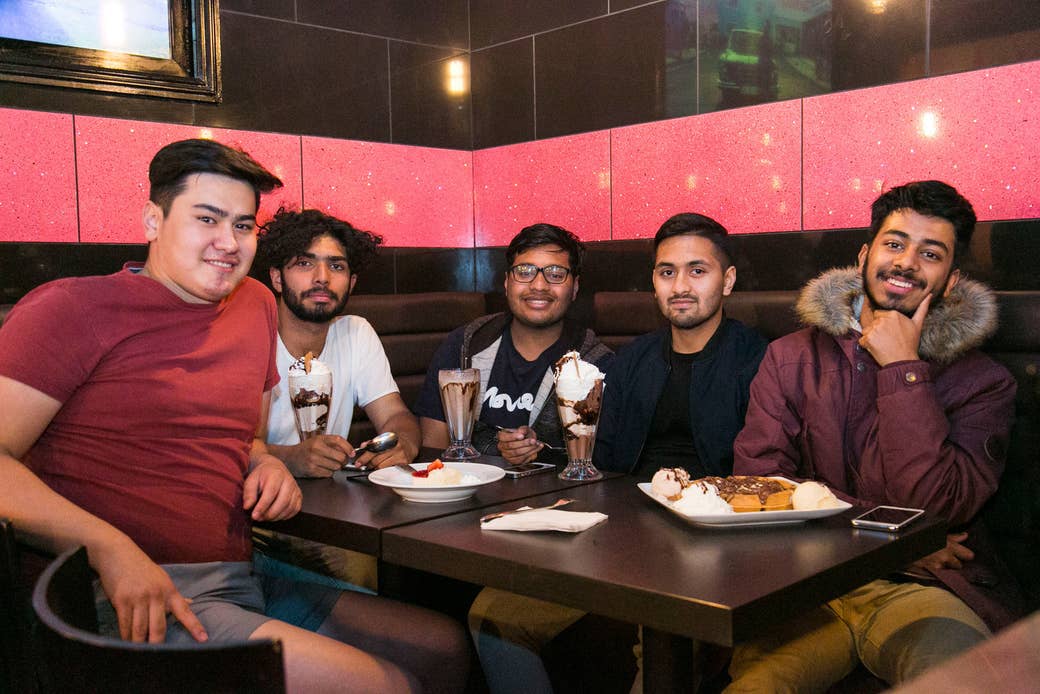 "During Ramadan, we socialise more with friends. This is like an occasion," says Hasan, 24, who is studying architecture at London South Bank University, and has come to Cookies & Cream. "There's a reason to meet up. We'll say 'Let's meet up for iftar', and everyone makes themselves free.

"I mean, we're hanging around after iftar, it's been a long day, and after iftar you want to relax a bit and meet your close friends and chat. I think there should be more dessert places everywhere. Not everyone drinks alcohol. If you go to a pub, one friend might be saying 'I can't go', whereas at these places, everyone can go, so it will make Muslim people socialise more."
Deciding whether to get a scoop of chocolate, pistachio, or lemon meringue pie ice cream, Yaz Dani, a 26-year-old master's student at the London School of Economics, says: "This is my first Ramadan here. Back in my country, in Bangladesh, we do the same thing. After mid-prayer we used to hang out, have a cup of tea, sit around and have a chat, and then just go home and relax. It's very social."
Dani adds that some people like to manage their time between iftar, when they break their fast at sunset, and the night prayers during Ramadan, known as Tarawih. And especially during the summer – when there's only an hour between sunset and the night prayers, usually around 10:30pm – nothing hits the spot more than an ice-cold mocktail or smoothie.

"I think naturally it helps build relationships with other people and at iftars I get to meet a friend of another brother, and so social relationships are changing," he says, explaining how Ramadan nightlife is important for him. "For me, I spend my Ramadan like that. During the day I don't meet as many friends, so after the iftar and after prayers, this is when we can talk about our day."
Fatima Rajina, a Nohoudh PhD candidate at SOAS, University of London, who is studying British-Bangladeshi Muslims in east London, told BuzzFeed News these thoughts chimed with those of people she had spoken to for her research, and added that milkshake bars are perhaps becoming a public sphere for young Muslims: "I think dessert places in east London serve as a safe space for Muslims not only because of the location but also due to the food itself.

"Many Muslims have to be conscious of the ingredients [but] in a dessert place in east London, particularly those run by Muslims, this worry is no longer present. As a teetotal community, pubs were never a destination for social hangouts for friends, which make the dessert places even more attractive."

Before doors open for business on the day BuzzFeed News visits, Ruhel Zaman, the 33-year-old owner and manager of Cookies & Cream, is overseeing the final touches to his restaurant. It's midday. Bright, low-hanging pendant lamps have just been installed, and a graffiti artist is spraying ice cream-themed Banksy tribute pieces on the wall. The counter has been wiped down and the rows of ice cream – from kiwi to mango – have been restocked in preparation for the busy night ahead.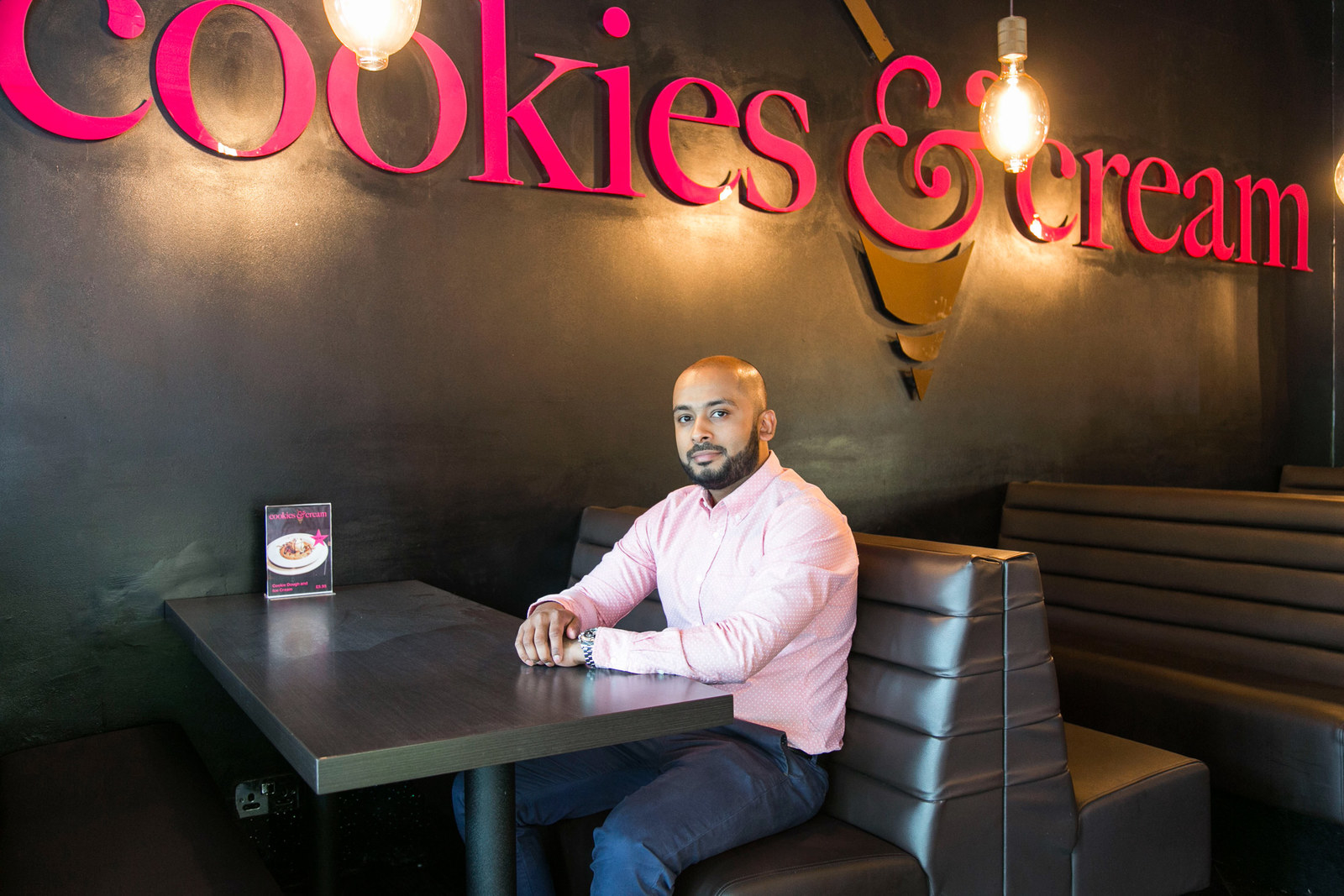 "Every Ramadan we give our shop a bit of a refresh to give a better experience for our customers," says Zaman, who is wearing a pink shirt that almost matches the huge Cookies & Cream sign on the wall above the black leather booths.

"Ramadan is a bit of a nightmare – it's quiet during the day, but in the evenings it gets so busy. Everyone wants to get in and it all kicks off at 10 o'clock. Everyone wants to come in and have their dessert, and get served at the same time," Zaman says. The Islamic holy month is the busiest time of year for his business.
"We try our best – but obviously it's not possible at all times because what tends to happen during the end of the week [is] it gets busier and busier as a lot of people are eating out. We can't seat everyone together so there's a queue outside. Between 10 and 11 o'clock there's always a queue."
Such is the demand for a seat, Zaman says, most people opt for a takeaway. "To be honest, as a business, about 60% of our turnover is takeaway and during Ramadan that increases."
There are a lot of people who have gone out to eat or are on the way to prayers during Ramadan, says Zaman, and people come to pick up a dessert in the brief window of time during which they can eat.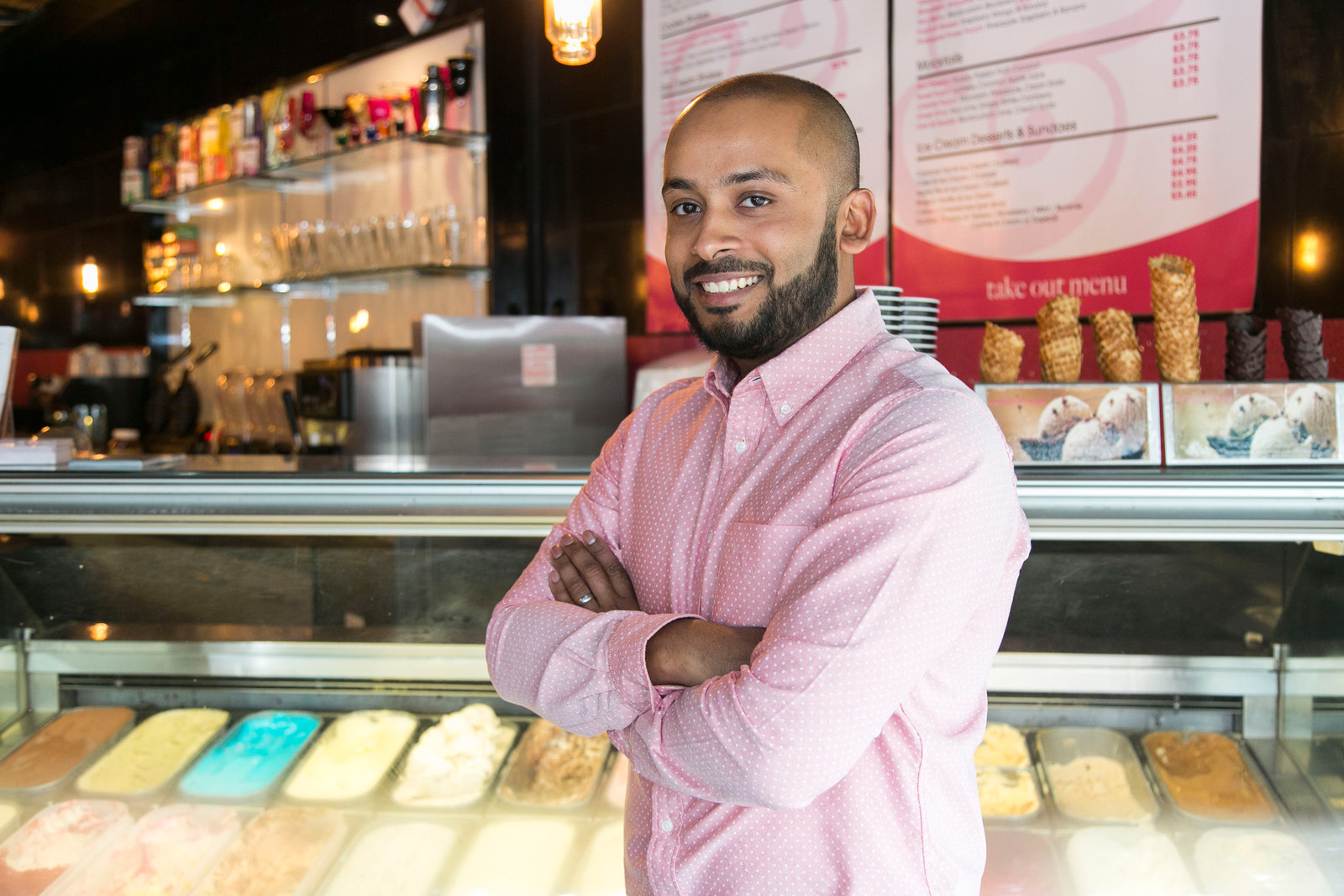 When asked why he decided to go into the dessert business, Zaman says: "There was a massive gap in the market. Dessert parlours weren't really big in the UK like they are in other countries, such as America.
"We actually own the estate agents next door and when this unit opened up, right next to Nando's, we just took the opportunity," the young businessman says, adding that when Cookies & Cream in Whitechapel first opened its doors in 2009, in the middle of the recession, it was the first place in the borough of Tower Hamlets to open "as a dedicated dessert restaurant".
Now, just outside the East London Mosque in Whitechapel there are at least four, including Dessert Island, Motown, Sultanas, and The Urban Chocolatier. "To be honest the community we're in, the Asian community, it's a bit of a stereotype but we have a sweet tooth," says Zaman. "If you see our traditional sweets – such as jalebis – they are really sweet. So it was definitely something we knew people would take to, and Tower Hamlets has a lot of restaurants, a lot of places with savoury food but not enough sweet places for dessert. And also, milkshakes kind of took off in the mid-2000s."
Zaman is right: Juice and smoothie chains have seen significant growth since their introduction to the market in 2005, according to CBRE, the commercial and property consultants. Their figures include milkshake and ice cream chains, and show the total number is now 20 times higher, from 10 stores in 2005 to 205 by the end of 2015.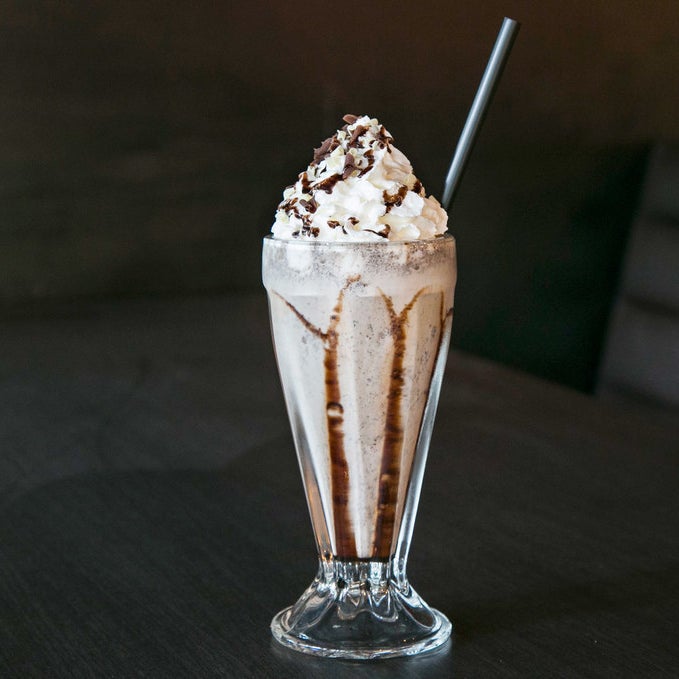 Zaman says his establishment is an especially popular social spot for young women. "I'd say 65-70% of our customers are girls and ranging from 16 to 25," he adds.

"A lot of people tend to be living at home with their parents, which gives people of a certain age, most of our customers, a lot higher disposable income, and I've noticed girls tend to have a lot more disposable income than guys."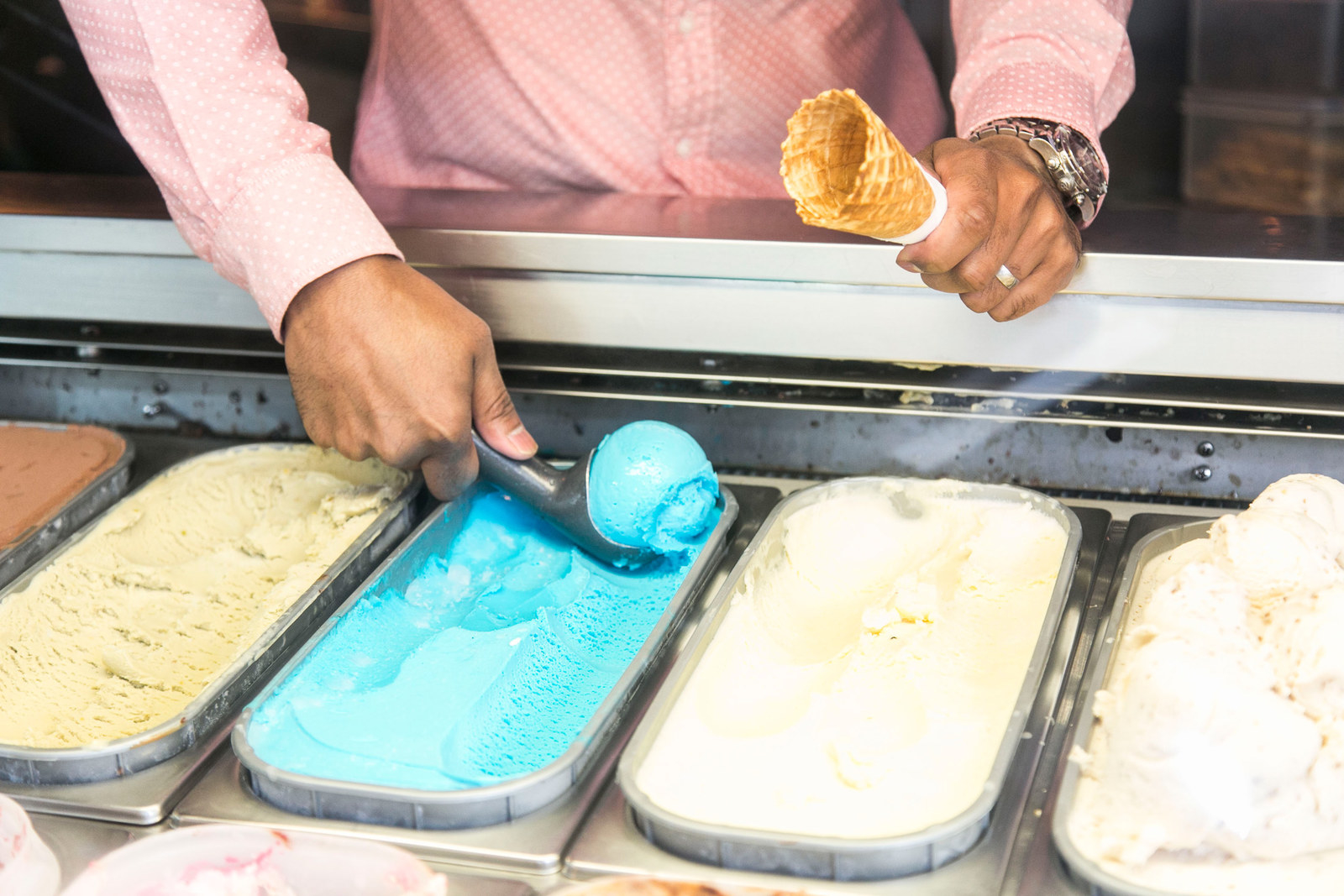 "Mostly they live around here and some go [to] college and university around here as well. A lot of people come in after they've had Nando's next door," he says.
This chimes with what Halima Khanom, 26, tells BuzzFeed News. As well as holding meetings at these dessert cafés, she has attended events in them or goes to the popular spots to chill out with her friends after work. Khanom, a Royal Parks partnerships and engagement officer who has lived in east London her whole life, says: "It's really exciting having this space where young Muslims can go and hang out. It characterises the self-confidence that we developed over the years. We didn't have this when we were younger. Now we have spaces [to go to], we can pick a scarf, have a cup of tea, and have that self-assurance."
Growing up, she says, she would spend her time at the Idea Store, a place with computers where you could do homework. She would go to the supermarket with her friends to buy snacks and sit in the park. Going out to eat was a family activity on very special occasions. "Those spaces weren't social spaces for friends," she says. "The restaurants didn't cater for that, and it must also link to income as well – we just didn't have as much cash when we were younger. I think as well with us moving along and getting jobs – and better jobs – that way we're able to afford things like eating out."
Of the businesspeople who are opening the parlours, she says: "These guys know us and are part of that audience. They are young entrepreneurs and see this demand for not just a cake and ice cream: It's about sitting down, listening to good music, lounging around where it's aesthetically pleasing."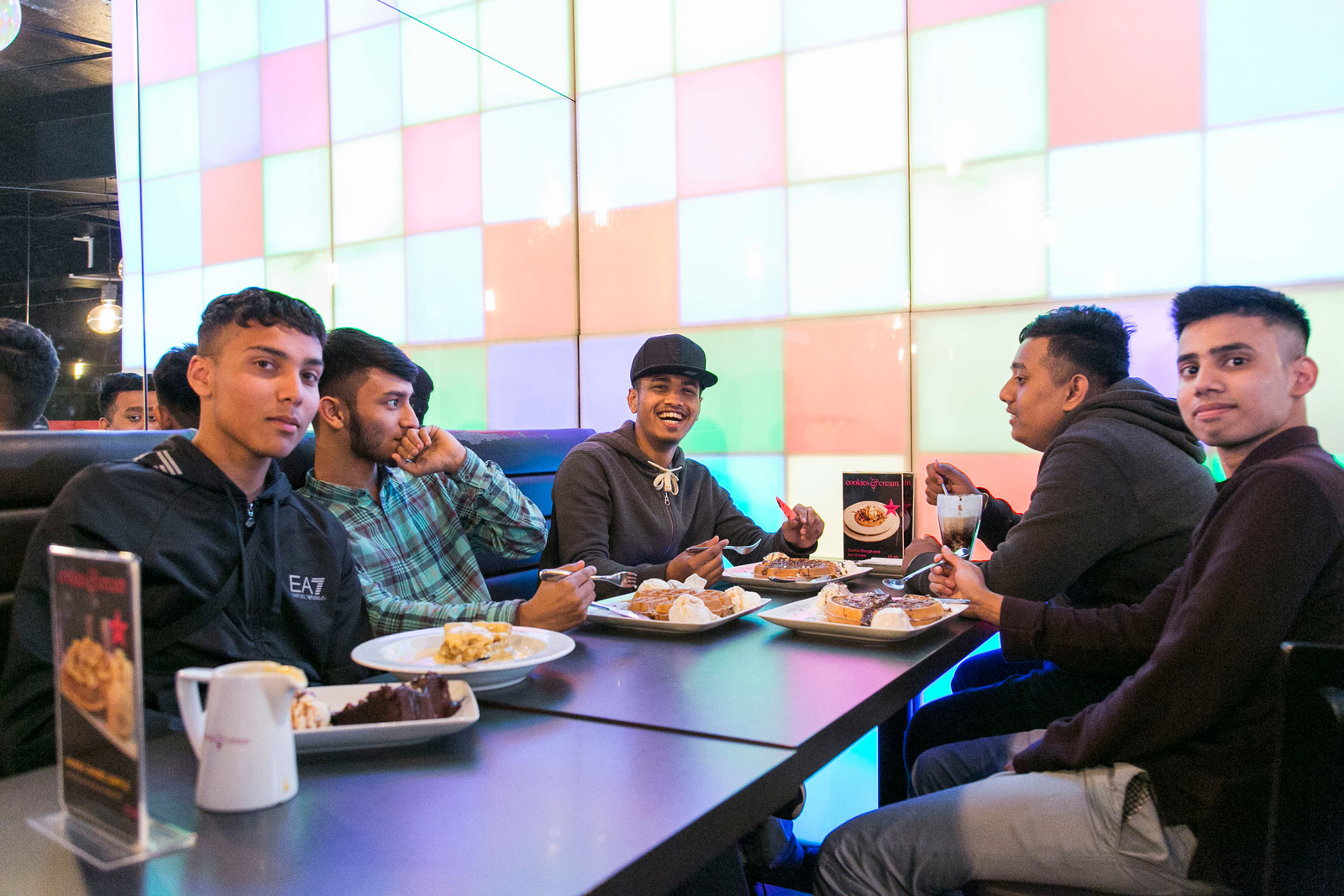 Khanom points to Motown, one of the eateries just outside the east London mosque which plays Jackson 5 records. "It's very vibrant," she says. "You go downstairs and have free Wi-Fi, and have people studying there during the day. You have people sitting there for hours and hours. On the same street you have a bunch of other places and some of them double up as art galleries."
Far from providing a place to simply satisfy a sugar craving, Khanom says, the flourishing scene is about buying into a leisure experience. "Before, we were perfectly satisfied with a nice ice cream cone, but now everyone else has an ice cream with a brownie on top and you want to buy into that as well. You want to be seen there," she says.
"It isn't just about food and desserts anymore, but it's the experience, the FOMO. In the same way you have multi-coloured bagels now, in the oldest Jewish bagel shop on Brick Lane, these dessert places have to cater to hipsters and young Muslims and now you have things like freakshakes, which is just three or four desserts in one."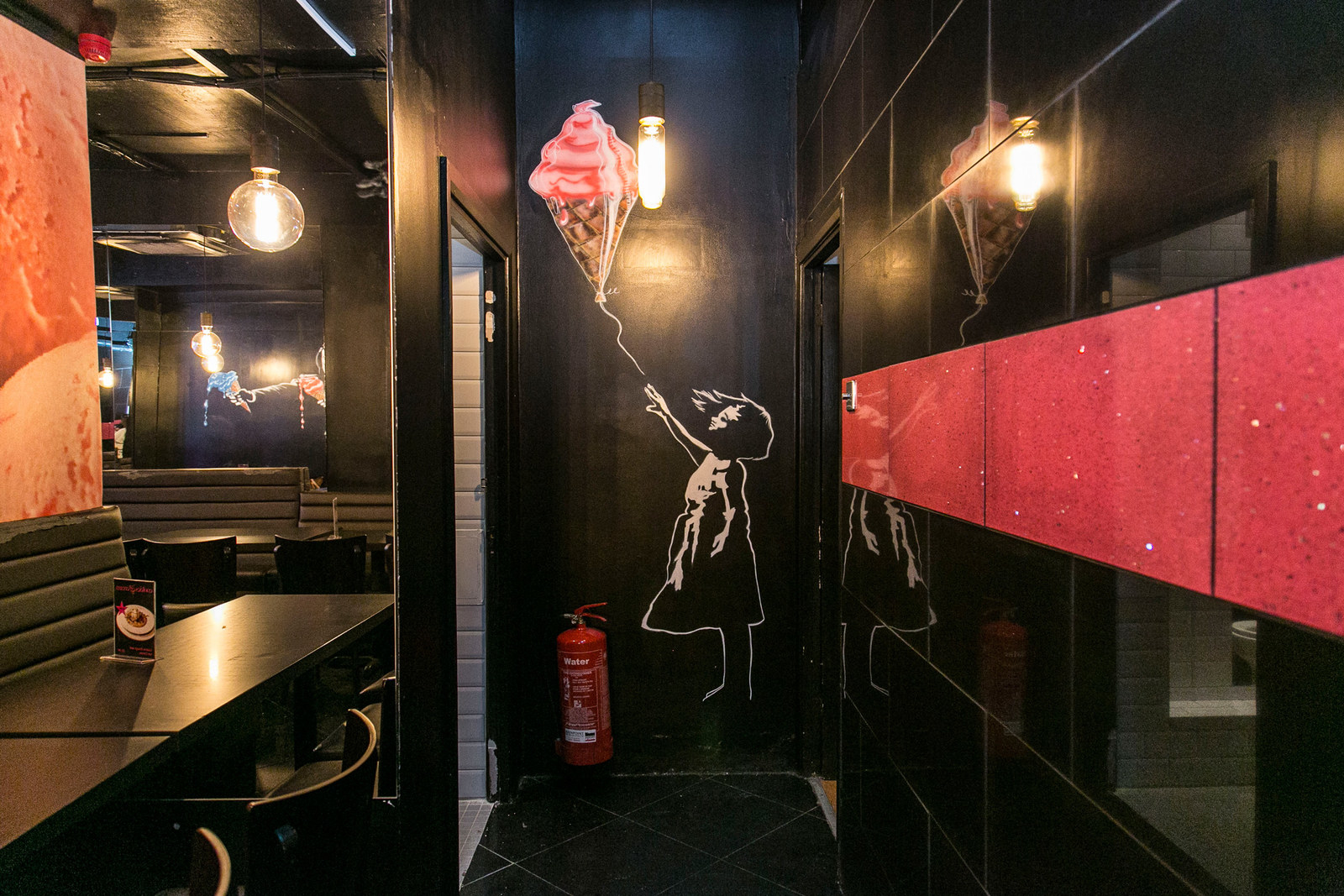 During Ramadan, Khanom says, the atmosphere in these social spaces is alive: "It's almost like our [answer to] bars and nightclubs – these dessert places, it's our nightlife."

"Coffee places, such as the standard Starbucks, will close at 7, but Tarawih prayers finish at 12, so where do we go? We can't go to the bars, so we go to the dessert places," Khanom says. "They're bursting to the seams as that's where we meet people, that's where we touch base and where we feel comfortable doing so as young Muslims."