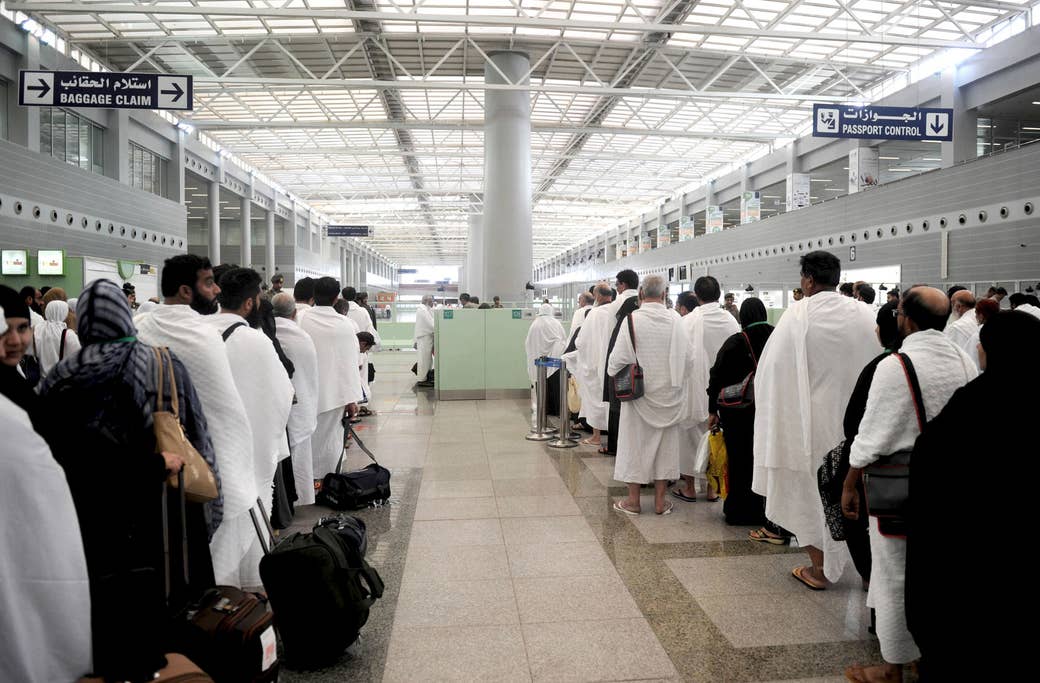 For Abdul Barakat Mishkat Hasan, hajj season is the busiest time of year.
His family-run company in east London, Hasan Hajj Tours, is preparing to take approximately 200 people to perform the annual Islamic pilgrimage to Mecca – a journey many Muslims dream of making. "Our hajj is their hajj," he told BuzzFeed News over the phone from his Whitechapel office.
Mishkat, as his friends call him, outlines the personalised attention he puts into organising the trip, which he says he takes care of from "Heathrow to Heathrow" and includes sorting out flights, hotels, passports, and visas, as well as the itinerary during their three-week stay.
The package includes an eight-person team in Mecca who welcome the pilgrims when they arrive. Mishkat even organises a hajj course before his customers set off, to prepare for the arduous journey. This year's trip threatens to be particularly tough, with temperatures in the Saudi Arabian desert soaring above 40°C.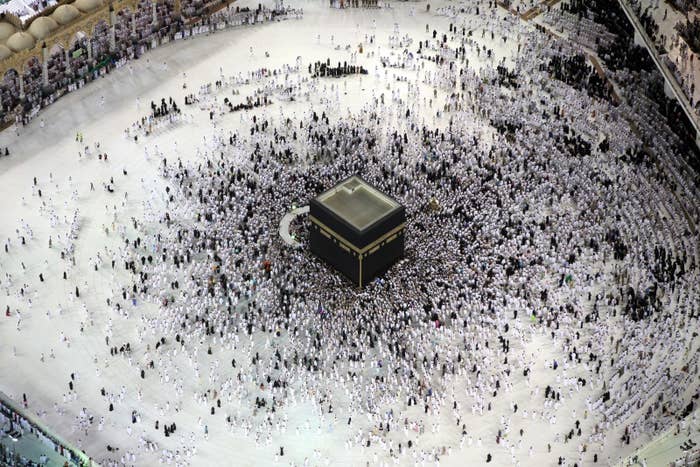 Each year Mishkat's office receives a visit from Trading Standards, which works to protect consumers, and his company has an Air Travel Organisers' Licence (ATOL) and is approved by Saudi Arabia's Ministry of Hajj. His service is popular, and Mishkat says 90% of his customers come to him through recommendations, with bookings made six months in advance.
While his is a trusted business, running officially for 17 years, there are many other operators that aren't.
With more than 24,000 Britons currently making their way to Saudi Arabia for this year's pilgrimage, the authorities and major hajj associations are warning pilgrims about fraudulent tour operators who offer a trip of a lifetime to Mecca only to dupe unsuspecting customers. Many people, they say, have been robbed of their life savings.
Earlier this month, a message was circulated through WhatsApp group chats offering a last-minute chance to go to Mecca, claiming that a five-star package was on offer for under £3,000 – less than half the going rate.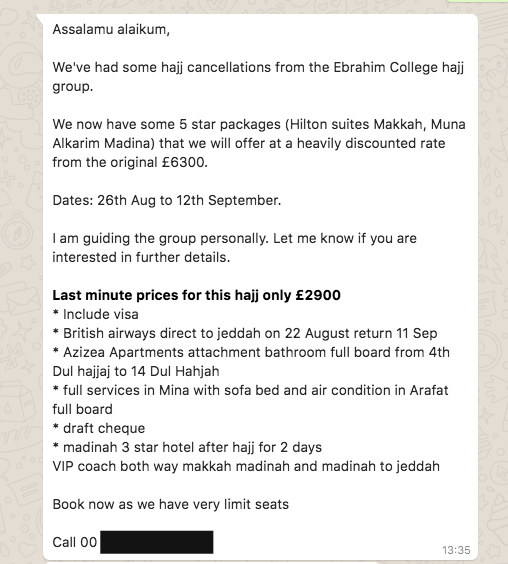 The deal was linked to Ebrahim College, an Islamic learning centre in Whitechapel, which issued a statement saying the message was a scam. The college told BuzzFeed News it had become concerned after 97 people called in a single afternoon inquiring about the fake deal.
The latest annual figures show victims of hajj fraud reported a total loss of £35,278 with seven reports made to the national crime reporting centre Action Fraud, the police said. Hotspots for offending included London, Birmingham, Manchester, and Blackburn.
Between 1 April 1 2015 and 31 March 2016 there were 49 reports of hajj fraud made to the centre – marking a 33% drop from the previous year's reporting figures. The following year – April 2016 to 31 March 2017 – there was an 86% decrease.
Experts, however, say this is certainly not the full scale of the problem as many victims still feel too ashamed or frightened to report what happened to them.
Rashid Mogradia, the chief executive of the Council of British Hajjis (CBHUK), said a lot of work has been done recently to raise awareness of the problem among communities. The council itself has run an online campaign and produced leaflets in multiple languages, including in Urdu and Somali. On its website, CBHUK advises pilgrims: "Always get written terms and conditions as this details your contract with the travel agent or tour operator."
Mogradia said victims lose out not only "on a trip to perform hajj, often it's their life savings as well".
"We've heard cases of families being torn apart because of these huge money losses as well," he added.
In one case, Mogradia said, a family only found out they would not be going on the pilgrimage when they got to the airport. In another, a woman told her husband not to return home until he brought money back from the tour operator.
Mohammed, 36, from Birmingham, lost £4,500 to hajj fraud, which he reported to Action Fraud. In an interview, he said: "I was initially very careful to make sure I was only considering packages from legitimate travel companies. Unfortunately I then strayed on to websites that were offering very attractive deals, and I was persuaded to put my faith in them to deliver a great pilgrimage to Mecca.
"As hajj drew closer no tickets arrived and my agent stopped returning my calls, until I finally reached the point when I realised I was a victim of hajj fraud."
Last year Tariq Khan (not his real name) paid a Rochdale-based agent £16,400 to make the pilgrimage with his wife, mother, and uncle, only to get to Mecca to find they were sharing a hotel bedroom with other families and squalid bathroom facilities.
In a letter of complaint seen by BuzzFeed News, he wrote: "The issue is the the fact we were charged £4,100 per person and 7 people sharing a room. What is the cost for as the hotels were probably 2 stars or less?"
This is one of many stories that last year came across the desk of the Association of British Hujjaj, a group that has lobbied for improvements to the pilgrimage. The association's general secretary, Khalid Pervez, who has been campaigning about the issue for 20 years, told BuzzFeed News it is only in recent years that the issue has been taken seriously. He said 2015 was the first year a large number of hajj service providers' premises were inspected.
"Now they are aware if they do any dodgy things then they will be answerable to the courts, to the Trading Standards, and to the police as well," Pervez said.
In January, a director of a hajj travel firm based in Ashton-under-Lyne in Greater Manchester was found guilty of fraud and sentenced to 14 months' imprisonment at Leicester crown court. The offences related to claims that the firm's flights and packages were financially protected under the ATOL scheme, misleading customers about the quality of accommodation and return flights back to the UK.
In December last year, a Birmingham-based hajj travel company and its directors were fined a total of £44,484 for false claims that the company was ATOL registered.
Mishkat suggested that one factor that puts people at risk is when operators contract out parts of their package to subagents who say they will purchase visas but aren't authorised to do so. And in some cases, he warned, subagents themselves sell on the packages, leading to disappointment when the visas do not come through. "It's not enough to be ATOL protected," he said, as tour operators must also be licensed to buy visas in the first place.
There must also be some personal responsibility, said Mishkat. If an offer that would normally cost up to £6,000 is being sold for £3,000, it is probably too good to be true.
Salman Farsi, communications officer at the East London Mosque, works with City of London police to raise awareness around hajj fraud in the borough of Tower Hamlets, and said the stigma of being stung by hajj fraudsters needs to be tackled. "People feel God has uninvited them and that's why it hasn't worked out," he said. "When you're robbed off your life savings, what could be worse?
"People save for years – it's beyond affordable. When someone has saved their entire life and [been] ripped off, that's sad."
City of London police said 11 forces were engaging with their local Muslim communities through meetings and via their own social and digital media channels with the assistance of CBHUK.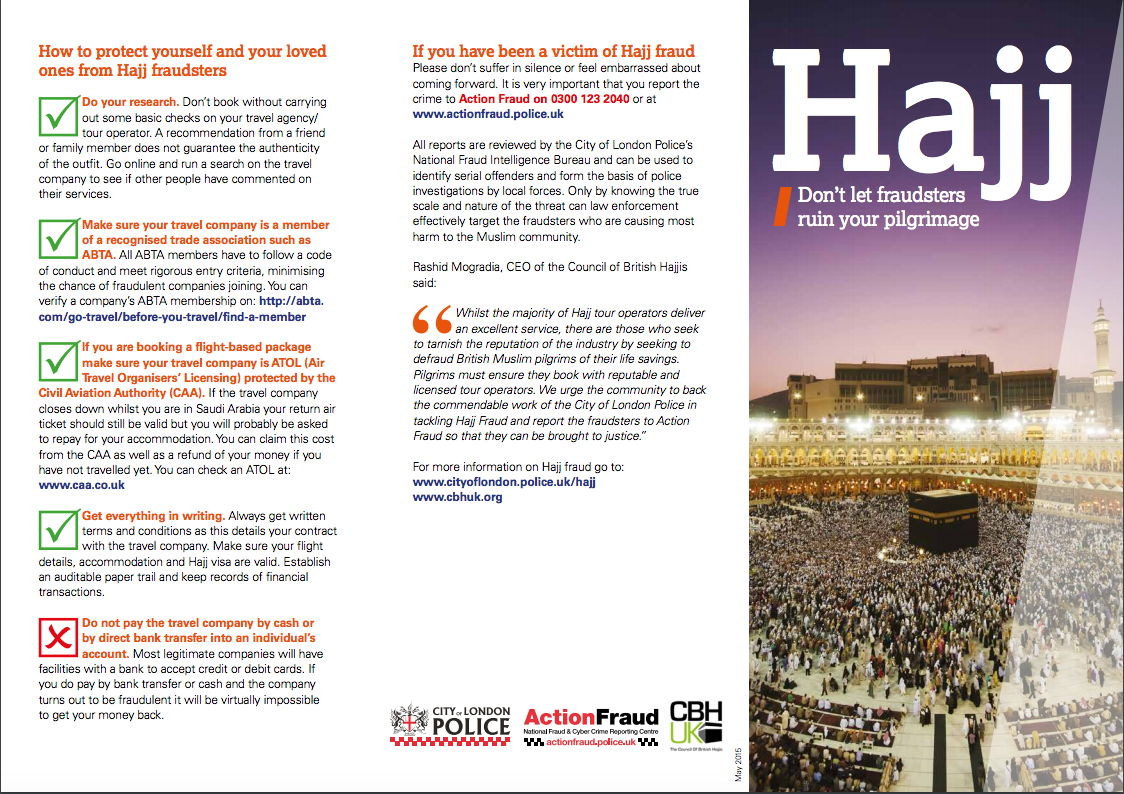 They said they will also hold briefings with staff from Gatwick, Heathrow, Birmingham, and Stansted airports to raise awareness.
Dave Clark, City of London police commander, who is the police national coordinator for economic crime, said: "Many people save for years to be able to afford a once-in-a-lifetime pilgrimage to Mecca."
Clark urged hajj hopefuls to check companies are members of the Association of British Travel Agents, and flights are booked through a registered travel company that is ATOL-protected by the Civil Aviation Authority.
"Unfortunately, fraudsters often prey on unsuspecting citizens, leaving families with no flights or accommodation for the trip. We are therefore urging people to research their hajj plans thoroughly and take care to check authenticity of the offer and agents offering their services. If it's too good to be true, it often is!"