Churches Are Receiving Online Abuse After They Included Muslim Prayers In Their Services
There have been two incidents this month where churches were hounded online after Islamic verses were read out.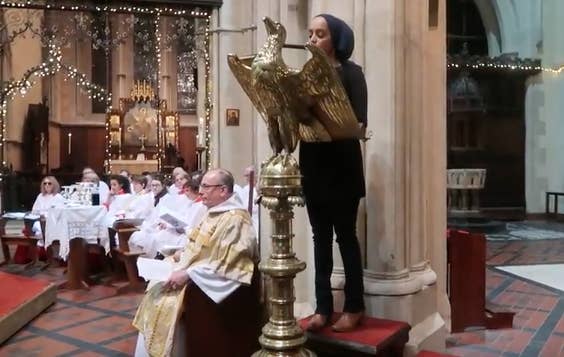 Two British churches have faced a barrage of online abuse this month after inviting local Muslims to read out prayers in Arabic, with a bishop saying he is "deeply distressed" by the offence caused.
Police are now hunting social media users who posted offensive messages directed at a cathedral in Glasgow after it hosted a religious service where a Muslim student read out verses of the Qur'an.

St Mary's Episcopal Cathedral has been at the centre of an online storm since footage was uploaded of the student reading in Arabic from the chapter on Mary, which tells the story of the birth of Jesus.
It prompted a backlash from people who targeted the church for what they saw as giving a platform to someone who was contradicting Christian beliefs during the Epiphany service – as Muslims do not believe Jesus is the son of God, but revere him as a prophet.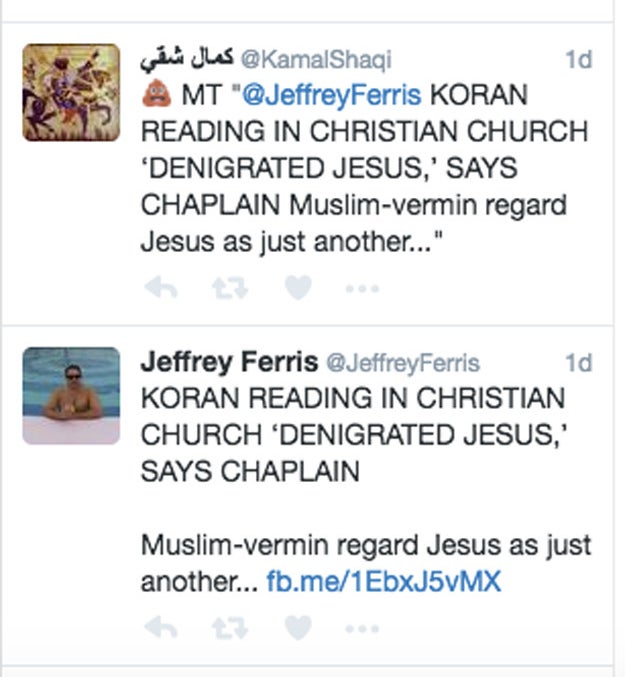 The cathedral has deleted its Facebook post and in a statement on 12 January said it had received a number of offensive messages, which had been reported to Police Scotland.

Police Scotland confirmed it was investigating the offensive comments.

In a statement, Rev David Chillingworth, the bishop of St Andrews, Dunkeld, and Dunblane, and leader of the Scottish Anglican church, said: "The Scottish Episcopal Church is deeply distressed at the widespread offence which has been caused.

"We also deeply regret the widespread abuse which has been received by the Cathedral community."
A 40-second clip of the recitation is still being circulated on Facebook by pages including "Deplorables Inc", a community page supporting Donald Trump. The clip is titled "WTF! Koran Verse Denying Jesus Was Son of God Allowed To Be Sung in Scottish Cathedral" and has been viewed 17,000 times.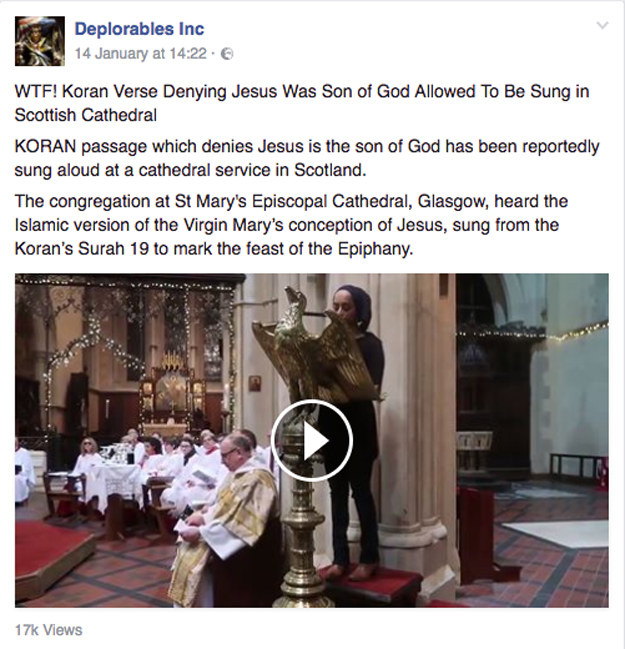 In a similar incident this week, Gloucester Cathedral took down its Facebook post showing a local imam reciting the Muslim call to prayer at the church, after receiving angry comments.
The recitation was part of the launch of the Faith exhibition at the cathedral, organised by Gloucester artist Russell Haines, with over 1,000 people attending.

Speaking to BuzzFeed News, Haines said: "It was a big multicultural day where lots of people who I had painted for the exhibition were taking part – we had people from pagan rock bands, gospel choir, a klezmer [Jewish folk music] band. We had all sorts of things going on.
"[For] the centrepiece at 4pm we had the local MP say a few words, followed by the bishop of Gloucester, Imam Hassan, and Rabbi Gerrard, who were all saying prayers and blessings from their own faith. And then we had a pagan witch, who gave a short reading and quoted something by Brian Cox about how we're all made from stardust.

"It was a lovely moment where everyone came together and everybody thought it was brilliant, and the afternoon carried on."

However, people started to criticise the cathedral when it put up a video of the imam reciting the call to prayer on its Facebook page, Haines said: "The imam translated what he said to say there was no offence to anybody, which was lovely of him, and then I think there was some trolling from some right-wing evangelical Christians – most of them seemed to be from America. We had huge support from the local area. But unfortunately the cathedral decided to take it down."
Gloucestershire Live, the local news website, wrote that people had commented on the church Facebook page calling the event inappropriate, and even questioning why a "different God" should be allowed to be worshipped there.
It reported how one Facebook user said: "We are never to worship other Gods in a house built for our savior. My ancestors built this cathedral and to allow a practicing Muslim pray to another God is insanely naive. What did you think it would do? Encourage them to convert?"
Reverend Stephen Lake, the Dean of Gloucester, said in a statement that the church took the decision to remove the Facebook post because "a small number of comments were inappropriate".
He added: "Whilst the cathedral's primary purpose is as a place of Christian witness and worship, it is also a place for all people – everyone is welcome, whatever their faith or background. We are proud to be holding the exhibition and would encourage everyone to visit to learn more about people of different faiths.
"To reiterate, the context is very important: The Muslim call to prayer at Gloucester was part of a launch event in the cloisters and chapter house, which are set away from the main body of the cathedral. Furthermore it was not in the context of worship."
The far-right group Britain First posted about the incident on its Facebook page. One user commented: "This is the extent to which the church has fallen to its knees."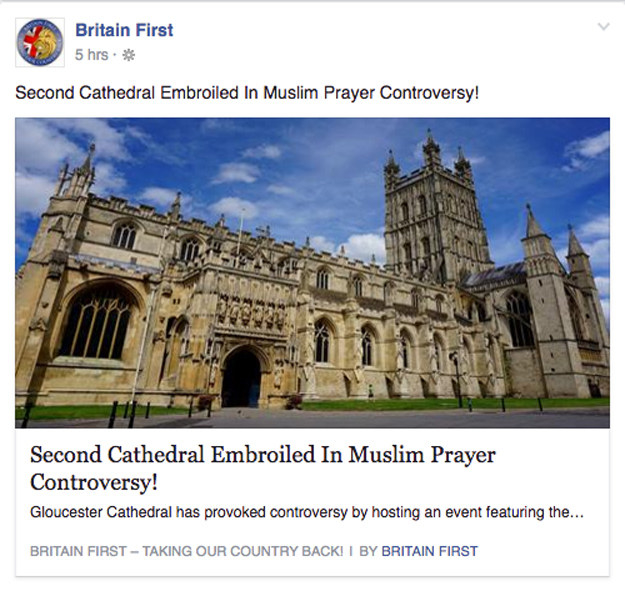 People also shared Breitbart's post of the Gloucester Cathedral event titled "Second Cathedral Embroiled In Muslim Prayer Controversy!" on Facebook and posted versions of the story on Facebook from far-right websites such as Lionheart News, which ran a poll asking readers whether the West should refuse migrants from "Islamic countries" on its homepage.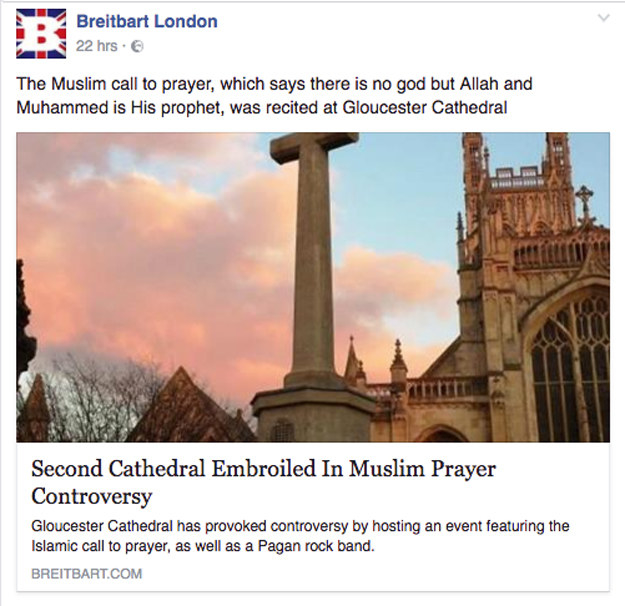 Interfaith campaigners have said such reactions should not discourage future community events.

Phil Champain, the director of Three Faiths Forum, a group promoting interfaith cooperation, said in a statement to BuzzFeed News: "Abuse is never an acceptable way to respond, and these events really highlight the urgency of people learning more about each other's beliefs, and having open lines of dialogue between communities to prepare the ground before interfaith encounters take place.
"Events like this shouldn't discourage communities from reaching out to one another, as that is something our society sorely needs more of."

Champain said his organisation often used "neutral venues" rather than places of worship for interfaith encounters.
Iman Atta, the director of the anti-Muslim hate monitoring group Tell MAMA, said: "Sadly, the environment is changing where interfaith work, which was the mainstay of trying to bring communities together for over three decades, is being slowly polarised by those who seek to take offence.
"Muslims have been accused by some, of taking offence easily, yet a reading of Islamic scriptural text in two churches has led to a clamour by some to the press to say that this is unacceptable."
Atta added: "Interfaith work is being affected by such polarisation in some circumstances and shows how far some are willing to draw the line and take offence in simply listening to the scriptural texts of others. It is sad."
CORRECTION
St Mary's Episcopal Cathedral had deleted its Facebook post. An earlier version stated the church had deleted its Facebook page.