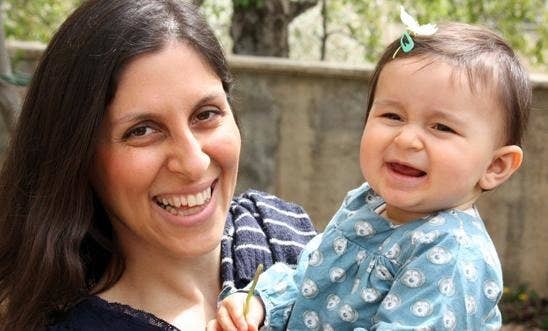 Boris Johnson is under growing pressure to correct a "serious mistake" in which he inaccurately told a parliamentary committee that a UK-Iranian mother detained for 19 months in Iran had been in the country "training journalists".

Johnson made the comments on Wednesday as he finally condemned Iran's detention of Nazanin Zaghari-Ratcliffe when he appeared before the Commons Foreign Affairs Select Committee. His told MPs: "If you look at what was doing, she was simply teaching people journalism, as I understand it, at the very limit."

Three days later, on Saturday morning, the charity worker was taken unexpectedly before a court and accused of "spreading propaganda against the regime".
Zaghari-Ratcliffe was originally sentenced to five years, and her husband, Richard Ratcliffe, said this sentence could be doubled if she is tried again on the new charge.
He told BuzzFeed News on Monday that it was "preposterous" of Johnson to say that she'd been training journalists. "She was there on holiday. She's an innocent mum on holiday."

When he spoke to his wife on Saturday after the hearing, he said, she was "very upset and cried through most of it. She had been in court most of the morning."
Zaghari-Ratcliffe was arrested in Tehran airport last year by the Revolutionary Guard and has since been in solitary confinement.

The British-Iranian charity worker was separated from her then-22-month-old daughter Gabriella in April 2016 and transferred to an unknown location in Kerman Province, about 1,000km south of Tehran. Her daughter, whose British passport was confiscated, has been cared for by Zaghari-Ratcliffe's Iranian family since.

Ratcliffe told BuzzFeed News that he had had messages from parts of the regime that Zaghari-Ratcliffe would have been eligible for release in a few weeks time and was hoping for a return by Christmas. Others in the regime, however, were trying to block her release and they had seized on the foreign secretary's remarks to build their case.
"What they're trying to do is hold on now and use it as a bargaining chip," Ratcliffe said.
Despite the calls for Johnson to retract his inaccurate remarks, the Foreign Office released a statement on Monday evening that instead claimed he had been seeking "to explain that even the most extreme set of unproven Iranian allegations against her were insufficient reason for her detention and treatment".
The statement said his remarks "provide no justifiable basis on which to bring additional charges", adding: "The foreign secretary will be calling the Iranian foreign minister to raise again his serious concerns about the case and ensure his remarks are not misrepresented."
But observers questioned whether the Foreign Office statement was accurately representing the foreign's secretary's comments.
With Theresa May under pressure to take action, her official spokesperson was pressed by reporters to say whether the PM still had confidence in Johnson. "The prime minister thinks the foreign secretary is doing a good job," he said.
The Foreign Office response came after, Monique Villa, chief executive of the Thompson Reuters Foundation, Zaghari-Ratcliffe employer, issued a statement demanding that Johnson "immediately correct the serious mistake" he made before the select committee.
Villa continued: "On 1 November he said that Nazanin 'was training journalists' in Iran. I have immediately clarified that this is not right as she is not a journalist and has never trained journalists at the Thomson Reuters Foundation where she is project manager in my Media Development team."
Villa said she saw "a direct correlation" between Johnson's statement and "the fact that Nazanin was brought once again into Court on Saturday 4 November and accused of 'spreading propaganda against the regime'".
"This accusation from Judge Salavati [the judge handling her case] can only worsen her sentence. She is obviously a bargaining chip between the UK government and Iran and this injustice must stop as soon as possible. Whatever is at stake should be paid attention to by the UK government," she said.
Johnson's comments were later posted on the website of Iran's judiciary.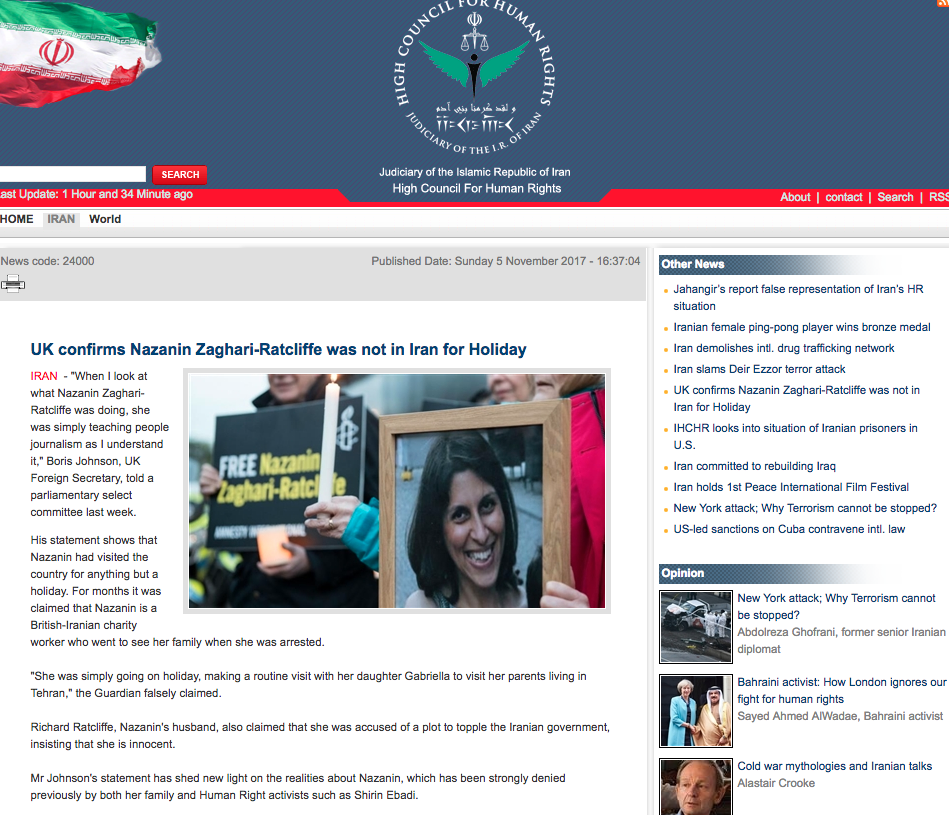 Zaghari-Ratcliffe's local MP, Tulip Siddiq, added to the pressure on Johnson, saying: "The Foreign Secretary must immediately retract his comments to the foreign affairs select committee regarding my constituent Nazanin Zaghari-Ratcliffe.

"In Nazanin's case, words have power."
She went on: "The government are aware of this, as for the last 19 months they have refused to call for Nazanin's release from her Iranian prison cell."
"By suggesting Nazanin was in Iran 'teaching people journalism', Boris Johnson has endangered the cause to secure her release. His comments were both untrue and unhelpful to her case," she said, urging the foreign secretary to "formally retract his comments, and to stick to his word and take the opportunity to visit Nazanin in Iran at the earliest possible opportunity".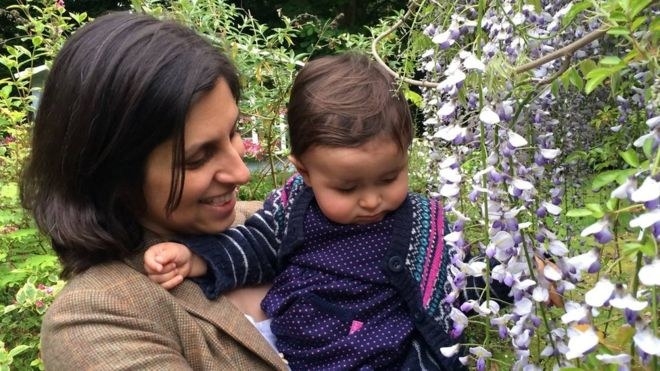 Allan Hogarth, head of policy and government affairs at Amnesty International UK called on Johnson to clarify his remarks.
"Everything that's happened to Nazanin Zaghari-Ratcliffe since she was detained last year suggests the Iranian authorities have been intent on building a bogus criminal case against her," he said.
"Ms Zaghari-Ratcliffe is a charity worker and mother of a young daughter who's already been subjected to solitary confinement, a grossly unfair trial and now reportedly faces the threat of a new criminal charge.
"The foreign secretary's call last week for Zaghari-Ratcliffe to be released was welcome, but he must clarify his remarks about her work and the purpose of her visit to Iran last year."
Hogarth urged the UK government to keep putting the case forward to Tehran that Zaghari-Ratcliffe is a charity worker, and that she should be released immediately and allowed to return to Britain with her daughter.