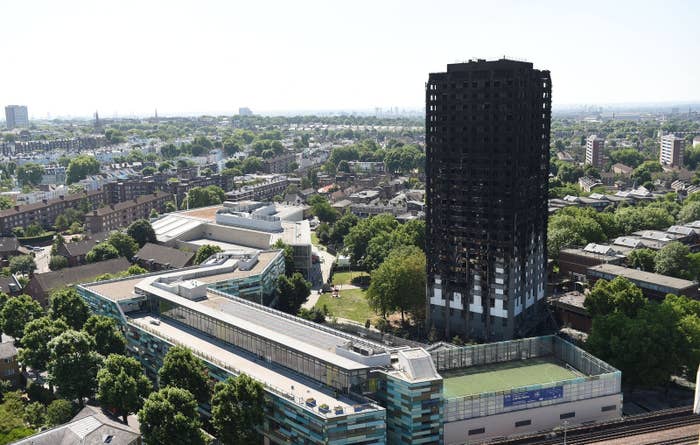 Councils across London stepped in on Sunday evening to form a 24-hour Grenfell Tower fire response service alongside the government, the British Red Cross, and emergency services and said the initial response was "simply not good enough on the ground".
Eleanor Kelly, chief executive of Southwark council, and part of the newly established Grenfell Fire Response Team, said in a statement: "We want to make clear that whilst the emergency and local community response was nothing short of heroic, we know that the initial response was simply not good enough on the ground. People are angry, and rightfully so.
"Our focus is now ensuring those affected are being cared for and looked after.
"This new team is now leading the recovery and response to the Grenfell Tower fire, which has been one of the most tragic and horrendous events ever seen."
London local government has a resilience response that can be invoked when a major London incident like the Grenfell fire happens.
Yet the Royal Borough of Kensington and Chelsea invoked this only on the afternoon of Friday 16 June – almost three days after the incident.

The response team, a coalition including the Metropolitan police and the London Fire Brigade, said it was currently responding to "what the community are telling us they need", adding that people who came to Westway Sports and Fitness Centre would be able to access services and support provided by a new team around the clock.
It said housing was the main priority and that by the end of Monday 19 June it is aiming to have contacted all known families affected by the fire and completed an assessment of what they need.
The response team said the latest information it has is that 201 households have so far received emergency accommodation to date, of which 113 are homeless – almost five days after the fire.
The Red Cross, which provides humanitarian aid in crisis zones, has been drafted in to provide community assistance and will be part of the teams allocated to every household affected.

BuzzFeed News first revealed earlier that officials from a nearby London council had said they were assuming control over aspects of the Grenfell Tower response operation – as accusations of mismanagement of the crisis mounted against Kensington and Chelsea council.

Volunteers and humanitarian charity workers were told by officials from Ealing council late on Saturday night there would be a complete handover to the west London authority – the same day the prime minister admitted support on the ground for survivors of the disaster "was not good enough".
Rupinder Hardy, a manager at Ealing council, had been called by Ealing emergency response team on Friday to assist with the Grenfell Tower crisis, and was at Westway Sports Centre visiting family and meeting with volunteers from 7am on Saturday morning until after midnight.

Speaking to BuzzFeed News, she said: "I am going to have a meeting now to see what happened during the night, and what we need to focus on going forward.

"Now we've got a lot of Ealing people coming, and we've got representatives from government offices.
"I've suggested yesterday what I'd like to see, and I'd like to get this to feel like a rest centre, to feel welcoming, to feel inclusive, to give the opportunity to the community to be somewhere where they can talk to community groups and to be heard, and to have their outcomes met."
Standing in the entrance of the Westway Sports Centre, which has turned into a storage place for canned food items, Philip Lee-Morris, local authority liaison officer response from Ealing council, told BuzzFeed News: "Yesterday we came to the rest centre to try and do as much as we can to turn this effort into a truly humanitarian relief effort for the entire community, to recognise that this tragic event has impacted so many people and we need to ensure there is somewhere that people can come to get help."
When asked about the challenges Grenfell Tower residents and evacuated locals had faced, he said: "I think we need to make sure everyone is informed, we need to make sure that people know why we are here, and I think people need to feel as welcomed as possible."
On Sunday morning the police cordons on the way to Westway, which families had to cross, had been removed. Volunteers had said the cordon had made the refuge centre unwelcoming, and look like "a crime scene".
Lee-Morris added: "There is so much tension, so much frustration in the community that we're hoping this can be the one place that people can truly come together, exchange their feelings, relate to people concerned what they have been through and we're hoping to provide that resting, calm environment."
When asked about the biggest concerns of residents he said: "I think it comes down mainly to communication so it's the local people and those affected by this – it's unspeakable – it's ensuring they know the local authority is here, and local authorities through the entire city have come together, volunteers in their dozens are prepared to come out and do whatever they can."
The news of other councils and central government stepping in comes days after the fire left a community mourning, with at least 58 people presumed dead and scores of families left homeless.

Kensington and Chelsea council has been under pressure since the fire, with residents protesting outside Kensington Town Hall on Friday night.
The BBC reported on Sunday that central government staff had been drafted in to manage the response to the fire.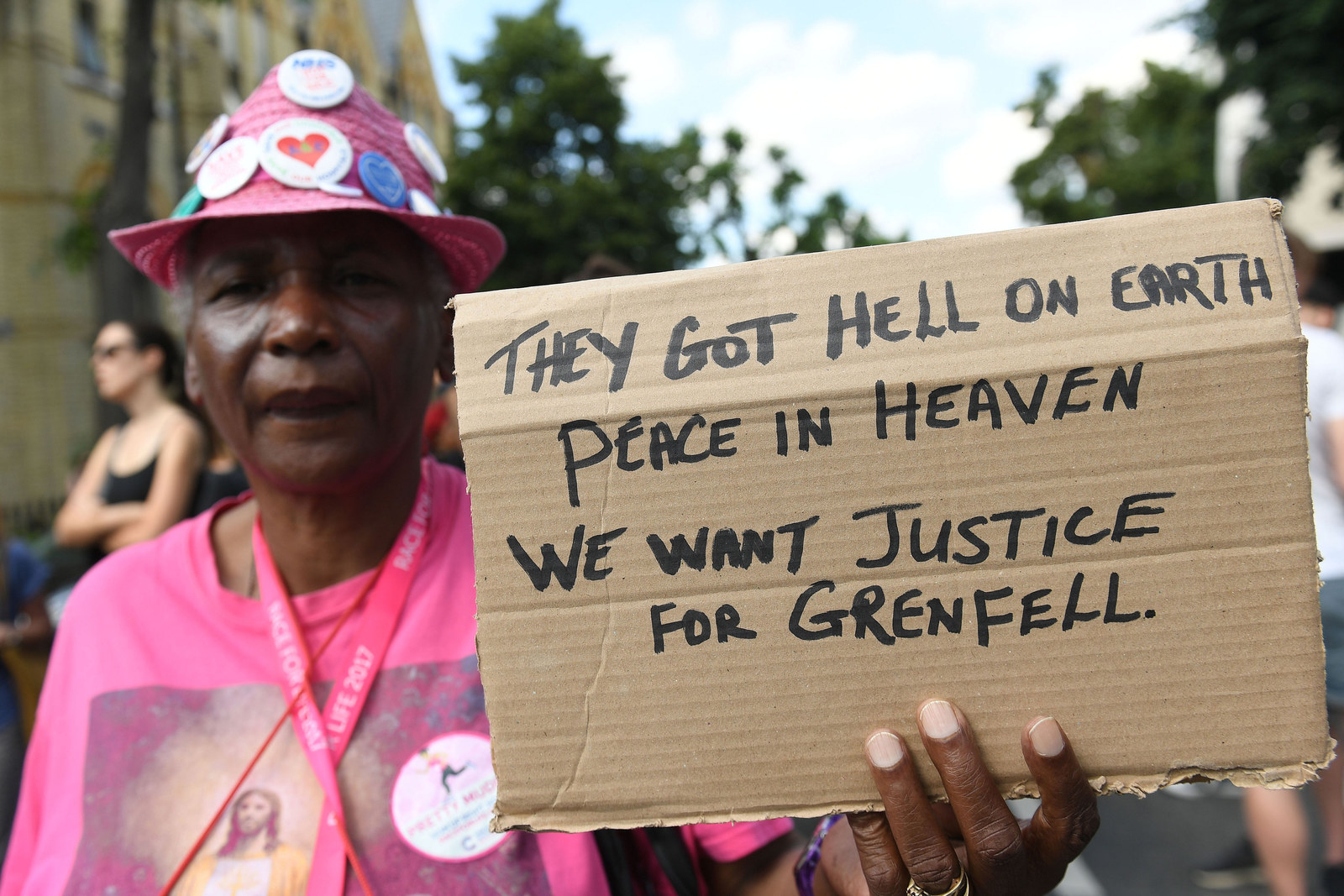 Kensington and Chelsea council leader Nicholas Paget-Brown was quoted as saying: "Kensington and Chelsea council is working closely with the government, charities, volunteer and resident groups and the emergency services to help rehouse and assist all those affected.

"Of course, people rightly have questions about the causes of the fire and why it spread so quickly and these will be answered."
Families from Grenfell Tower and local residents have in the last few days complained about the lack of support from Kensington and Chelsea council. In an updated press statement on Saturday evening, the council said: "Kensington Town Hall has unfortunately been closed due to yesterday's incident," referring to the protest by residents.
A pressing concern for Grenfell Tower residents, as well as households in the surrounding area who had been evacuated, is the issue of housing. On Friday morning, Kensington and Chelsea council confirmed that 109 households had been given temporary accommodation in hotels.
A statement said: "We plan to house residents of Grenfell Tower as locally as we can. But we may well need help from our close neighbours. We want to rehouse people in a good home as quickly as we can.
"The council is committed to looking after the immediate and longer-term housing needs of all those affected by the fire."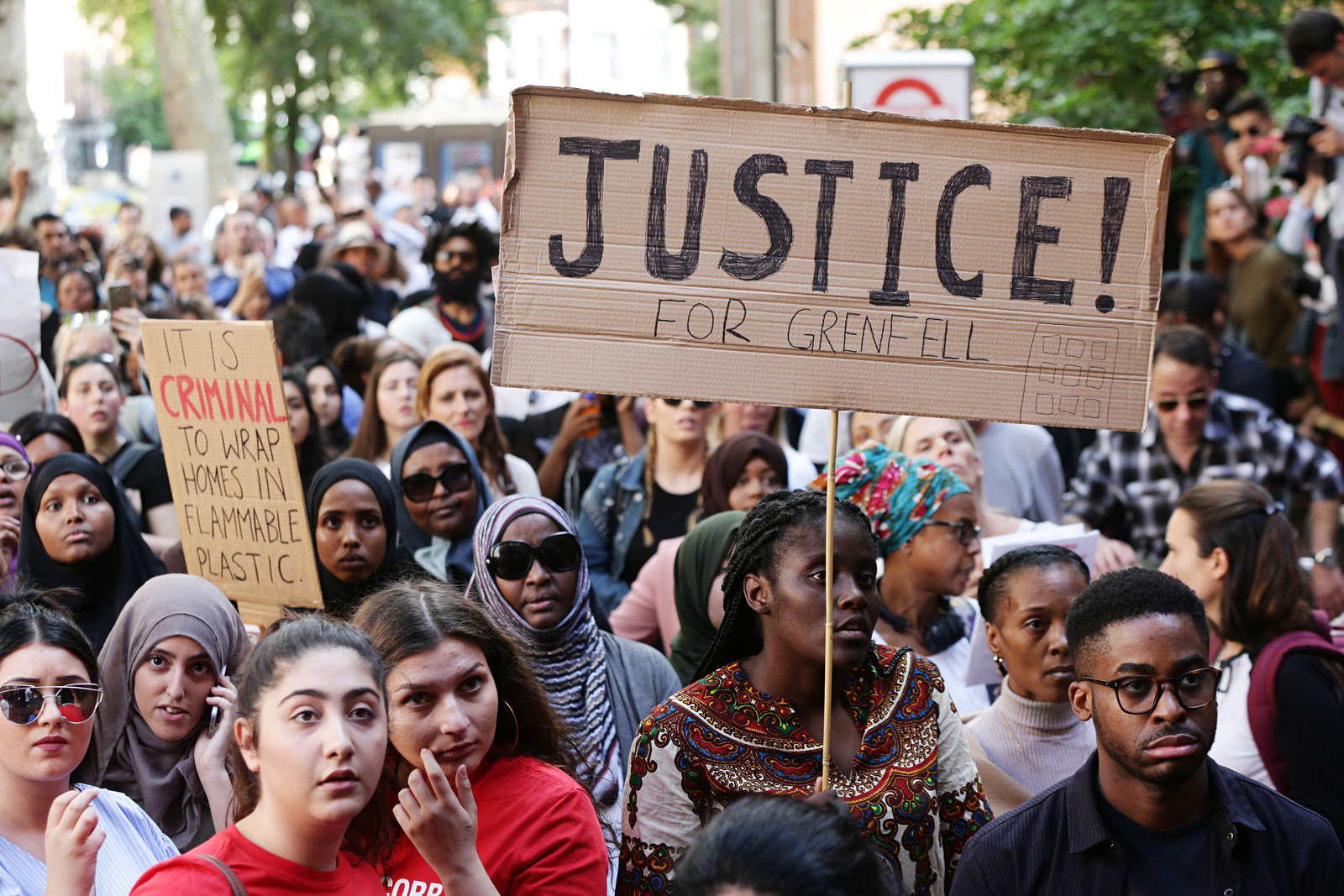 Yet at a meeting organised by local people on Saturday evening at Al Manar mosque, which is close to Grenfell Tower, residents spoke of their anger at being dispersed in different high-rise hotels from friends and neighbours, as well as a lack of information.

They said they were told they would be rehoused outside of the borough, including in Ealing and Wandsworth, despite having been given reassurances to the contrary.
Some families said they had been told they could go back to their homes, only to find their gas and water were not working, and were worried about the fumes from the fire.
Theresa May has ordered a full public inquiry into the Grenfell Tower fire.
The prime minister said the inquiry, which is expected to cost several million pounds, was needed to ensure "this terrible tragedy is properly investigated" – however, local residents are demanding an inquest.