Almost 7,000 Islamophobic Tweets Were Sent In English Every Day In July
That's 289 Islamophobic tweets sent every hour.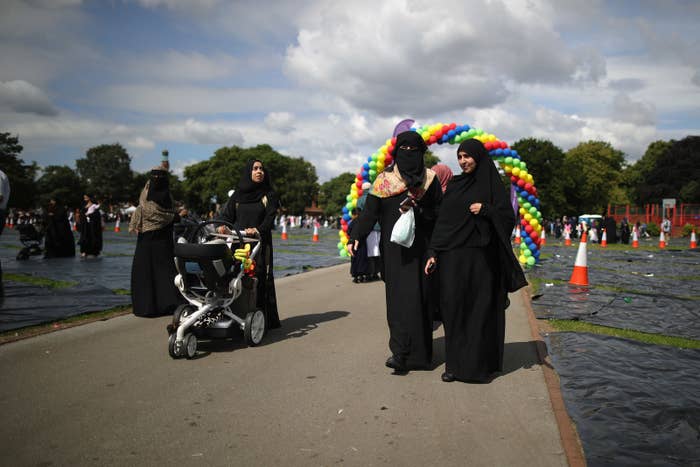 The number of Islamophobic tweets sent in English reached almost 7,000 a day in July this year, according to the think tank Demos.

The figure, the highest since Demos began its analysis in March, equates to 289 Islamophobic tweets being sent every hour around the world.
A total of 215,247 tweets were recorded, with 49 words and hashtags used as flags for anti-Islamic tweets in the research, including words such as "terrorist", "raghead", and "Paki" – suggesting the radicalised nature of anti-Muslim hate online.

Demos said Islamophobic expression was defined as "the illegitimate and prejudicial dislike of Muslims because of their faith".
The highest number of abusive tweets sent in one day was on 15 July, when 21,190 anti-Muslim messages were posted on Twitter. The previous day a man killed 85 people in Nice, France, by driving a lorry into crowds celebrating Bastille Day. ISIS later claimed one of its followers had carried out the attack.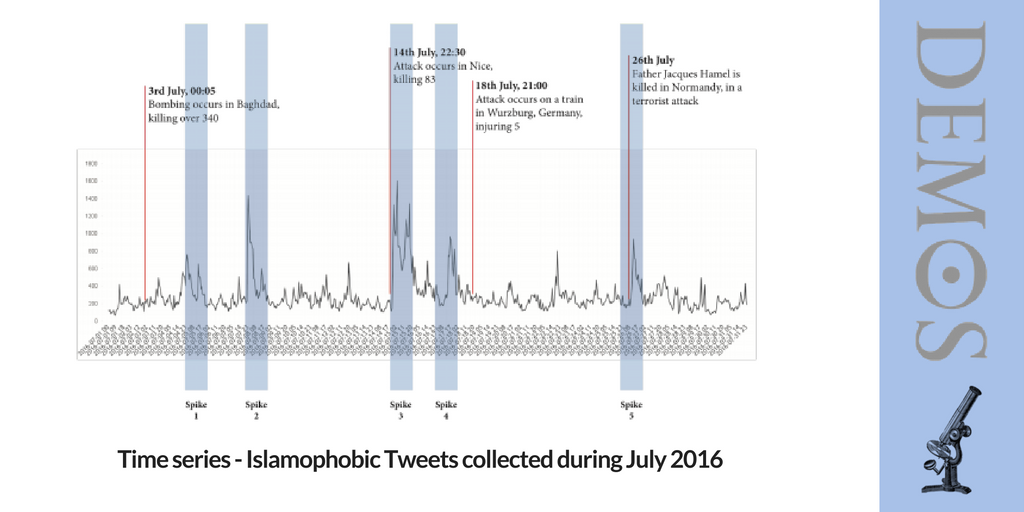 Other days representing a significant spike included:
– 8 July, the day after the fatal shooting of police officers in Dallas, Texas, which saw 11,320 anti-Muslim tweets sent in English
– 17 July, the day after an attempted military coup in Turkey, which saw 10,610 tweets sent
– 5 July, which marked the end of Ramadan and four days since the siege of a café in Bangladesh by ISIS militants, and saw 9,220 Islamophobic tweets
– 26 July, the day of an attack on a church in Normandy, France, which saw 8,950 tweets being sent
Researchers were able to geolocate many of the tweets in English and found outside the UK, significant concentrations were identified in the Netherlands, France, and Germany.

Demos also put together a time-lapse video of Islamophobic tweets sent in the UK during the four days surrounding the terrorist attack in Nice, between 12 and 16 July.
The think tank said there were challenges involved in undertaking research on hate crime: "Algorithms used are not perfect and some data could be misclassified; that data could be missed; and how Twitter is not evenly used by all parts of British society."
In a statement to BuzzFeed News Sinead McSweeney, Twitter's senior director of public policy for Europe, the Middle East, and Africa, said: "No one deserves to be subjected to targeted abuse online, and our rules prohibit inciting or engaging in the targeted abuse or harassment of others.

"We are continuing to invest heavily in improving our tools and enforcement systems to better allow us to identify and take faster action on abuse as it's happening and prevent repeat offenders.
"We have been in the process of reviewing our policies to prohibit additional types of abusive behavior and allow more types of reporting, with the goal of reducing the burden on the person being targeted. We'll provide more details on those changes in the near future."
Twitter said that in the UK it works collaboratively with groups such as the Institute for Strategic Dialogue, Imams Online, and the Centre for Democracy and Peace Building to tackle wider issues and underlying societal prejudices, and is committed to the European Code of Conduct on Illegal Speech Online alongside others from the technology industry.
Speaking about the online hate she receives, Hanna Yusuf, a 24-year-old MA student and freelance writer, told BuzzFeed News: "It didn't affect me personally. I think I just learned to deal with it, but it did make me a lot more protective of people close to me."

When she published her writing online, Yusuf said: "I'd get it [the online abuse] all the time, so much so that it became a normal thing that was expected. I used to screengrab them."
Because of her experience, Yusuf said she wouldn't encourage the young women around her, such as her niece, to pursue a career in the public eye "because I know about the vile online hatred that awaits someone with her identity".
"I've reported a few incidents of online hate to Twitter, and apart from an automated 'We've received your complaint', I heard nothing back," she said. "It'd be helpful if social media sites did more to deal with online abuse, since it's all happening on social media.
Esmat Jeraj, 27, the secretariat for the Citizens Commission on Islam, Participation and Public Life, which is currently touring the UK and collecting the stories and experiences of British Muslims, said: "Unfortunately online abuse is part and parcel of being a Muslim in the public eye. I don't necessarily mean having to be on TV, but just expressing viewpoints online and being outwardly identifiable, you always receive some sort of hate or negative comment."

Jeraj said that in the run-up to and aftermath of the EU referendum, she saw many instances of Islamophobia whenever she commented on the rise of xenophobia and wrote on immigration. "It's obviously hot topics, and people would attack you for your faith."
"It's normal for the hatred to spread online because it's detached and easier for keyboard warriors to express their vitriol," she said.

"This sounds terrible but it just doesn't register any more. I think the best thing is to ignore these unless it becomes threatening.
"A lot of it is based on negative assumptions on Islam – Islam is an oppressive religion, wants Sharia law established, why Muslims should be allowed in the country. These are just common and to be expected now."
On classifying the nature of abuse, Jeraj added: "Anti-Islam, anti-Muslim, and racism will to some extent become convoluted. It's very difficult. After Brexit, walking down the street, I was told to F off out of the country. Now he didn't mention Islam, he didn't mention Muslim, but obviously I am outwardly identifiable. How do you classify that? Is it a racist attack? Is it an Islamophobic attack? It's really difficult to differentiate now."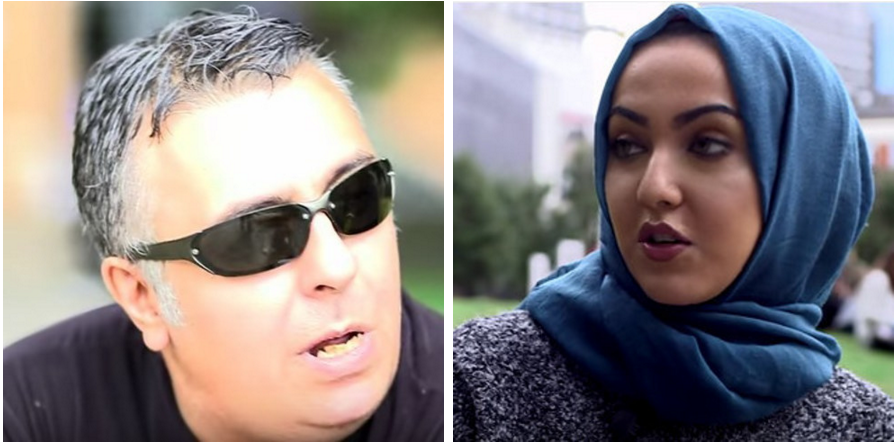 Ruqaiya Haris, 23, a student and writer, told BuzzFeed News in an earlier interview that she was taken aback by the fact she wasn't more shocked when she faced Islamophobic comments while being filmed for a television interview.

"I think because of the fact I get this online all the time, though not something that happens in real life all the time … it does harden you to it.

"And I heard these kind of prejudices from so many different people, in day-to-day life, whether it's colleagues, other people in school, uni, and all these kind of places. It's very normal to hear prejudice against Muslims."