A Talk With Tariq Ramadan At A World-Leading University Was Postponed After A Rape Allegation Was Made Against Him
The event at Imperial College London did not go ahead as planned "due to unforeseen circumstances".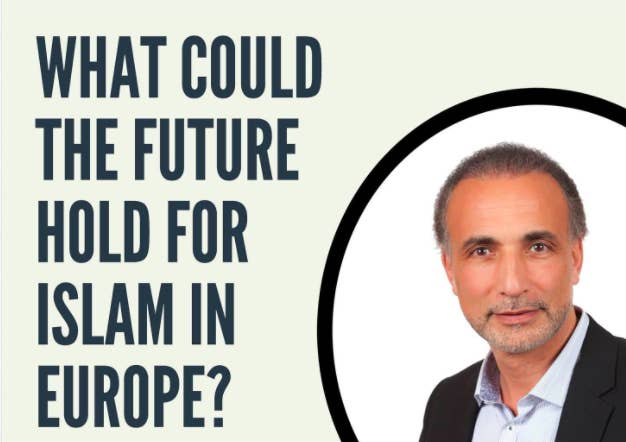 A student society postponed a top-billed event at Imperial College London with Oxford professor Tariq Ramadan, just days after a rape allegation was made against him by a French activist.

In a Facebook statement on Monday, the student group at the world-leading university said the event on the future of Islam in Europe had been postponed "until further notice". It was due to take place yesterday evening.
It comes after a feminist campaigner filed a police complaint alleging she was raped by Ramadan, whose lawyer said he denied the accusation and would sue for defamation.
Henda Ayari, 40, who heads the women's organisation Les Libératrices, described the alleged attack in a Facebook post on Friday amid an outpouring of women sharing their stories online following the Harvey Weinstein scandal.
Ramadan's lawyer, Yassine Bouzrou, responded in a statement to BuzzFeed News: "Mr Tariq Ramadan categorically rejects all these false allegations.
"A complaint for slander and defamation will be filed with the public prosecutor in Rouen on Monday."
Imperial College Union told BuzzFeed News: "Due to unforeseen circumstances, and after consultation with the Students' Union, the event of October 24th has been postponed till further notice. Full refunds will be provided to those who purchased online tickets. We apologise for any inconvenience this may have caused."

Imperial College Charity Week, the student group which had organised the event, added in the statement that students who had bought the limited £5 tickets to the highly anticipated event – which went on sale two weeks ago and before any allegation was made public – would be fully refunded.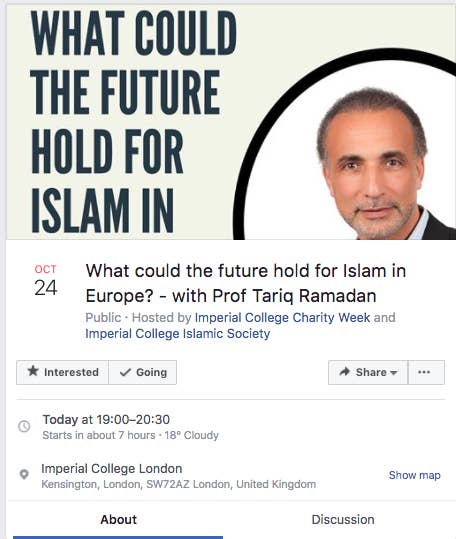 "Due to the late notice, we ask that you let other people you know who are attending the event also know as to save them arriving to a cancelled lecture," the statement read.
A link to purchasing the tickets was taken down from the student union website, but details of the event remain on Tariq Ramadan's personal page.
The public lecture: "What could the future hold for Islam in Europe? A narrative on Islamic reform and pluralism" was being held as a fundraiser for Islam Relief, the humanitarian charity, and on Facebook showed almost 500 people were interested in attending the event on Tuesday night.