1.

La Petite Syrah, a café in Nice in the South of France is charging customers based on their level of politeness
Rendons à César ce qui appartient à la "Petite Syrah" super restau à #Nice06 Il y a encore des gens qui savent vivre!

— Egalliano06 (@tokai06)
Egalliano06
@tokai06
Rendons à César ce qui appartient à la "Petite Syrah" super restau à #Nice06 Il y a encore des gens qui savent vivre!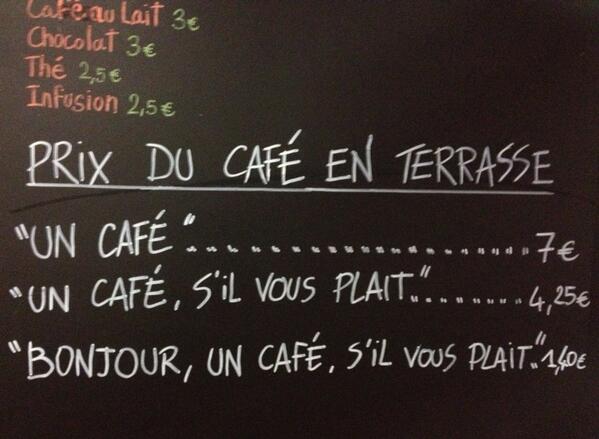 / Via
"A coffee" costs 7e. "A coffee, please" costs 4.25e. And "Hello, a coffee please", costs 1.40e.
The manager, Fabrice Pepino told The Local that "it started as a joke because at lunchtime people would come in very stressed and were sometimes rude to us when they ordered a coffee". He continued, "most of my customers are regulars and they just see the funny side and exaggerate their politeness."
Ailbhe Malone is the UK lifestyle editor for BuzzFeed and is based in London.