Hidden Valley For Everything
For 50 years, Clorox's Hidden Valley Ranch has been a dinner table essential. In 2012, Hidden Valley introduced a thicker, creamier version of its signature dressing designed for dipping and topping - Hidden Valley For Everything. Its restaurant-style packaging proclaimed it "The New Ketchup," and Hidden Valley partnered with BuzzFeed to expand on this nickname in a fun, engaging way.
Approach
Through a series of custom social posts like "10 Foods Made Better With Ranch Dressing" and "Why Ranch Is The Best Condiment," Hidden Valley For Everything and BuzzFeed inspired consumers to join in on the "Ranch vs. Ketchup" debate.
Taking it a step further, BuzzFeed branded two reactions as dueling badges depicting the "clash of the condiments." The badges brought the battle to life, increased brand exposure across the site, and allowed consumers to interact with Hidden Valley in a fun and unexpected way.
10 Foods Made Better With Ranch Dressing
Is there anything better than a piping hot slice of pie, dipped in a cup of cool, creamy ranch?
Results
Hidden Valley for Everything and BuzzFeed conducted a Nielsen Online Brand Effect study to evaluate the impact of this content strategy on users' perceptions. The study measured brand affinity based on whether a viewer had no exposure to the content, viewed the content as a result of paid media, or received the content through social sharing (i.e. a friend's Tweet or Facebook post).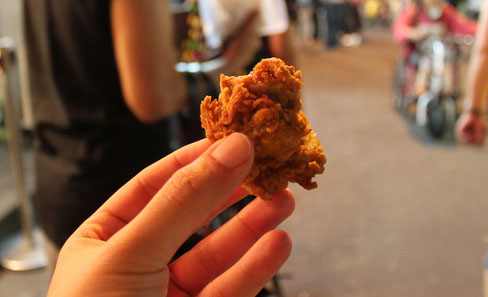 Chicken tenders. Also: chicken nuggets, chicken breasts, chicken salad, chicken strips, chicken beaks, chicken feet, live sacrificial chickens, etc., etc.
"Hidden Valley for Everything is a new product that I'm interested in trying"
Visitors overwhelmingly embraced Hidden Valley for Everything's content on BuzzFeed especially when received through sharing activity, leading to increased brand affinity and purchase intent.
10 Little-Known Condiments From Around The World
Shichimi, also known as "seven flavor chili pepper", is a popular additive in Japanese cuisine.
Total Positive Responses
Control Exposed
Overall, those who discovered the BuzzFeed Hidden Valley for Everything content through social sharing were 99.8% more likely to respond positively to the brand.
Key Takeaways
Hidden Valley for Everything's BuzzFeed content struck a chord with consumers as it spread across the social web, leading to dramatic increases in both brand affinity and purchase intent. Through custom content and reactions, Hidden Valley and BuzzFeed exceeded brand objectives and started a social conversation.