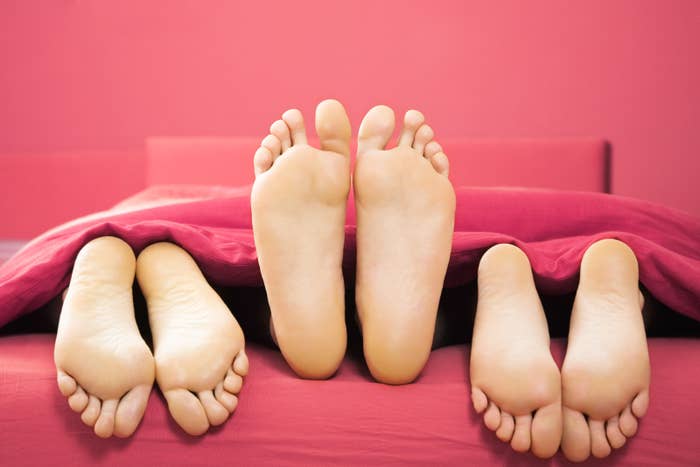 1. First things first: You'll have to select your partners carefully, and take everyone's preferences into account.
2. And obviously, you'll have to set limits with each other.
3. Even if you've all talked about it a lot, there will always be a lot of nervous laughter at the beginning.
4. Especially when it's time to get naked...
5. Because you're either being undressed or helping the others undress or you're undressing yourself.
6. (And undressing yourself feels kind of sad.)
7. Sometimes you'll have to wait to give or receive a caress.
8. Meanwhile, you'll have to find a way to entertain yourself...
9. Either by masturbating or stroking someone else's back.
10. And when the moment for everyone to participate finally arrives, you end up playing something very similar to rock, paper, scissors, except with genitals.
11. And even if you've decided the logistics beforehand, you'll likely forget your ~roles~ in the heat of the moment, and everyone will just start grabbing what they can.
12. Tip: If you don't have condoms and the lubricant the at ready, the magic may get lost for a couple of seconds.
13. Because everyone will already be super hot and anxious to CONSUMMATE THE ACT.
14. Be judicious about your lube use, lest things get ~sticky~ quickly.
15. Once you've successfully gotten it in or given oral sex, everything will flow from there.
16. There may or may not be a moment when you're giving oral sex while being penetrated. Be ready for this.
17. Because you might choke.
18. Or you might ~finish~ prematurely.
19. Or you might just feel really, really odd in the moment.
20. You will probably end up touching the genitals of everyone involved, whether or not you planned to.
21. It will get tense at some points, too...
22. Like when you're competing with someone else for access to an orifice...
23. Or accidentally bending body parts that should not be bent.
24. But you will get so turned on that there will be a moment when you don't even know who you're kissing.
25. And you'll probably put your fingers in some places you aren't 1000% sure of.
26. The worst thing about threesomes is that it's not always possible for the three to finish at the same time, of course.
27. And if you've already finished, you'll get a little bored.
28. Which may lead you to feeling a little voyeuristic while you wait for the other two to finish...
29. Which could turn you on again...
30. Which is also how you can easily, easily lose track of time. 😉 Enjoy!
This post was translated from Spanish.