Inmates On Death Row Ask Judge To Stop Ohio's Execution Secrecy Law
Attorneys for four inmates on death row want a federal court to stop Ohio's new law shielding the identities of those who carry out executions from taking effect.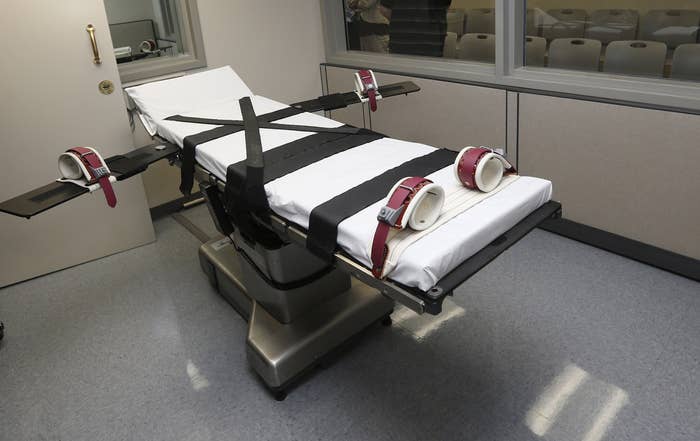 Attorneys for four death-row inmates on Monday filed a preliminary injunction in federal court challenging Ohio's new death-penalty secrecy law from going into effect in March.
The motion argues that the state's law, which protects the identities of those who participate in Ohio's executions, violates the public's First Amendment rights to free speech and ability to petition the government.
Last month, plaintiffs and death-row inmates Ronald Phillips, Grady Brinkley, Raymond Tibbetts, and Robert Van Hook, filed a lawsuit challenging the constitutionality of House Bill 663.
The law makes secret the names of people involved in executions, as well as small-scale drug makers if they provide lethal-injection drugs for Ohio. The only exceptions to the bill are the Director of the Ohio Department of Rehabilitation and Correction and the Warden of the Southern Ohio Correctional Facility.
The bill and its supporters said people and entities that assist in executions must be protected from harassment and possible physical harm.
But the attorneys for the death-row inmates contend in their motion that concealing the identities of those who carry out executions out of fear that they may be "dissuaded" from participating "is unconscionably callous and has no place in a civilized society."
Over the past few years, Ohio, like other states, have faced shortages of the drugs used in lethal injections after several drug makers, including those in Europe, have refused to sell their products for executions.
States have started using small-scale drug manufacturers, compounding pharmacies, which are not heavily regulated by the Food and Drug Administration. The move has raised concerns about the safety and efficacy of the drugs.
Officials in some states have also changed their execution protocols, trying new drugs or untested combinations of lethal injection drugs.
Ohio had been using a two-drug cocktail of midazolam and hydromorphone for its executions. But on Jan. 8, the Ohio Department of Rehabilitation and Correction said it would instead use thiopental sodium and pentobarbital.
The decision came after Ohio's controversial execution of Dennis McGuire on Jan. 16, 2014. McGuire — who was convicted of raping and killing a pregnant woman — took 26 minutes to die, during which time he seemed to be gasping for air.
The change in drug cocktail postponed the execution of Phillips, and possibly others, while Ohio secures a supply of thiopental sodium and pentobarbital.
BuzzFeed News has reached out to the Ohio Department of Rehabilitation and Correction for comment.