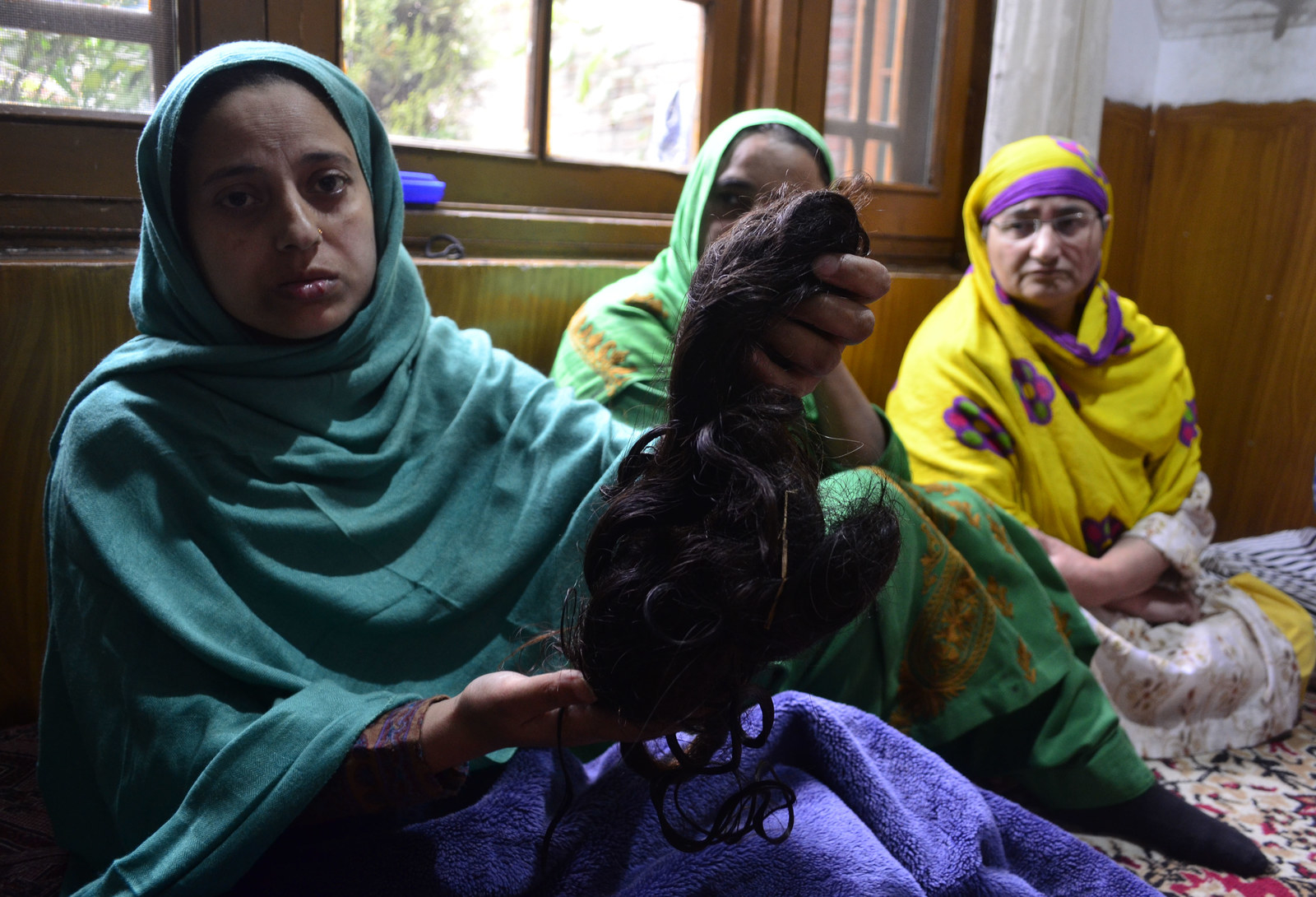 Surrounded by concerned relatives and family members, Kousain Aijaz is crying in the corner of her room, her head wrapped in a bandage.

On the afternoon of October 11, Aijaz was leaving her home in downtown Srinagar when she was allegedly attacked with a brick. Her aunt Tasleema found her lying on the ground, unconscious and bleeding. Her hair, which she wore in a braid, was lying next to her, chopped off.
Aijaz didn't see her attacker. "I was looking at my phone," she recalls. "My friends were calling me. So I was in a rush to get out. When I opened the front door, I felt a strong blow on the back of my head".
A class 10 student, Aijaz has her final exams in a few days. Understandably, she doesn't seem to be in a position to appear for them. "She is very scared at the moment," says Tasleema. Aijaz's parents have pleaded with the school authorities to give her some extra time but it seems unlikely.
There have been over 200 incidents of braid-chopping in Kashmir since September.
Sitting next to Aijaz is her cousin and classmate Sheeba (name changed). To show her support, Sheeba cut her hair in the days following the attack on Aijaz. "I want to make her understand that it's okay, so I also cut my hair," she says. "Now she knows she isn't alone."
The attack on Aijaz sparked a massive protest in the area. Her father, Aijaz Ahmad Sofi, told BuzzFeed that police fired pellets and tear gas to disperse the protesters. He also alleged that the police initially refused to lodge an FIR in the case when the family approached them. Instead, Sofi was asked to first write an application.

Since the first such attack was reported in September, there have been over 200 alleged incidents of braid-chopping in Kashmir. The authorities closed all educational institutions on October 12 and 13 as protests spread across the Valley. Restrictions were also imposed in several parts of Kashmir on October 13 after separatists called for a shutdown.

The Valley has been gripped by panic and fear in the wake of the attacks. Women have restricted their movement and avoid being alone, even at home. Men are making their way home early to avoid keeping their doors open too late. Social media has also played its part in keeping the pot boiling.

Sometimes the attacker is just one man, sometimes two or even more. Nobody is quite sure. But the attacks seem to follow a similar pattern. They find women who are alone, subdue them using chemicals or by striking a hard blow to the head, and then chop off their braids.
In August, at least two dozen similar cases of braid-chopping were reported from different parts of North India in the span of a week. No arrests were made and the wave of attacks mysteriously stopped.

In Kashmir, however, the number of reported attacks only seem to be multiplying with each passing day.
On October 14, Mameeta Najar was allegedly attacked by a masked man who forced his way into her house in Veer Chattarbal. Najar recalls being slapped repeatedly before being smothered with a white cloth. "I tried to defend myself but he kept hitting me," she says.
When she regained consciousness, her braid had been cut.
Everything in the house was intact and accounted for. The attacker had even left the braid behind.
On the same day, Shakeela Mohammad was also attacked by alleged braid choppers — two burkha-clad women.
"I was cleaning the house when somebody knocked on the door. They wrapped a dupatta over my head and dragged me around, that's all I remember," she says. But she is certain that they were women. "It was a woman's voice. That's why I let them in," she adds.
When Mohammad regained her senses, her braid had been chopped off. The attackers removed her gold bracelet but left it outside the kitchen door.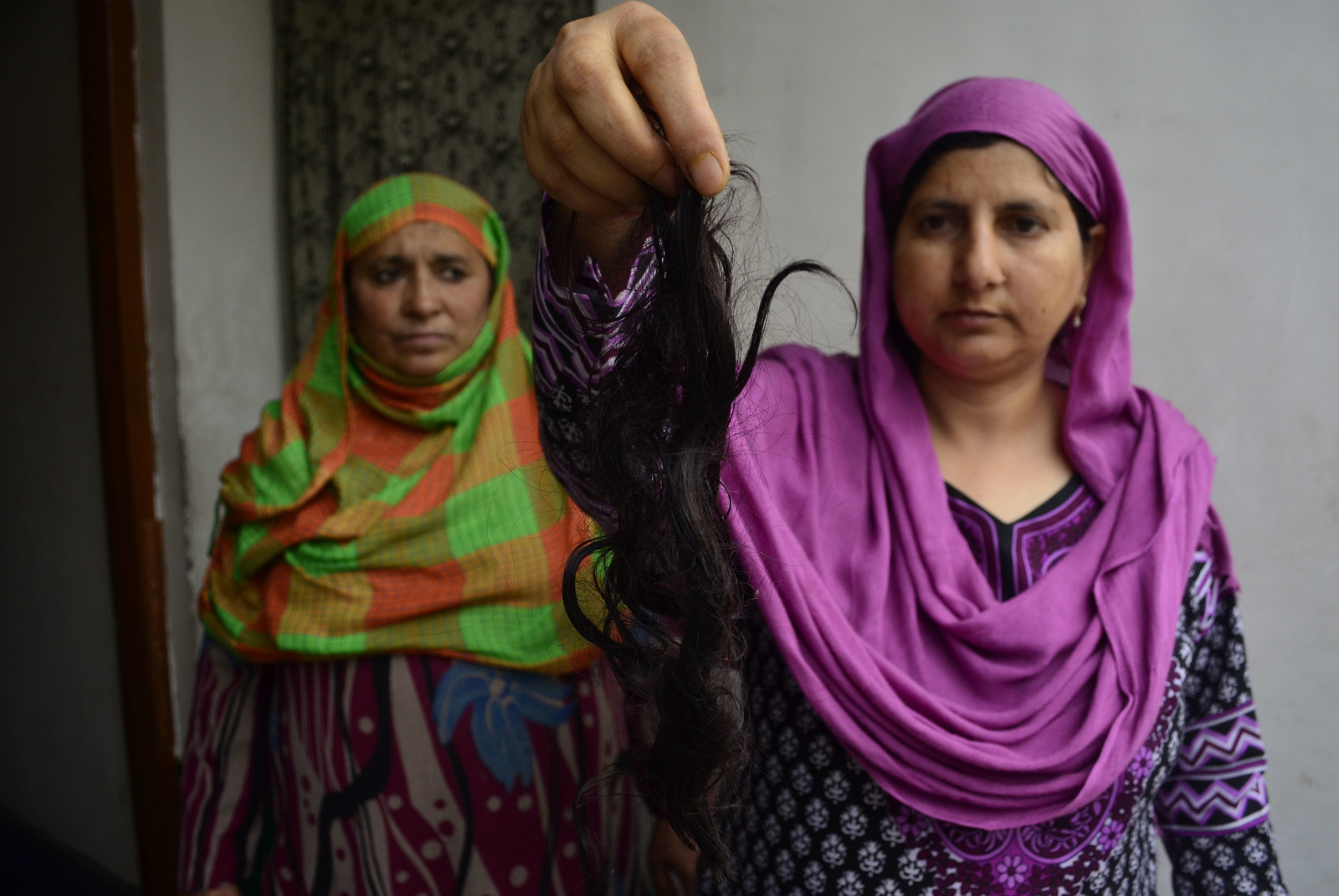 Najar's mother, Jahan Ara, is certain that the attackers are working with police and security forces. "It's being done to create fear among us but we won't be scared with such tactics. The police, army and government are all involved in this."

The official response of the administration has been to downplay these peculiar attacks. Kashmir's education minister Syed Mohammad Altaf Bukhari made a public statement terming the braid-chopping panic a "phobia".
"In 90% of cases, it is more of hysteria. There is no truth in it," he claimed.
A day later, chief minister Mehbooba Mufti said the attacks were "attempts to create mass hysteria and undermine the dignity of the women in the state," and assured that government would take measures to ascertain the motive behind them.
A reward of 6 lakh rupees has been announced for any information on braid-choppers, but no arrests have been made. The police has now shifted its focus from catching braid-choppers to controlling the panic.
"It's completely bizarre to see how people are reacting to all of this," said a senior police official, speaking on condition of anonymity. "Such incidents were reported in Delhi too, but nobody took them seriously. It is mass hysteria and nothing else."
Arif Maghribi, who runs Sehar Welfare Trust, an NGO that works on mental health issues in Kashmir, believes that the public's frenzied reaction to the attacks is a result of the inability of the police and government to carry out a proper investigation when such incidents were first reported. His views were echoed by another Valley-based psychologist BuzzFeed spoke to. "If this is a mass hysteria, it is the government and police that have created it," he said, wishing to remain anonymous.
"In 90% of cases, it is more of hysteria. There is no truth in it," claimed a PDP minister.
Separatists and militants have painted the attacks as a concerted effort by Delhi to intimidate the public and quell dissent. In a recorded video message, Hurriyat leader Syed Ali Shah Geelani described the braid-choppings as an attempt to "suppress [Kashmiri] freedom sentiments" and encouraged communities to create "mohalla committees comprising of vigilant youth volunteers and persons with credibility to check this menace".
Manzoor Ahmed and his friends from Rangpora are among the many young men in different parts of the Valley who have heeded the call. Armed with sticks, they patrol the area at night, looking out for braid-choppers.
Ahmed's night vigils began after he received a panicked call from his mother about 10 days ago, informing him that three men had jumped over the compound wall into the house. When he reached home he found her mother had locked herself up in the bathroom. "We can't leave our women alone at home in such circumstances since the police and the government is not doing anything," he says.
With groups of armed men on the lookout for potential assailants, vigilante violence was always on the cards. On October 19, a mentally challenged youth was severely beaten up in North Kashmir's Sopore district after people suspected that he was a braid chopper. A video of the incident that went viral shows a group of angry men trying to set him on fire. This was just one of a number of instances of violence against suspected braid-choppers reported in the last month. The most extreme incident of braid-chopping-related mob justice saw a 70-year-old man killed in South Kashmir's Anantnag district earlier this month.
But not even the threat of vigilante justice has stemmed the tide of mysterious attacks against the women of the Valley. Back in Srinagar, less than a week after the attack on Kousain Aijaz, another woman from her household has been targeted. This time the victim was her aunt Taslima.
Taslima believes she was attacked because they protested against the government after Aijaz's hair was cut.
---
Adnan Bhat is an independent journalist. He writes for The Wire, The Quint, Ozy, and TRTworld, among others.