British Teenagers Want Radical Action On Climate Change And Say They're Not Taking No For An Answer
Organisers expect 30,000 young people nationwide will join a global walkout as part of the Youth Strike 4 Climate.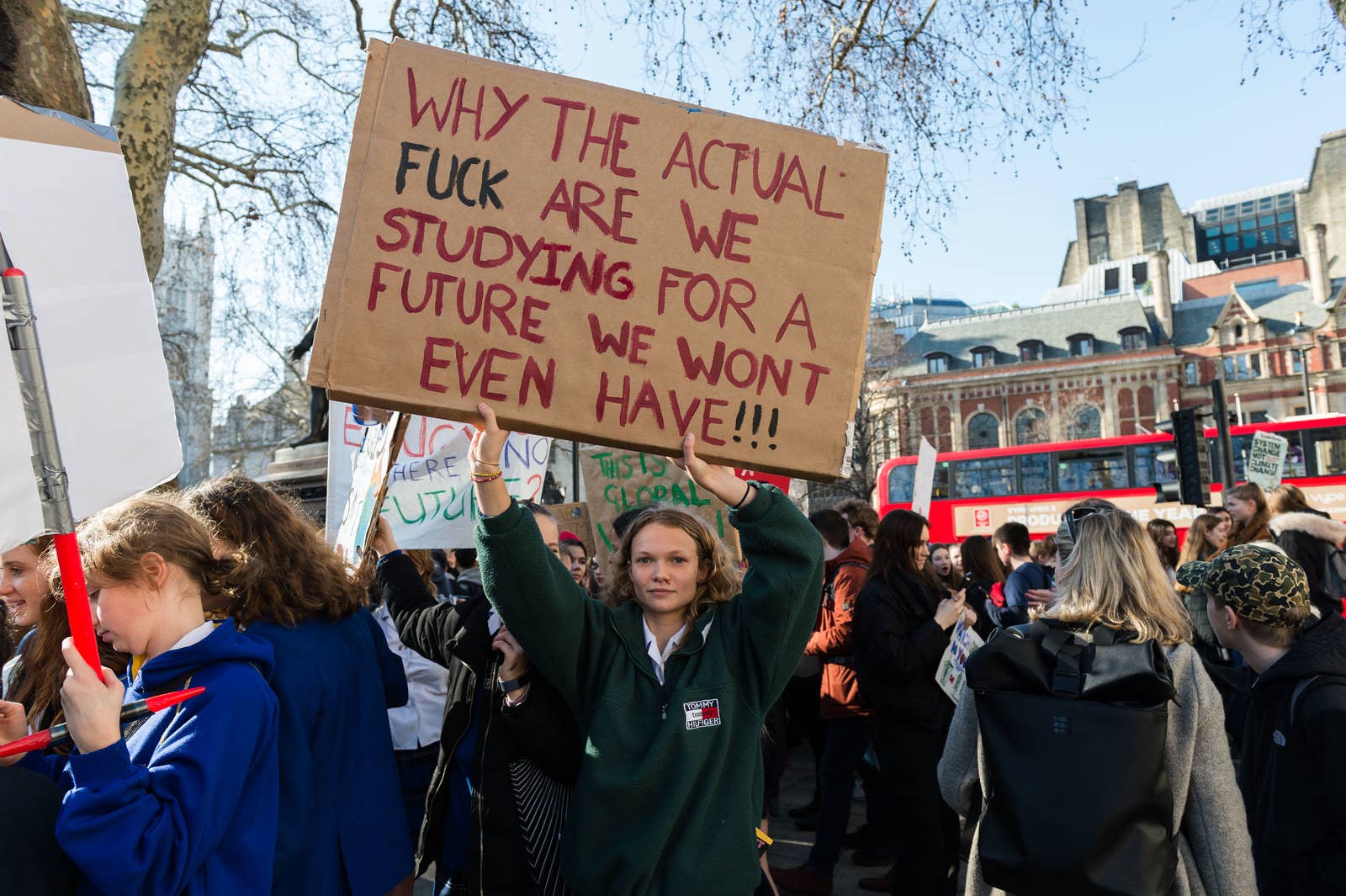 Seventeen-year-old Noga Levy-Rapoport has always been concerned about climate change.

But it wasn't until she took to the streets last month to march shoulder to shoulder with hundreds of her peers to express fear for their futures that her passion was truly ignited.
Fast forward a few weeks, Levy-Rapoport is emerging as one of the fiercest leaders of the UK Student Climate Network (UKSCN), founded by teenager Anna Taylor.
"I've always been interested in climate change, but stepping out on to those roads on Feb. 15 was a real revelatory moment for me. In that moment I realised that activism isn't something you want to do — it's something you have to do," said Levy-Rapoport.
"From then on I've begun to dedicate and devote all my time and resources to activism, as much as I can while still keeping on top of my schoolwork. Activism is the only way our government will listen to us, and that's why I took it up — out of desperation and a passion for our planet."
Levy-Rapoport has since undergone media training, legal training on the rights of activists, and is helping to organise one of the biggest walkouts of schoolchildren in British history despite scathing opposition from some politicians, disapproval from some teachers and, in some cases, their parents.
Thousands of students across the UK and Ireland will walk out of their lessons on Friday for the second time to demand urgent action on climate change.
The movement is inspired by Greta Thunberg, the Swedish schoolgirl who has kickstarted a global youth movement, and organisers expect more than 30,000 young people including primary school pupils.
The turnout is double the size of a similar protest in February.
The UK protests — in towns and cities including Leicester, Bristol, Exeter, and Edinburgh — are the fifth largest nationwide demonstration in the world, according to Thunberg's organisation Fridays for Future. Other walkouts are planned in more than 100 different countries, with mass action in Sweden, Italy, the US, and Germany.

Most of the activity in Britain is coordinated by UKSCN, but also comprises small groups and individual protesters.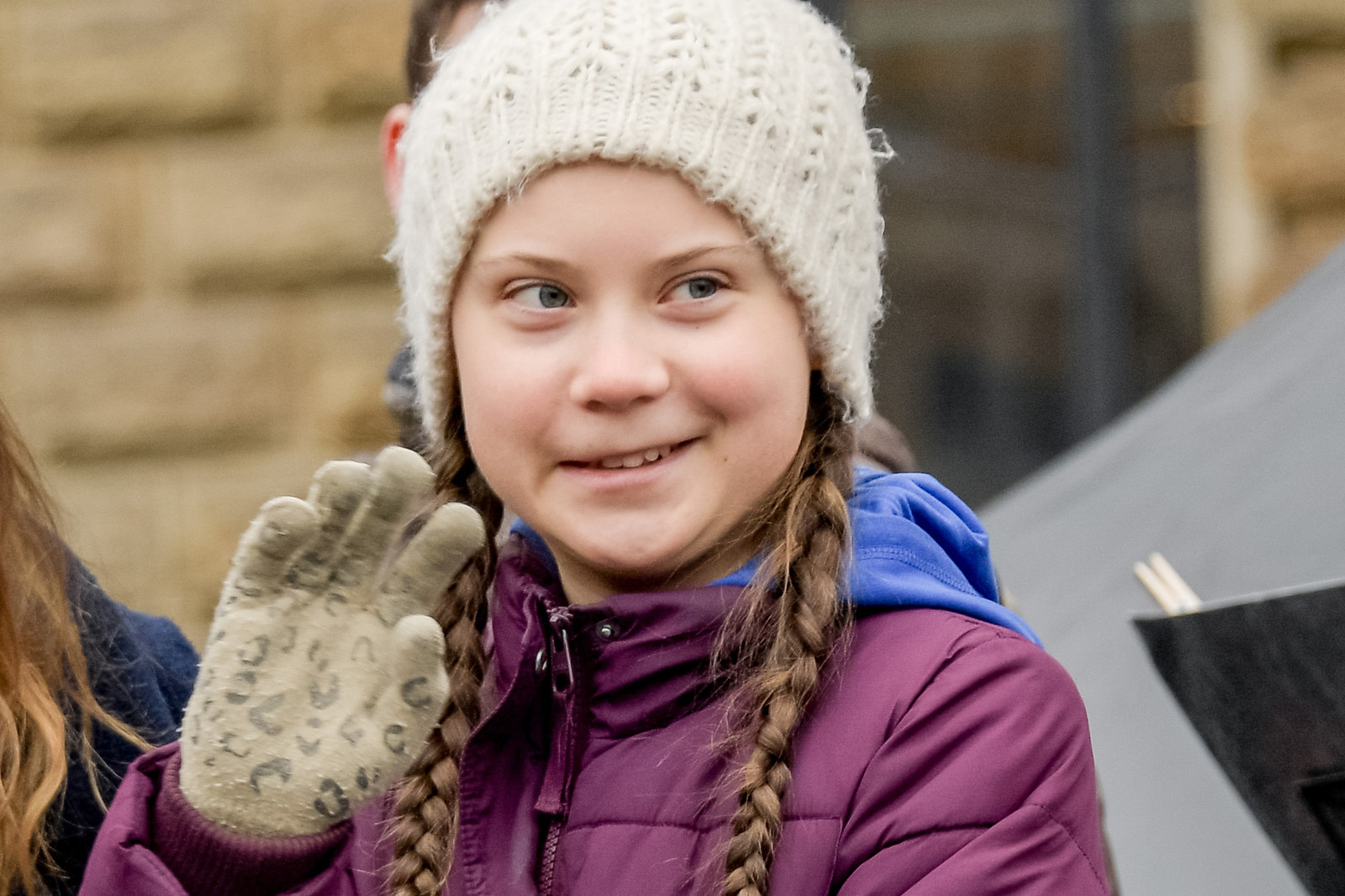 Levy-Rapoport said: "In London last month we had 5,000 strikers and 15,000 nationwide; [on Friday] we're expecting around double that, so hopefully across the UK there will be approximately 30,000 strikers, which is so exciting and empowering."
The March protests follows a UK record for the hottest day in February with a temperature of 20.3C being recorded at Trawsgoed, in the Welsh county of Ceredigion. It also marked the first time the UK had experienced a high of 20C in the winter months.

It was described as a "climate emergency" by former Green Party leader Caroline Lucas, the MP for Brighton Pavilion. This month there will be larger protests across Wales, in Aberystwyth, Cardiff, and Swansea.
Jake Woodier, the national press lead for UKSCN, told BuzzFeed News how the seeds to bring the Fridays For Future movement to the UK were planted at the end of 2018.

"In December, a couple of friends got together and decided the movement needed to come to the UK and started planning and coordinating from that point, under the newly formed UK Student Climate Network," Woodier said.
"The movement has really moved quickly, with huge amounts of young people getting involved all around the world, unified in their common struggle to fight for a future."
UKSCN is supported by the nonprofit UK Youth Climate Coalition, a sister campaign for those between ages 18 and 29. Both campaigns say they are just a central soundboard for young people seeking an entry point into climate activism, providing the relevant tools to help them do so, such as letter templates seeking consent from school, or permission from parents or guardians.
Social media that has allowed it to accelerate nationwide, Levy-Rapoport said. "We coordinate nationwide online and via social media; as core organisers, we oversee all management, which includes keeping in touch with our regional managers and our contacts up and down the country," she said. There are approximately 107 regional managers.

"As a whole, other strikers need very little direction from us — we all know what we're in this for, and that we're protesting together, no matter what; this makes it a little easier for us to coordinate nationwide because every single young striker is taking that responsibility on themselves to do their part in saving the planet."
The UK Student Climate Network has four clear demands which appear on its website including getting the government to declare a climate emergency and reform the national curriculum.

In Cork, Ireland, 16-year-old Saoi O'Connor has been following Thunberg's lead and like her has been protesting every Friday for the past 10 weeks. Friday marks Thunberg's 15th week of protest.

O'Connor told BuzzFeed News: "I am usually the only person who is there for all seven hours, but there are usually 4 to 12 people at the strike at any one time, it's just that the others come and go."

The student activist is expecting to be joined on Friday by more than 300 young Irish people and says the coordinated global action is providing vital energy.

"Being connected to the global movement makes us infinitely stronger," said O'Connor, who has vowed to strike weekly until radical positions are adopted by the Irish government.
Joseph Dawson, 18, who travelled from his hometown of Gosport, Hampshire, to protest in Southampton last month will be in London with friends this time around to join the picket line in Parliament Square.
The college student, who is not affiliated with any group, said he wanted to increase his chances of coming face to face with his local MP, Conservative Caroline Dinenage.
He said: "First of all, we wanted the atmosphere of a bigger event but then we also wanted to go in Parliament and speak to our MP in person since her email responses are quite evasive."

Dawson is among those whose family supports his choice to skip school. "They think it's great the younger generation is uniting globally for a cause that matters to us," he said. "Just so long as I'm responsible with my college work."
But as students approach exam season, Natanya Popoola, a 16-year-old from west London who is set to take her GCSEs this summer, says she is unsure if she can keep on protesting. "My parents aren't supportive of me missing a day of school for a strike so close to GCSEs," she said, admitting that she is unsure if she will attend.
Popoola told BuzzFeed News that she was "the only black friend" among her peers at the last demonstration, but was encouraged by the diversity on show.
With the movement still in its infancy, Popoola is optimistic that its long-term impact is something that could be for the benefit of all including minority groups who she wants to see take a more prominent position in the global conversation around the impact of climate change.
"I definitely think that it is going to be quite helpful with raising awareness especially because the countries that climate change affects more are in those places [such as the Caribbean] but at the same time, discussions about how climate change affects us are majorly unpopular in our communities," she said.
"Being from the Caribbean myself, I have family on the island of Tortola [in the British Virgin Islands], which was completely wrecked by a massive hurricane and storm, something like this march would really bring publicity to the issue of climate change and make it available for people to recognise that this is what did the damage."
The conversation around climate change and where race and class is concerned is something that Levy-Rapoport is conscious of, particularly as the movement picks up pace. "I think this movement transcends class, race, and any other factors, although it is undeniable that working class communities across the globe will be hit the hardest by climate change, despite them being the smallest contributors, which is a shocking injustice," she said.
Levy-Rapoport told BuzzFeed News that many young people are committed to keep protesting until they get the attention of government and are given a seat at the table.
One of the adults supporting the young people's action is award-winning filmmaker Annalise Davis who produced a short film, which appeared in cinemas this week, to encourage adults to support kids in their climate campaign and join them on March 15.
The video shows 7-year-olds talking about about the kind of world they face on their future birthdays, based on the predictions of a damning climate change report from the IPCC.
Davis said: "Like many people, [I] have a kind of paralysing terror around climate change and the fact that no one seems to be sounding the alarm, despite October 2018's devastating IPCC report that gives us 11 and a half years … to drastically reduce CO2 emissions.

"This is no longer simply about individuals recycling or eating less meat; it's now about governments addressing an emergency, making radical changes and prioritising climate change above all else."
The film, directed by Lesley Manning and written by Abigail Burdess, has since been translated into Spanish, French and Chinese.
Last month, prime minister Theresa May criticised young people for going on strike, with her spokesperson dismissing the protests as a waste of teachers' time. "That time is crucial for young people precisely so that they can develop into top scientists, engineers, and advocates that we need to tackle this problem," they said.
As he did last time, Labour leader Jeremy Corbyn is supporting the youth protesters, praising them for "standing up against climate change".
"I think the only way to end our strikes would be for the government to accept our right to have a seat at the table of global climate change debates, and to take our demands seriously," Levy-Rapoport added.
"Once real legislation takes place, once the government truly begins its crackdown on the greatest polluters, only then will we be satisfied. Until then, the movement has enough momentum to go on until our demands are met – we are passionate enough to keep striking and to keep making our voices heard."